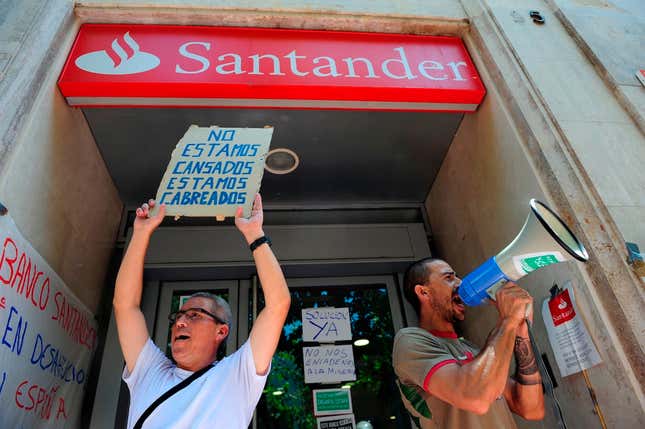 Many initial public offerings (IPOs) incite enthusiasm, indicate expansion and innovation, represent a new step in a company's history. What will probably amount to the second-largest IPO of the year won't be like that. Today, Spain's Banco Santander is planning to offer 235.1 million shares—25%—of its subsidiary Grupo Financiero Santander México in an IPO that could raise the company an estimated $4.2 billion. It will list as BSMX on the New York Stock Exchange at an expected price of $10.99-$12.70, and as SANMEX in Mexico City at one-fifth that value. But the air is filled with wariness.
Santander México is, by all appearances, a healthy bank. It accounted for 12% of Banco Santander's total profits in the first half of the year, despite comprising only 4% of the bank's total assets. The third-largest bank in Mexico by market share, it has 1,125 branches and 9.5 million customers. Euromoney named it the "Best Bank in Mexico". Mexico's economy grew at a healthy 4.1% year-over-year in the second quarter, based primarily on strong domestic demand.
Further, Santander México's public offering is not out of character for the Spanish bank. "The transaction we are presenting today is another step in our strategy of listing our subsidiaries, following the examples of Santander Brasil, Santander Chile, our bank in Poland, and Banesto in Spain," Santander Chairman Emilio Botín explained in a press release. They even sold this same piece of the Mexican unit before—to Bank of America in 2003—and bought it back at a profit. "In effect, all they're really doing is putting the same 24.9% back into play, in a way," notes University of Pennsylvania lecturer Adrian Tschoegl.
Even Santander, by Spanish bank standards, isn't doing so badly. It's currently ranked one notch higher than the Spanish government, based on its high level of diversification and comparatively low exposure to volatile Spanish bonds.
So where's the catch? It's that Santander México's Spanish parent will still control 75% of the company. It is clear to most investors that the larger Santander is selling off a piece of its Mexico unit to raise capital against its deteriorating European assets. Should Santander need more capital in the future, they worry, it could simply sell off another stake of the Mexican lender, diluting the value of existing shares. Furthermore, the publication of a Spanish bank stress test on Sept. 28 could hit the share price if Santander's financial data appear remotely weak.
Emerging markets have long presented volatile investment opportunities for investors, but the euro crisis is quickly turning this logic on its head. Investors are wary of this offering not because of the bank itself but because Europe is still struggling. In many ways, how enthusiastic investors are for this IPO will be a measure of how they weigh the probability of emerging-market growth against that of developed-market decline.