As technology has made it possible to have facetime with co-workers even from miles away, companies around the globe are finding ways to accommodate mobile employees. Some 80% to 90% of the US workforce say they'd like to work from home at least part time, according to the latest research from the firm Global Workplace Analytics.
But as appealing as it sounds for white collar employees to be able to video conference from their bedrooms and breakfast nooks, it has also introduced a form of modern angst called the "appearance barrier." That's when employees are so distracted by their appearance on screen that they have a hard time paying attention to the official business at hand.
Now the Japanese cosmetic giant Shiseido has created an augmented reality app meant to reduce this pain point for women adjusting to telework culture, by helping them look polished and made-up on a teleconference screen. "Telebeauty," co-created with Microsoft Japan and Skype For Business, applies virtual make-up to its user's video image.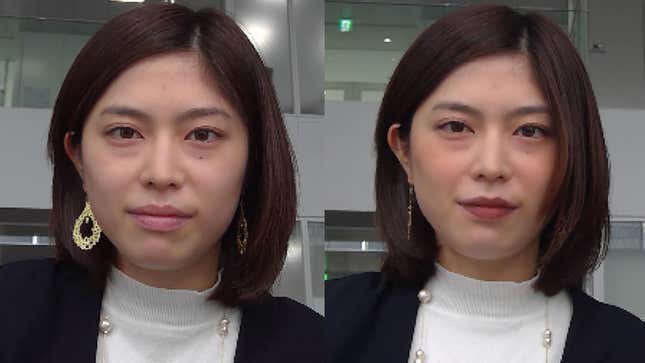 Women use the app by selecting one of four palettes: natural, trend, cool, or pretty, before entering the teleconference call. The app then scans the user's face and adjusts her skin tone, superimposing a kind of digital beauty balm that blurs pores, dark spots, and pimples. It also adds blush, lipstick, and eye makeup.
Telebeauty can distinguish between a user's face and the background, so the makeup reportedly "stays on" even as the user talks and moves around. That's good, because no one wants to leave lipstick marks hovering in midair.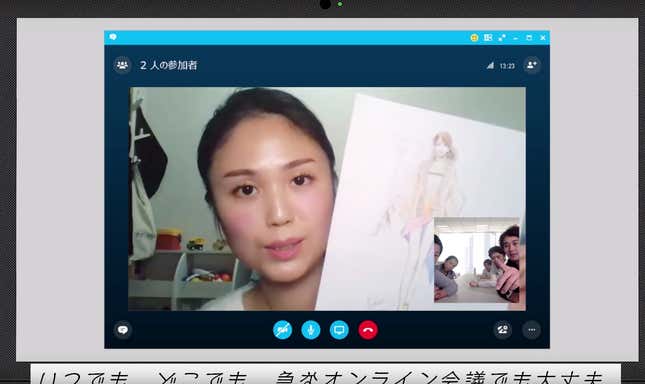 Though the app might sound gimmicky, Shiseido is apparently addressing a real source of insecurity in the new workplace, one that affects both men and women.
In a 2014 survey by the US furniture maker Steelcase, 72% of employees felt self-conscious about their image on video during company calls, many of those distracted by their washed-out or tired appearance. Steelcase took an interest in the issue as part of its project to design the idealized teleconference room, optimizing lighting and camera angles to be as flattering as possible to everyone on the call. Notably, this approach is gender-neutral, an equal opportunity to indulge human vanity.
By contrast, Shiseido is only catering to time-pressed women with its app, at least for now. In doing so, Shiseido is both responding to and reinforcing existing biases that favor women who make an effort with their physical appearance. In a study by sociologists at University of Chicago, researchers found that although both men and women who are considered attractive are paid higher salaries, the difference in "grooming" as opposed to innate beauty accounted for most of the so-called attractiveness advantage in women, but not in men.
Considering what a women's beauty routine is supposed to entail these days—in an era of contouring, highlighting, strobing, and baking—it's not hard to imagine a stay-at-home worker opting to go without layers of foundation, powder, blush, and lipstick. Those who still want to project the look of a made-up face will have to wait to try out Shiseido's makeup solution. The app is being tested by female employees at Microsoft Japan, and the company says it will eventually be launched overseas.