Kayak is quietly testing a prominent search function for short-term apartment-and-home rentals, in the latest instance of an established travel player grappling with how to respond to Airbnb's incursion into its business.
The travel price-comparison site is experimenting with search option for rentals on its homepage, nestling it between Kayak's bread and butter—hotels and flights. Visitors can search properties that include serviced apartments, holiday homes, aparthotels and other short-term rental properties. The offerings include those listed by Kayak's competitor Expedia.

Last year, HomeAway, which Expedia purchased in late 2015, said it would list its properties on Kayak, which is owned by Priceline Group. But Kayak's new search function also yields options from Priceline's other site Booking.com, and online booking site Getaroom.
Not all browsers have the new function. Quartz found that it did not show up on two other computers. Kayak is still experimenting with the format, a spokeswoman said, and it was not clear when the platform would be fully functional. Previously, the listings were included within the hotel category, which made them more difficult and time consuming to find.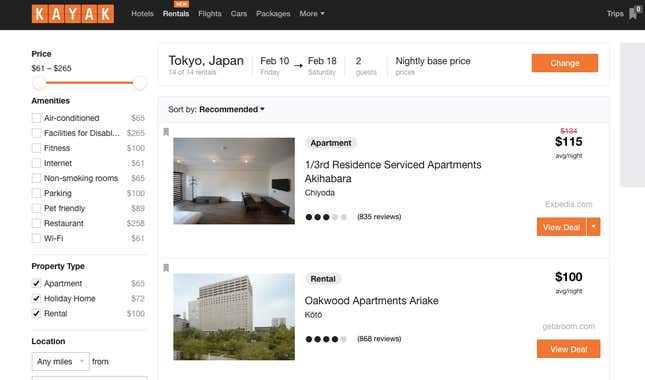 Travel sites have beefed up their listings of home and apartment rentals as home-and-room rental site Airbnb has gained popularity. Priceline's chief executive Jeffery Boyd told investors in August that Booking.com's inventory of 493,000 instantly bookable vacation rental properties rose nearly 40% from a year earlier, faster growth than the platform's inventory overall. The company had 23.7 million potentially bookable rooms, nearly one-third of them in holiday homes, apartments, villas, and other non-traditional lodging options, Boyd said.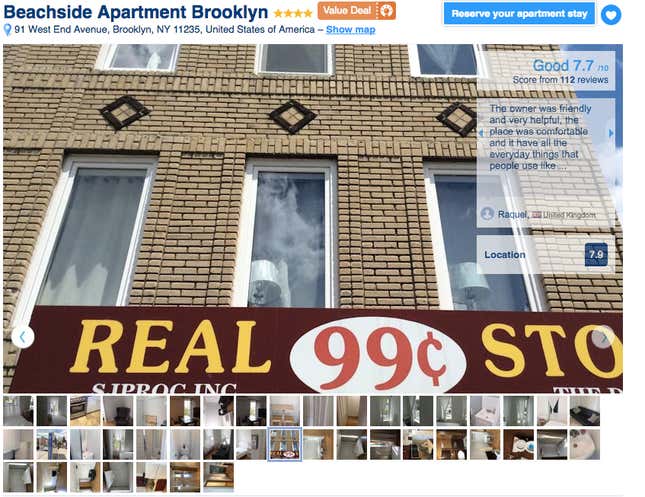 Airbnb, for its part, says it has 2.5 million homes listed on its site across 191 countries. It is aggressively vying for business travelers. The company recently partnered with three big corporate travel management companies—American Express Global Business Travel, BCD Travel, and Carlson Wagonlit Travel.
It is also expanding beyond traditional accommodation. Trip4real, a Spain-based platform that connects local residents who provide tours to visitors, last month said it was acquired by Airbnb. Some airlines, such as Qantas, have also started offering frequent flyer points to travelers for using Airbnb.
Kayak's new search function is the latest website adjustment by a travel company to try to get fickle travelers to go through with their purchase. But the idea of breaking rentals into their own category on the homepage also shows how apartment-and-house rentals have earned some prime digital real estate alongside hotels and flights.