A future where we can press a button, or tell a one-foot cylinder to order whatever we're running low on, and have a flying robot deliver it faster than Domino's can deliver a pizza is slowly coming into view.
Amazon CEO Jeff Bezos announced today that the company had completed its first fully autonomous drone delivery to an Amazon customer. It happened in the UK, where someone named Richard ordered an Amazon Fire Stick streaming device and a bag of popcorn and found the goods at his doorstep in the Cambridgeshire countryside 13 minutes later. The only human input on Amazon's side was from the person who packed up the box the drone carried.
Future testing in the UK, where the government has permitted Amazon to fly drones beyond the line of sight of a pilot—something that the US government has not yet allowed, will involve two customers in Cambridge, with plans to expand to hundreds more. They'll be able to order a specific set of products (weighing less than 5 lbs. per order, as the small drones can carry only so much) and have them delivered by drone, at no extra cost, any day of the week during daylight hours, weather permitting.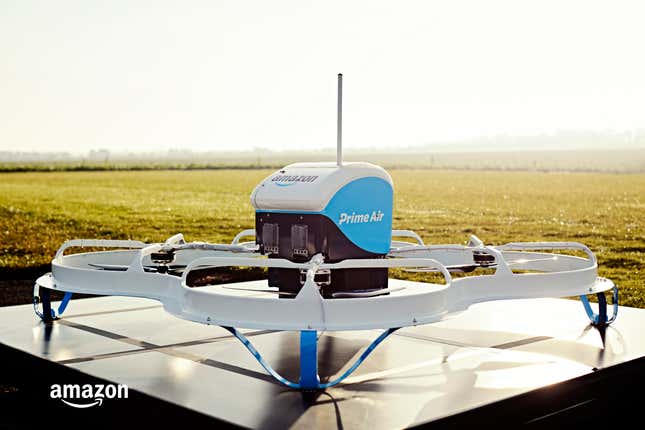 The company produced a short video of the delivery, which suggests that trial customers will need a large yard where they can drop a landing pad with a code that tells the drone where to touch down. That shouldn't be too much of a problem in the relatively empty expanse of the country near the town of Cambridge.
It's less clear how drone deliveries would work in cities. The challenge of moving and landing packages in tight quarters will be, for some time, a constraint on Amazon's drone ambitions in big markets like the US, where roughly two-thirds of the population lives in urban environments.
Amazon is one of six companies working with NASA and the US Federal Aviation Administration (FAA) on developing an air-traffic management system to integrate autonomous drones into the national airspace by 2019. When this system is in place, and proven to work, it's possible that we could see fleets of delivery drones hurtling at 400 feet above Broadway, or curving along the Embarcadero. But we're still in the relatively early stages of development; only a handful of FAA-sanctioned autonomous drone deliveries have taken place in the US, and the agency only recently laid the groundwork to let businesses research and develop commercial drone technology in the US.
A few years from now, Amazon may be heralding its first drone delivery to a customer in New York, Chicago, or Seattle. But for now, things are still very much up in the air.