Hong Kong
"Many people are watching this tonight on Facebook. Do you know that you have angry emojis up to your nose?"
That was one of many zingers delivered at a rare televised debate by former Hong Kong financial secretary John Tsang to his opponent Carrie Lam, who was until recently Hong Kong's number two official.  They are two of three candidates standing in the territory's leadership race, and in terms of public support—or at least judging by Facebook reactions and recent polls—there's no question that Tsang is the winner.
Not that that matters, because almost no one rooting for Tsang actually gets a vote.
That includes the young people smiling and posing for selfies in Tsang's campaign advertisements that can be seen around Hong Kong's subway stations, and just about anyone looking at those posters as they commute home—because the next leader of Hong Kong's 7.3 million people will be decided by a small group of entrenched elites who are likely to vote for whoever Beijing's preferred candidate is.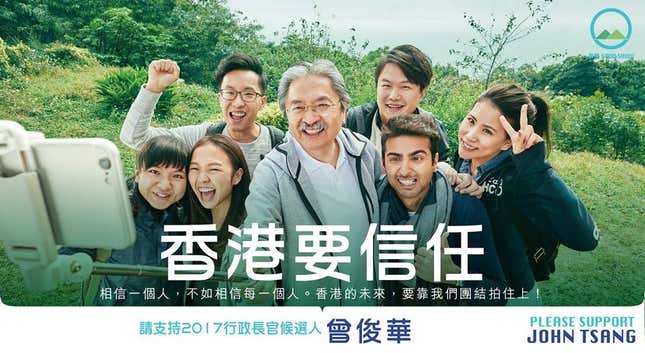 "Campaigning has become part of Hong Kong's political culture now, there is an expectation that you have to win the hearts and minds of the people… Even if it is an illusion of democracy, the candidates understand that expectation," said Dennis Kwok, a lawmaker, lawyer, and member of the Civic Party, which advocates for greater democracy in Hong Kong. "But in the end, it cannot sway anything. The system is rubbish, the winner is predetermined."
Un-universal suffrage
On March 26, Hong Kong will hold an "election"—it was Beijing's decision to dilute a long-awaited reform towards universal suffrage in the special-status region that sparked 2014's Occupy protests—to determine the city's next leader. The chief executive, as the leader is called, is decided by a 1,194-member "election committee" made up of representatives that are supposed to come from a cross-section of society divided into four categories.
In reality, it's a system heavily stacked in favor of business and government interests who are likely to be openly pro-Beijing. For example, the 36 votes belonging to representatives of the National People's Congress will be voting for whoever Beijing's signaled choice is. As a constant reminder of how unfair the system is, the most popular moniker for the current, deeply unpopular chief executive Leung Chun-ying is "689," referring to the number of votes he won in 2012.
Not all the members of this small circle, who are voted for by a quarter of a million people who are themselves vetted, are pro-Beijing, giving it the semblance of diversity. The opposition pan-democrats, as they are known, have vowed as a bloc to cast their 326 votes for Tsang, a MIT-trained architect who is able to at a minimum display the sort of charismatic touch that is sorely lacking in Hong Kong's political arena.
"Tsang has a clear idea of what the people want. Even though he's part of the establishment, he's the only candidate who can reach across the aisle to different sides," said Yvonne Lee, 39, who works in finance and counts herself a supporter.
Tsang, nicknamed "Pringles" or "Uncle Chips" in Cantonese because of his mustache, has won endorsements from other well-loved public figures including film star Chow Yun-fat (link in Chinese) and director Johnnie To, who was behind the classic Hong Kong gangster film Election. "The deepest impression he gave me was he is not like most officials," says To in a promotional video.

Lam, whose campaign slogan is "We Connect," is better remembered for a public relations disaster when she told the public she had to hail a taxi to her old apartment when her new home was found to have run out of toilet paper. Shortly before that, she had been filmed being unable to negotiate a turnstile in the local underground transport system, cementing her reputation as someone truly removed from the average Hong Konger even compared with her fellow elite. She also compared being on the receiving end of vicious online criticism to being a victim of "White Terror"—a term associated with Taiwan's decades-long period of oppressive military rule.
On the last full weekend of campaigning before the election, Lam canceled a meeting with community groups in a low-income district of Hong Kong near the border with the mainland. Her campaign team said (link in Chinese) she was "too tired and didn't want to travel so far." When asked about the incident at a televised debate yesterday (March 19), Lam apologized, and Tsang said he had already visited that district on International Women's Day.
The third candidate is the outspoken Woo Kwok-hing, a retired judge who has campaigned on a platform of wanting to repair the deep divisions in Hong Kong by restarting the process of electoral reform. Being a frequent critic of Beijing, Woo's chances of winning are next to zero.
Even Lam herself has tacitly admitted that when it comes to popular opinion, she isn't the winner. She pledged to resign from the post of chief executive if "mainstream opinion" was overwhelmingly against her, though she quickly backtracked on her words.
Representatives for the three candidates did not respond to requests for comment.
Dog-and-pony show
Tsang may be the people's favorite, but ask most Hong Kongers and they will say that it is all but certain that the top job will go to Lam, who is seen as a hawkish and obedient administrator who will carry out Beijing's wishes. Lam—who represented the government in a televised debate against the student leaders of the Umbrella Movement—is referred to as "CY2.0″ by the public, a reference to Leung Chun-ying.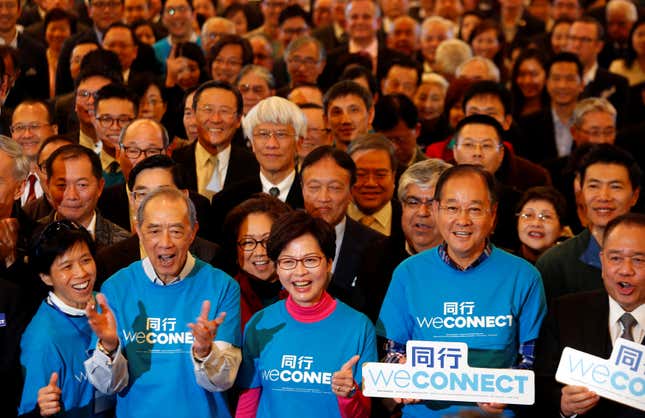 "(If Lam wins) it is going to be a re-run of Leung Chun-ying, and proof that Beijing wants to continue with the hardline on Hong Kong. People investing hopes in John Tsang do so because selecting him would signify a change of tactics from Beijing," said Ma Ngok,  political scientist at the Chinese University of Hong Kong.
If so many people already think that the result has been pre-determined by Beijing, why are the candidates still going through the motions of running in an actual election where the public's voice matters?
Suzanne Pepper, a long-time political commentator in Hong Kong, thinks it would be a "miracle" if anyone other than Lam won, but that public opinion may not be entirely negligible. It may, for example, have had an impact in the recent decision by Leung not to run again for the chief executive position.
"All indications were that he wanted a second term," said Pepper. "It's probably safe to assume—although no Beijing or Hong Kong official would ever say so in public—that the decision was made in Beijing because CY had been a source of constant public tension." At the very least, public pressure could result in a "much closer outcome" than Beijing may want to see, she added.
Lee, the Tsang supporter, said that in the final few days before the election, Tsang must do everything he can to go out into the streets to win public support to further prove his popularity to the election committee—even though she too expects a Lam victory.
"I think there is still a chance for a surprise turn of events," said Lee, lamenting afterwards, "It's so sad to be a Hong Kong person."
The Occupy protests of 2014 came about after China proposed an electoral reform that would have allowed only candidates who have first been vetted by a Beijing-friendly committee to be put before a Hong Kong-wide vote. But that proposal didn't past muster with Hong Kongers who opposed what they called "pre-selected" candidates and the region's Legislative Council voted against it. The protestors viewed Beijing's act as a broken promise, a sign that China was reneging on the greater freedoms Hong Kong was entitled to after it returned to Chinese sovereignty.
Although the protests did not result in universal suffrage for the people of Hong Kong, the months-long occupation of the city's streets brought about an undeniable, profound change in the political culture.
Ma, the political scientist, said that for cultural figures like Chow Yun-fat and Johnnie To to support a candidate "shows how much people feel it is time to speak out… and even if there has not been a change in the structure of the vote, there is a change in the political culture… Many people who were not politically active have been alarmed by the changes in Hong Kong in the past few years."
Though Tsang has presented himself as a peacemaker candidate who truly understands Hong Kongers' grievances, to many he still seems part of the city's out-of-touch establishment. One criticism often lobbed against Tsang is that as financial secretary, he presided over an economy that repeatedly posted healthy budget surpluses, while the number of people living in poverty kept rising. And with Beijing's iron grip over Hong Kong seemingly unlikely to be relaxed any time soon, it may be a superhuman feat to bridge the deep divides between the city and the mainland.
But judging by the number of fans, known as "Small Potatoes," on Tsang's Facebook page (link in Chinese) enthusiastically calling for Uncle Chips not to give up until the very end, it is apparent that for many stuck in Hong Kong's political stasis, choosing the lesser of two evils is the wiser option—even when they don't actually get to choose.