To add a simple date to a tombstone in the late 90s, Ron Richard, an engraver based in Southern Massachusetts, would trace the numbers onto a sheet of rubber and cut them out with an X-acto knife. By the time he'd placed the stencil onto the stone and run over it with his sandblaster (sand bounces off of the rubber portions of the stencil and carves rock exposed in the voids in between), about 20 minutes had passed.
Today, the same process takes Richard about five minutes. "It's far, far different," Richard says of his job nearly 20 years after he started his business, Northeast Stonewriters.
Richard now uses his laptop computer, which he brings with him to the cemetery, to lay out the text he wants to engrave. He uses a specialized printer, designed for the sign industry, to cut the rubber stencil according to the appropriate sizes and fonts.
Engravers and etchers like Richard, according to a survey by the US Department of Labor, now have the most automated occupation in the United States.
In the context of the current narrative of robots and software taking over jobs, this sounds like a sad story. But when I called a handful of etchers and engravers who have been in the business for decades, that's not the story they told me.
"Oh come on!" exclaimed an exasperated Warren Rader, of Rader's Engraving in Boston, when I asked him if engraving workers were better or worse off with the new machines. To him, the answer—better—was obvious.
Fears that automation technology will impact jobs in industries like banking and law are fairly new. But many occupations, like engraver, have already been transformed by automation. Back in 2007, when the Department of Labor last surveyed the workforce about automation, travel agents, mail sorters, transportation ticket agents, telephone operators, in addition to engravers, all rated their jobs as highly automated. And other professions have long used automated tools while not calling them by that name. An accountant uses a software spreadsheet to add numbers rather than doing so by hand. A carpenter uses a power saw rather than cutting wood by pulling a manual saw back and forth. A retail clerk's cash register automatically calculates sales tax.
Rader, whose parents opened the family engraving business in 1967, focuses on engraving not tombstones, but on items like plaques and gifts. Originally his business used a pantograph machine. To engrave a plaque, the worker arranged metal stencils, letter by letter as though it were a printing press, and then traced the type with the machine. In the mid-80s, Rader started to transitioning to computers. Now, Rader designs the inscription on a software program, and a machine automatically engraves it into the metal.
Like all the engravers I spoke with for this story, he says that every engraving now requires less human work. A plaque would have taken his mother two or three hours to engrave back in the 60s he estimates would take him about 20 minutes today.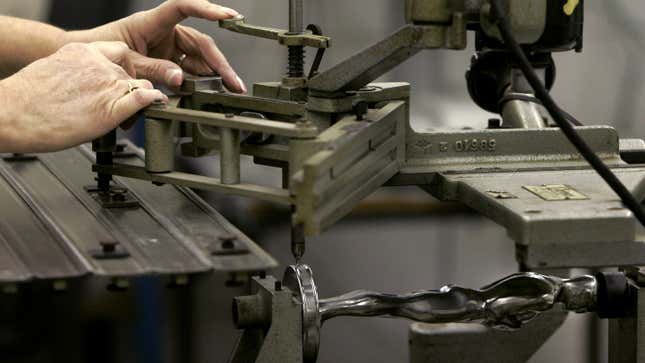 Ben Dalton, whose family started Utah-based Dalton's Memorial Engraving in 1993, similarly says that a detailed tombstone that his father may have spent an entire day working on with the hand-cut stencil method now takes him about forty five minutes to accomplish. Abe Sandhaus, who started his Brooklyn business, Royal engravers, in 1978, said that when he contemplated buying his first engraving machine that used a computer, he calculated that the single machine would allow him to do the same amount of work as would hiring six additional employees.
Even as the engravers explained that engraving required less work than it had decades prior, they also all argued that technology had increased the number of jobs in the space.
"It's not like you're employing fewer people," says Rader, who has about 10 employees, including his bookkeeper. "I can just do more things. I can tell fewer people, 'sorry, I can't do that.'"
Nationwide, according to the US Bureau of Labor Statistics, the number of engravers and etchers over the last 10 years has remained relatively steady at around 10,000. Wages have also remained steady, approximately $15 per hour in 2015 dollars.
The relatively steady rate of employment in etching and engraving fits into the optimist's narrative of what will happen when machines take over work. Unlike the pessimist's narrative, which points out the instances in which companies view automation as an opportunity to cut labor costs, the sunny view assumes that there's always more work to do. If workers aren't bogged down with repetitive, boring tasks, they'll be able to do more work or focus on new business segments.
"A lot of the automation has just made it faster, not necessarily taken away jobs," says Dalton. "For us, I would say it's increased our capability to hire more employees, because we can do more work." His parents started the business without any employees. Now four full-time workers and one part time worker handle the engraving work, and the company is hiring. When the Daltons, who originally focused on tombstones, bought a laser engraver, it expanded their business into engraving things like plaques and gifts as well. Even for companies that originally focused on these items, laser engravers allow them to engrave materials, like glass, that they wouldn't have been able to engrave with the machines they owned previously.
In any case, there is still plenty of work for humans to do, the engravers say.
"It has freed time," says Sandhaus of his purchase of machines that do the physical engraving manually. "While the machine was actually running the product, I had time to either set up another job or do something else. I didn't have to interrupt my work to, say, answer the phone."
Work before the automated machines could be tedious, others say. "There's still a lot of artistic stuff that goes into it," says Dalton. "You just don't have to spend hours transferring your art to the stone."
The story of how automation impacted engravers is a best-case scenario. Not all occupations with high levels of automation have been spared job loss. In 2000 there were around 124,000. Today there are 69,000. A recent study by economists Daren Acemoglu of MIT and Pascual Restrepo of Boston University suggests that industrial robots have led to fewer jobs in factories. Some argue that tomorrow's automation will be more devastating on employment because while machines have long been equipped at handling repetitive, predictable tasks, but with developments in artificial intelligence, they're getting better at things like image and speech recognition that could help them take on a greater diversity of human work. Some new types of jobs created by automation will require a more intense skill update than, say, learning how to layout an engraving using a software program instead of a pantograph machine.
But the impact of automation on engravers at the least exemplifies the complexity in how automation will impact employment. At least in some cases, workers will transition from seeing today's automation as less nefarious sounding "tools."
"I'm just really surprised that anyone would say that this is the most automated industry," says Rader. If someone orders a plaque from his company, a machine engraves it. But a human lays out the appropriate design using a computer, selects the materials, lays the metal in the machine, assembles the plaque, and packages the plaque when it's done.
Richard, who works mostly adding information to existing tombstones in cemeteries, is similarly surprised that engraving was considered an occupation with high levels of automation.
"[To do my job] you have to go to the right cemetery, go to the right stone, and engrave the information," says Richard. "You're not going to get a drone to do that."