Manila, Philippines
The black nylon computer bag Edgar Matobato has slept with since going on the run is nondescript. There are no markings, no tags to differentiate it. Matobato says he's always made sure to be just as inconspicuous—it's how, he alleges, he was able to successfully carry out assassinations ordered by the man who is now president of the Philippines, Rodrigo Duterte.

"I'm usually just dressed in shorts, loose shirt, and slippers. No one ever notices me or the gun I have under my shirt. It's how I could get away with killing someone," said Matobato, during an interview at a secret location surrounded by thatched huts and a running stream. "When I'm close enough to a target, I can give him one in the head, one in the heart and casually walk away."
The 57-year-old Matobato says he was a hitman for more than 25 years, part of a shadowy vigilante group that he alleges Duterte started and funded when he was mayor of Davao City, in the southern Philippines. It came to be known as the Davao Death Squad (DDS). Some say it was a term coined by the media who covered the spate of killings in the city. By other accounts, that was the name scrawled on the warning notes left with bodies: "Addict. Don't be like me."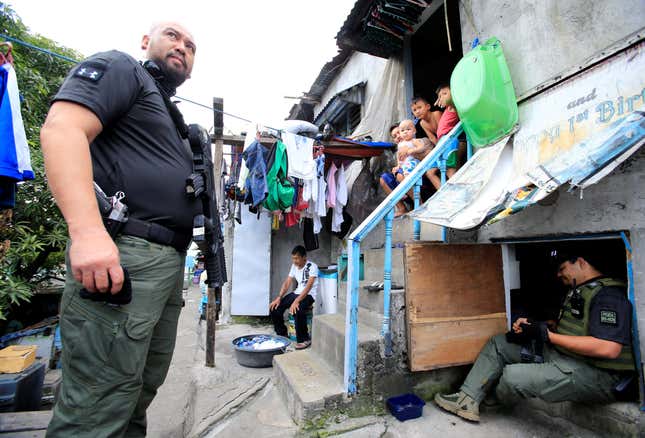 Last year, Duterte swept the country's presidential election after a campaign in which he vowed to kill criminals. On taking office at the end of June, he immediately rolled out a national war on drugs. Since then, more than 7,000 killings by police and other assailants have taken place, mainly of poor men from urban slums, according to Human Rights Watch. Bodies of suspected users and dealers—often tightly wrapped in packing tape—have turned up under bridges, by railroad tracks and dumpsites, leading critics to draw parallels with the Davao violence.
Quartz reached out multiple times to Duterte's spokesman and other aides for comment for this story but did not receive a response. The government has said close to 3,000 people have been killed in "presumed legitimate police operations" since Duterte took office, while the remainder of killings are homicides. Regarding the allegations about the founding of the death squad, Salvador Panelo, Duterte's chief legal counsel, has previously described Matobato's allegations against Duterte as not credible and "political harassment."
During the interview, Matobato unpacked the nylon bag, which he says contains everything he needs to support his allegations, and spread its contents out on the table. There were sheets of yellow paper with names and addresses written out for him by his wife; his 52-page sworn affidavit; employee IDs that he says he were issued in relation to the government job that provided cover for his actual role; and a copy of the petition that has been filed before the Ombudsman, the Philippine government body charged with investigating the wrongdoing of government officials, accusing Duterte and more than 20 Davao police officers of murder and kidnapping.
"In case I have to run at a moment's notice, even if I don't get to bring any clothes, this is all I will need," he says of the bag.
Matobato pulls out one more thing from his bag: a small statue of the Virgin Mary, small enough to fit in the palm of his hand. The statue is embedded in cotton and encased in a semi-transparent plastic container.
"I found her in the garbage. I cleaned and rescued her," he explained. "I had never seen anything like that—who would throw away a sacred object?"
The Davao Death Squad
Matobato took the statue as a sign, he said, to continue on the path he started down three years earlier to bring Duterte to justice and to ask for forgiveness for all the lives he took. As part of his efforts, he appeared as a surprise witness before the Senate last September, which was then holding televised hearings on extrajudicial killings, and riveted the nation with the macabre account of what, he alleges, had been happening in Davao.
According to Matobato, the DDS was a group of contract killers made up of civilians, former communist rebels, and Davao City police officers formed in 1988, the year Duterte was elected on a pledge to clean up "murder city." Matobato had a difficult life before he joined the squad in his twenties. He had only attended first grade and is barely able to read or write. At 18, he witnessed his father beheaded by communist rebels, and later became an army reservist.
On Duterte's orders, he alleges, they patrolled the streets every night, abducting reported kidnappers and drug users, and then, later, Duterte's political rivals and critics. For this work, Matobato says he received a monthly salary of about $130, an amount that was released to him as a ghost employee of the city.
From 1988-2013 when he was part of the DDS, Matobato estimates that he took part in killing more than 300 people, killing around 50 himself. The Davao police did not respond to requests for comment.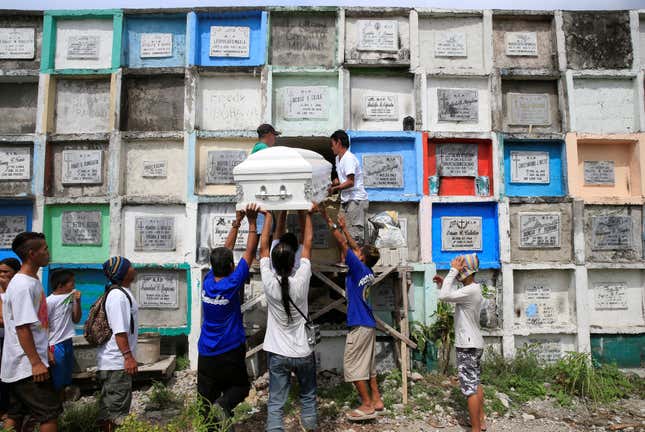 A sworn statement from Matobato, based on his Senate account, is being used in support of a complaint filed before the International Criminal Court in The Hague on April 24 that accuses Duterte of crimes against humanity and mass murder through the vigilante group. The ICC reviews complaints and then makes a determination whether or not to open an investigation—it's unclear how long determining that will take. In general, the court pursues very few cases.

Matobato gave gruesome details of his years in the DDS. Bodies were chopped and buried in a quarry or dumped at sea, political rivals and critics were gunned down in broad daylight. He dropped name after name of police officers who he says participated and benefited from the killing, as well as naming Duterte as the squad's leader. Duterte has at times denied the DDS exists, and at other times acknowledged knowing of it. In September last year, he denied any involvement with it. A few months later, he said he personally carried out killings, a statement another government official said was "hyperbole."
During Matobato's Senate hearings, lawmakers spoke to him mostly in English, although he is clearly more adept at speaking Filipino. At times they appeared to mock him. One brought out different kinds of packing tape, and asked him to identify the kind he preferred to use on bodies.
"Sometimes, I would slit bellies and chests and fill them with sand before dumping them at sea. Or I would use tie wire to tie hollow blocks around them to keep from floating to the surface," Matobato said. A foot soldier, he says he often worked alongside a Davao police officer named Arturo Lascañas, his handler.
Lascañas would eventually come forward to offer his own version of these grisly events.
Blood brothers
They started out as subordinate and supervisor.
Matobato had been with the DDS a few years when Lascañas, already a cop, was recruited to the squad. Matobato was assigned to the cop, around his own age, as his "asset." Matobato describes those early days as being something of a bodyguard to Lascañas. He shadowed Lascañas and was sometimes included in meetings between the officer and Duterte, he says. He remembers one time when the mayor showered Lascañas with high praise, "Davao would not be like this without you."
But after years of leading double lives as city employees and killers who shared a bond of secrecy, Lascañas became much more than his "chief" or a friend to Matobato. "We were like brothers."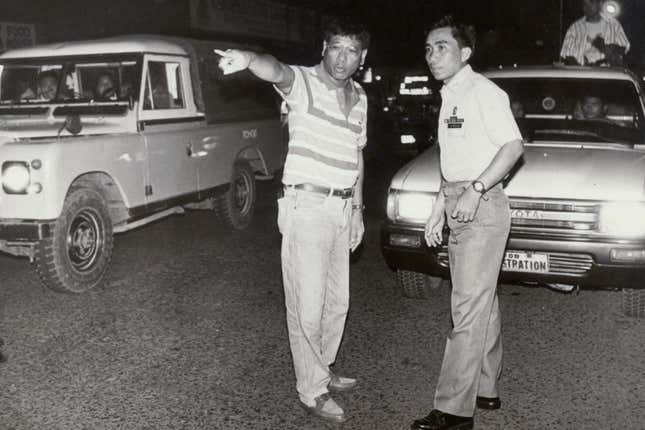 Because they were like brothers, Matobato said, he did what Lascañas told him to do. Without question, without protest. Every night they would ride in a black van roaming the streets for their targets.
High-profile targets were usually kidnapped, strangled and then buried. Petty criminals like pickpockets and snatchers were considered "small fish" and would be shot in a crowd, usually by men riding in motorcycles without license plates.
Matobato's main job was "finishing": He took care of the tedious process of getting rid of the bodies. Cadavers thrown into rivers had to be weighted down so they wouldn't float to the surface. Clothes were burned and arms and legs were cut off to fit into small graves.
"Then I would pour cooking oil or used oil from trucks over them to stop the stench of rot and decay from attracting flies," he explained.
On the run

It was June 2014, around 10pm, and Matobato said he was was asleep in his home when three policemen, whom he recognized as other members of the vigilante squad, stormed in and roused him. Outside, there were about 30 other officers waiting. They brought him to the barracks of the Davao police and every day, for a week, they beat him.
According to Matobato's sworn account, he was made to lie on the floor as officers stepped on him and struck him with an M-14 rifle, leaving him with back, shoulder and rib injuries.

The police detained him on charges of illegally carrying a firearm—his permit had expired, he says. But Matobato adds that they told him they suspected of him of going freelance, and carrying out a hit on a prominent businessman for a fee. Matobato says he didn't commit the killing, and believes it was Lascañas who had given the order to bring him in.
His wife, along with a relative who was a retired officer, gained his release. But once he was let go, Matobato believed he was marked for death, and he ran.
"I asked myself, 'Why me?' Why are my friends torturing me? We were together for 25 years, like brothers. I followed their orders. I didn't refuse any job. I did not operate without their clearance."
But he already knew the answer to his question. The year before Matobato attempted to leave the DDS, and retire to a quiet life: "We had already trained enough young officers to take over."
He should have known that was not possible. "You don't leave the DDS alive," he said.
After the Davao police released him, he sailed from one island to another, seeking refuge with priests, until he finally reached his destination in Manila—the Department of Justice (DOJ).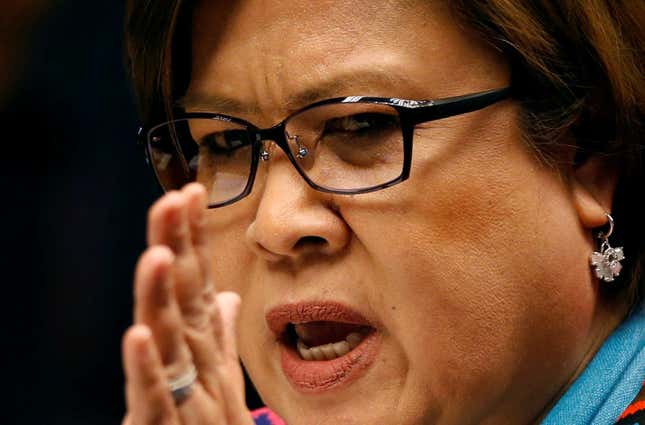 Senator Leila De Lima was DOJ secretary then and remembered the day vividly.
"He just walked in to the office," said De Lima. "My staff told me someone from the DDS was there and wanted to see me. I couldn't believe it."
Years earlier, De Lima had been trying to verify the existence of the Davao vigilante squad in a previous role as head of the country's Commission of Human Rights. No official inquiry ever came from that.
Now, Matobato entered the department's witness-protection program, which began looking quietly into his story. On May 6, 2016, when it was clear that Duterte had won the presidency, he left. He says he feared for his safety.
The lawyer

Like most of the nation, lawyer Jude Sabio watched Matobato's testimony in September with shock and horror. Many in the Philippines expressed doubts about the account but he found himself instantly believing the self-confessed killer.
Sabio wrote articles defending Matobato and one found its way to a priest who had been hiding Matobato after he left the witness program. The priest reached out to Sabio via Facebook and asked him if he would would represent Matobato.
"I'm defending not only Matobato as a person. I'm out defending the truth that he represents," says Sabio, who also filed the complaint against Duterte at the Hague. The lawyer said elements of Matobato's account were similar to testimony offered years ago by another self-confessed hitman at a then little-noticed court hearing.
By September, De Lima was ousted as chair of the Senate committee for justice, the role that had allowed her to call Matobato to testify, and was accused by fellow lawmakers of making the hearings an "avenue for personal vendetta" because of an increasingly bitter rivalry with Duterte. Later, she was arrested on suspicion of suspected drug trafficking, a charge she has vehemently denied.
The Senate inquiry continued and lawmakers went on to call Lascañas before the justice panel, after Matobato named the cop during his appearance. But instead of corroborating his longtime friend's account, the cop, then a few months from retirement, contested it. He denied the existence of the DDS and while he didn't deny knowing Matobato—but described him as no more than an acquaintance.
The Senate inquiry into the extrajudicial killings fizzled out and Matobato was discredited.
The handler
In February this year, Senator Antonio Trillanes, a former Navy officer best known for leading a mutiny almost 15 years ago, called a press conference at the Senate. After reporters arrived, Arturo Lascañas walked in with three lawyers.
Trillanes was the lawmaker who had grilled him the hardest over his assertions months earlier that he hardly knew Matobato. Now they sat at the same long table as Lascañas read from a statement in measured words: "The Davao Death Squad or DDS exists. Edgar [Matobato] is a member and I am one of the co-founders." Then he filled in the blanks left by Matobato's earlier testimony.
Lascañas was stoic and eerily calm as he detailed how the kill squad began pursuing suspected criminals upon the orders of Duterte and how they were paid as much as $20,000 for a kill of an especially high-value target. He broke down once when he disclosed that he had allowed his own blood, his two brothers, to be killed by the squad—instead of fighting for them to be spared and face prison for their involvement with illegal drugs.
Immediately after his public confession, Lascañas went into hiding, but surfaced long enough to give media interviews and appear before a fresh Senate inquiry in March.
Lascañas told lawmakers that the core group involved were police officers whose loyalty was bought through fat bounties for successful kills, and generous allowances for food, gas, and transportation—essentials that stretched Lascañas's salary of about $800 a month.
In later years, planning included coordinating the shutdown of closed-circuit TV cameras that could record abductions. But some things remained the same, like the planting of drugs and a .38 caliber pistol on some victims, and wrapping other targets in tape. "So he won't resist. It's also quieter and cleaner that way," explained Lascañas.
For years, the DDS was something between an open secret and an urban legend. But no longer. Like Matobato, Lascañas says the war on drugs of the past year is the DDS blueprint expanded on a national level.

Atonement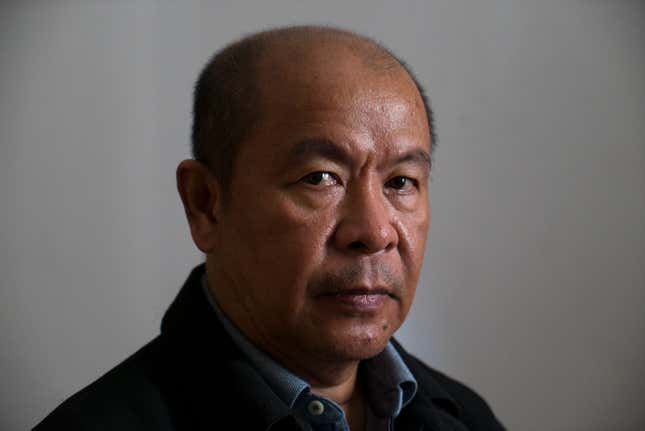 In 1982, when Lascañas first joined the Davao police, Agdao, the city's largest slum, was called "Nicarag-dao," a reference to Nicaragua's deadly civil war that was then underway, because of the bodies that were dumped there every day. To the young 21-year-old cop, it was all an adventure.

Lascañas was trained to kill with a gun, a knife, and his bare hands. It was a training that hardened him to the possibility of his own possibly violent death. What he was not prepared for was the slow debilitation of middle age and kidney failure.  His body became bony and shriveled. His vision was impaired and on especially sunny days, he could barely see. He was in and out of hospital, hooked up to a machine doing the work that his kidneys no longer could.
"No one visited me," he said.
His wife had kicked him out of the house after he confessed that he had a grown child with another woman. He could no longer work. Lascañas was overcome with an emotion unfamiliar to him: powerlessness.
An unexpected kidney transplant in October 2015—which he says Duterte helped him pay for—extended his life but Lascañas needed something else. He first confessed about the squad to a nun who was a personal friend, but it wasn't enough. "She asked if I wanted to confess to a priest. I said I wanted someone higher."
Privately, Lascañas had already put together a 70-page tell-all journal that year about the DDS, based on an old ledger where he and another cop "kept track of which killings were paid for and which weren't yet."
"There is no other witness bigger than Lascañas. He is an insider and proof that what they wanted was a template to implement the DDS across the country," said Antonio Trillanes, the senator from whom Lascañas sought assistance in January and who has become Duterte's fiercest critic.
In an interview from his safe house earlier this year, Lascañas said, "I know the consequences of my confession. I am a dead man running." Last month, he quietly left the country. Speaking via Skype from Singapore, he says he feared for his safety.

From his safe house, Matobato had sat on the edge of his seat as he watched Lascañas own up to his role in the DDS in February. When he heard Lascañas corroborate his own account, he says he began jumping up and down and cried. "They called me a liar. Now, they know I have been telling the truth."
Before Lascañas left the Philippines, he met his former asset face-to-face for the first time in more than four years. Matobato had already forgiven him for his betrayal.
"We saw each other before he went into hiding, just for a short while," said Matobato. "We gave each other a hug and cried. There we were, two old men—killers—reduced to tears."