"Congratulations, Mr. Trump. I like you. We have the same kind of mouth."
Philippine president Rodrigo Duterte was among the first to congratulate Donald Trump on his victory in the US presidential election in November, with the words above, according to one of his advisors who listened to the call. And even before that, the tough-talking Duterte, nicknamed "the Punisher," had declared a soft spot for Trump. (He had also cursed at former president Barack Obama last September, vowing to sever the longstanding alliance between the US and the Philippines.)
Trump has returned Duterte's overtures of friendship—despite the reported 7,000 extrajudicial killings in Duterte's anti-drug campaign in the Philippines. In a December 2016 phone call, Duterte says, Trump was supportive of his crusade. "He was quite sensitive also to our worry about drugs," he said of his phone pal. "And he wishes me well."
That's why Trump's "very friendly" invitation this week for Duterte to come to the White House shouldn't come as such a surprise.
Trump's staff made some effort to distance the US president from Duterte—who has in the past boasted of personally killing drug dealers (then had his aides backpedal). White House chief of staff Reince Priebus says that Trump's friendship with Duterte is just strategic. "The issues facing us developing out of North Korea are so serious that we need cooperation at some level with as many partners in the area as we can get to make sure we have our ducks in a row," explained Priebus in a statement defending Trump's overture.
But even before renewed aggression from North Korea entered the picture, Trump, 70 and Duterte, 72, were showing signs of compatibility. Indeed, the two populist leaders have developed a growing long-distance relationship over the last year.
When the Miss Universe pageant was held in Manila last January, Trump snuck a friendly missive to Duterte through its organizers, according to a beaming Duterte. The Philippine president joked that he was miffed about not being invited to Trump's inauguration. "Tell him: Friend, I didn't go to the inauguration because I wasn't invited," Rappler reports.
In many ways, Trump and Duterte's budding bromance is an oddity. The two presidents could not be more different in their personal style. While the US president revels in ceremony and has built a personal brand using golden totems of wealth and class, the Philippine president shuns all appearances of material wealth. Embracing the ethos of the common man, Duterte insisted upon a modest inauguration party, sleeps under a mosquito net in a simple home, and often can't be bothered to wear socks or a suit to work.
Blue collar boss
Duterte and Trump were elected as anti-establishment, rule-busting champions for the middle class.
Trump's "America First" slogan is designed to resonate with blue-collar workers—and many of them voted for him. His rhetoric of economic populism appeals to America's middle class in a way no other Republican president has since Ronald Reagan.
Likewise, despite his horrific reputation abroad, Duterte has an 76% approval rating in the Philippines, according to the latest polls. Many die-hards come from the country's middle class and overseas workers.
Duterte's distaste for diplomatic politesse echoes Trump's criticism of the "swamp" of traditional Washington DC politics, which he promised to drain. Duterte told Al Jazeera: "I'm not a statesman, I do not aspire to be one. I would just like to be an ordinary president who can fuck you if you fuck with my [people]."
Family first
Both Duterte and Trump have children who have joined them in politics. Duterte's first daughter Sara, a lawyer, is the incumbent mayor of Davao City. She served as her father's vice mayor before Duterte assumed the presidency last June. Her brother Paolo is now her vice mayor.
In a much-criticized appointment, Trump gave his eldest daughter, Ivanka, an official staff position in the White House. Her husband Jared is Trump's senior adviser, and leads the White House Office of American Innovations.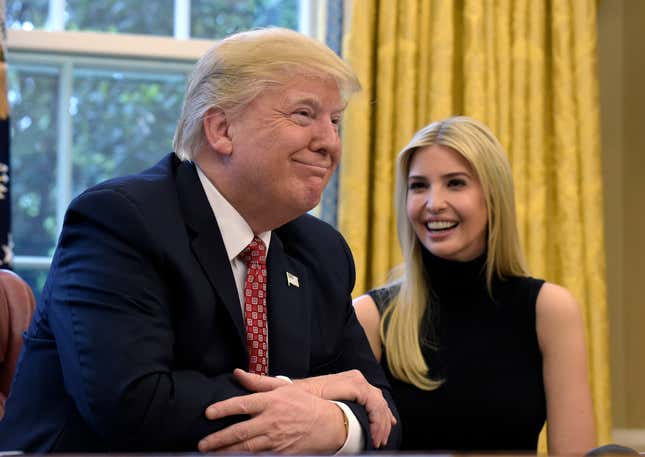 I ♥ China
Trump and Duterte have a mutual crush on China.
With the years-long battle over the Spratly Islands hanging over two countries, Duterte has tried to allay strained relations and lure Chinese investors to the Philippines. To demonstrate that he's cool with China's power plays, Duterte even welcomed three Chinese warships to dock at his hometown this week. It was the first time Chinese ships have docked in the country in seven years. "This is part of confidence-building and goodwill and to show we are friends, and that is why I welcome them," said Duterte.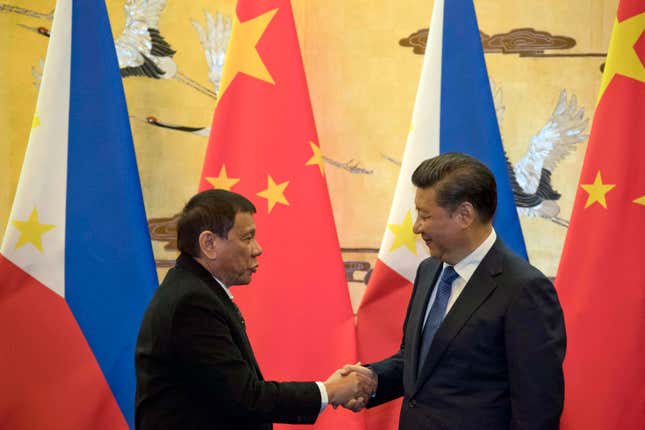 Trump also has had kind words for Chinese president Xi Jinping lately. "He is a good man. He is a very good man, and I got to know him very well," Trump told Reuters after meeting with Jinping last month. This is a radical change of heart (paywall) for Trump, who often blamed China for stealing jobs from the US while he was on the campaign trail.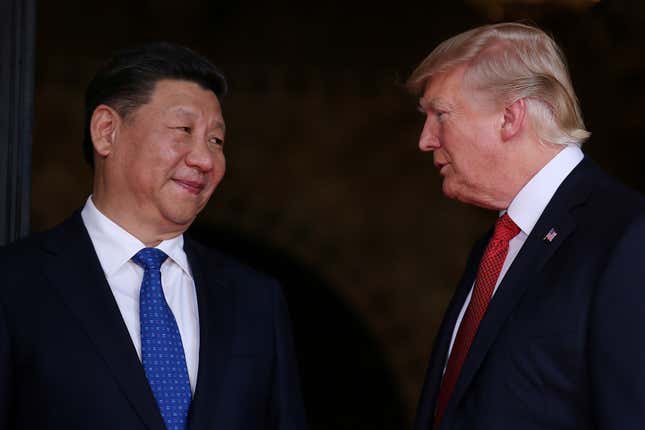 Headline grabbers
Akin to Trump's penchant for sexist "locker room" talk, Duterte too loves deploying blue jokes. Speaking at a mass wedding in Davao City, Duterte offered himself as a "gift" to the brides. "I don't have money to give, but I could give your wives something else," Duterte said. "And this is for the wives only. Men, I'm sorry, you don't get anything because I'm not a queer."
Shooting from the hip
Aides to Trump and Duterte are often left scrambling to explain their boss's incendiary statements. While Trump turns to Twitter, Duterte likes to bust out with outlandish comments in interviews or speeches.
In December, presidential advisor Jesus Dureza traveled to the US to warn Filipinos and the media not to take his words literally. "Always, we caution everyone, don't ask us to interpret what he said. Don't ask us what it means," said Dureza. "We often just massage his statements…Wait until things roll out in action."
Still, the two men have yet to meet in person. And we may have to wait longer for their climactic first date. Though Trump confirmed that he'll be visiting the Philippines in November for the East Asia Summit, Duterte has been coy about accepting his invitation to the White House.
"I am tied up," said Duterte in a May 1 statement, citing his upcoming trips to Russia and Israel. "I cannot make any definite promises."