Gas stations are among the least celebrated works of architecture. While most drivers dart in and out as quickly as they can, editors of the London-based architecture website DesignCurial have been lingering in petrol stations over the last three years, noting their amenities, attractions, and thoughtful features.
Of the thousands they've surveyed, DesignCurial has ranked the world's 10 best, based on "design, innovation and the structure's relationship with its surroundings." Indeed instead of replicating mundane templates, these Instagram-worthy pitstops are custom designed for their locations.
1. Rest Area Niemenharju, Finland
Topping DesignCurial's list is a "blissful" filling station along the 3,504-mile E75 highway running from Greece to Finland. Created by Helsinki-based architects Studio Puisto last year, Rest Area Niemenharju has a restaurant, a convenience store, sleeping areas and even a sauna. The 24 laminated timber beams propping up its gigantic roof evoke the trees in the forest behind it.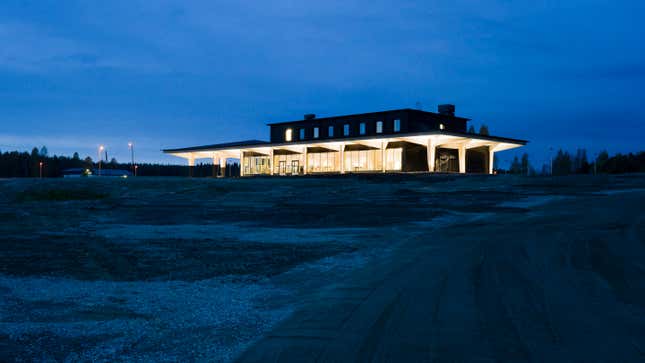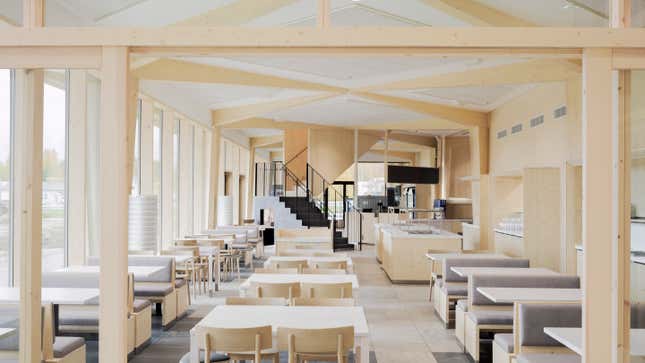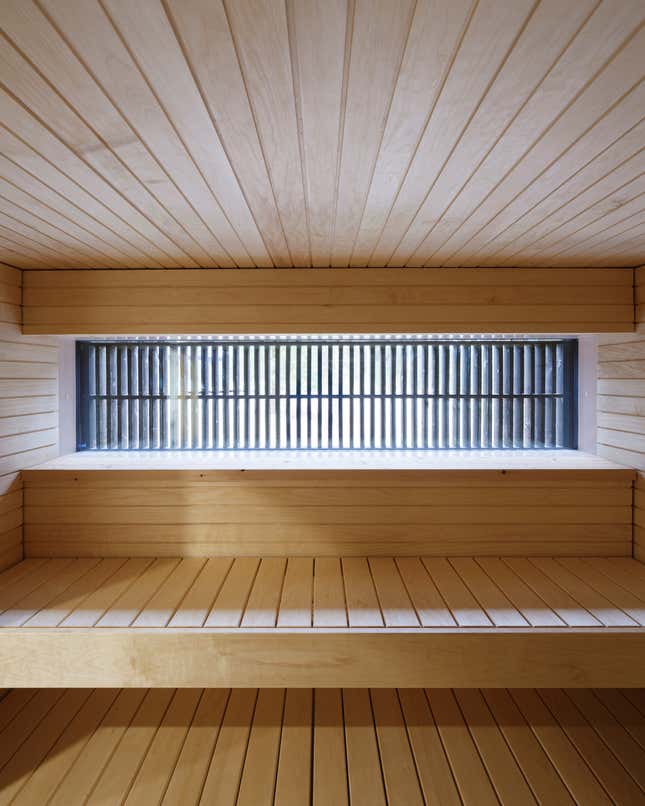 2. POPS Arcadia Route 66, US
A popular destination gas station in Oklahoma is the runner-up. Signaled by a giant sculpture of a glowing soft-drink bottle, POPS Arcadia along US Route 66 is attached to a  cheerful diner serving 700 kinds of sodas and refreshments to perk up weary drivers. Designers Elliott + Associates Architects say they intended to create a "roadside attraction, not just a gas station for the family car."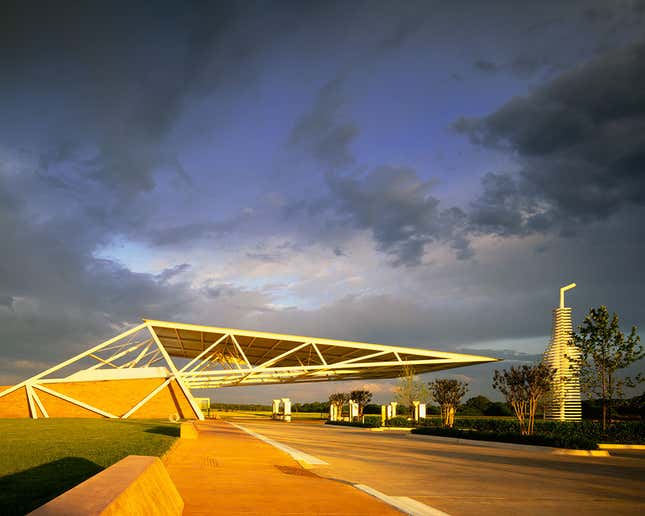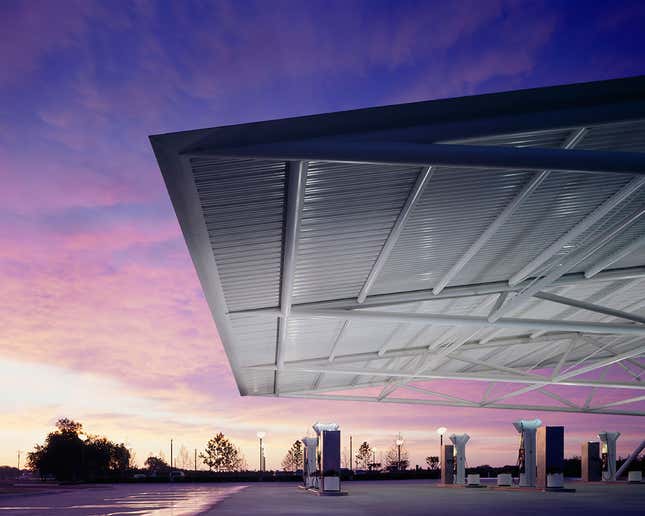 3. Batumi Petrol Station, Georgia
The world's third prettiest gas station is also the coolest McDonald's outlet in the country of Georgia. Designed by architect Giorgi Khmaladze in 2013, drivers immediately recognize the refueling station in Batumi's town center, thanks to its imposing cantilevered canopy.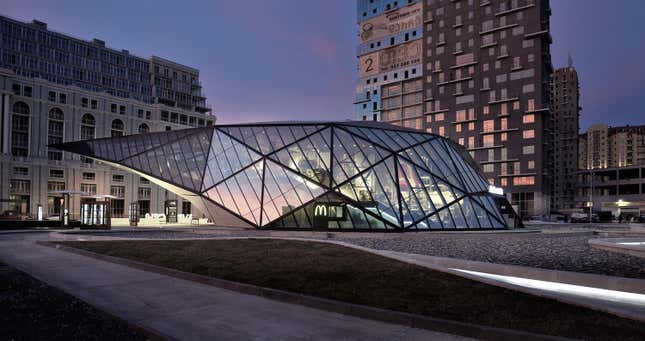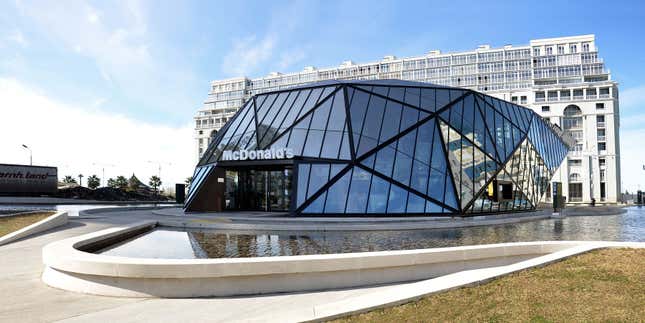 4. NP Gas Station, Spain
Soaring canopies that look like birds in flight announce a filling station in a suburb of Madrid. Architects Belen Moneo and Jeffrey Brock say the structure also mirrors that rolling hills in the landscape along Spain's major highway.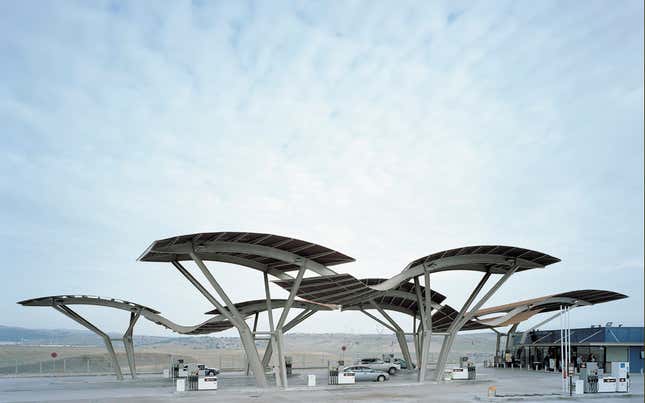 5. Orival Gas Station, Belgium
A vast 16-year old service station that spans across the E 19 motorway connecting Brussels to Paris doubles as a gallery for local artists and sculptors. "A stop on a motorway can, like a terminal, become a place of culture," explain its architect Philippe Samyn.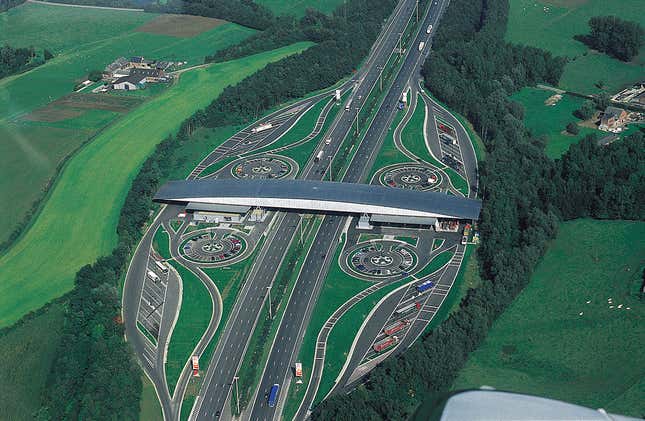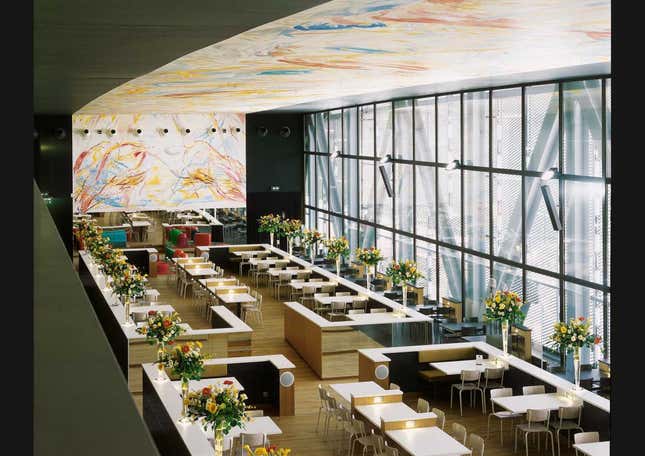 6. Esso Mobil Station, UK
Architecture fans love this well-preserved mid-century architectural gem in Leicester, England. Designed by the influential architect and industrial designer Eliot Noyes in 1964, the station's round canopies are listed on Historic England's conservation list.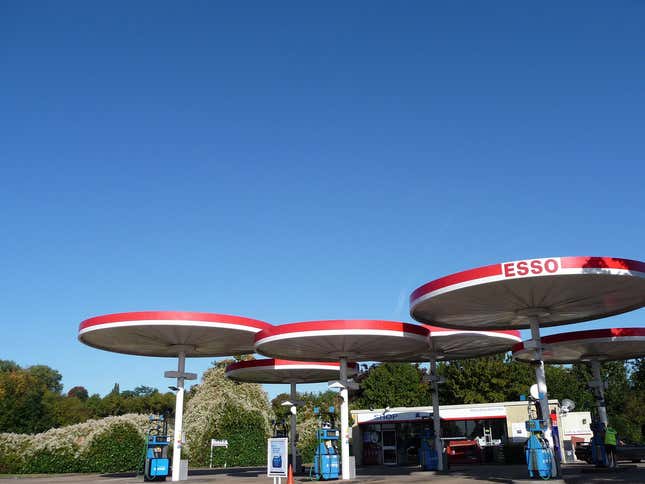 7. 365-Fina Europe Service Station, the Netherlands
A caged refueling station in Houten, the Netherlands made it to the list. Architects Samyn & Partners (who also designed the fifth place winner) engineered a special canopy to minimize wind turbulence. Judges also appreciated the station's well-marked entry and exit points.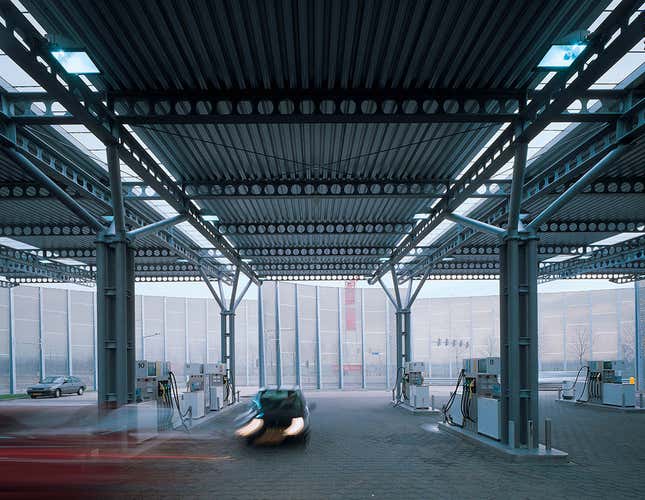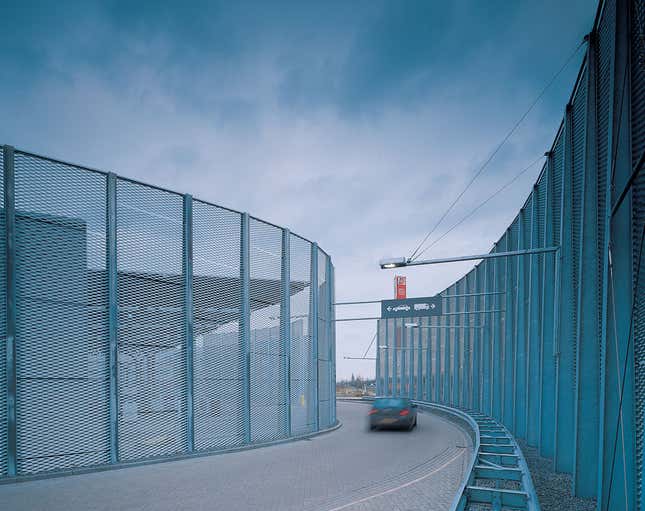 8. Helios House, US
Beneath a giant billboard in the corner of Olympic and Robertson boulevards in Los Angeles is the first US gas station to garner an LEED green-building certification. Billeted as "the station of the future," Helios House is constructed from recyclable stainless steel, has onsite recycling facilities and 90 solar panels to offset its energy use.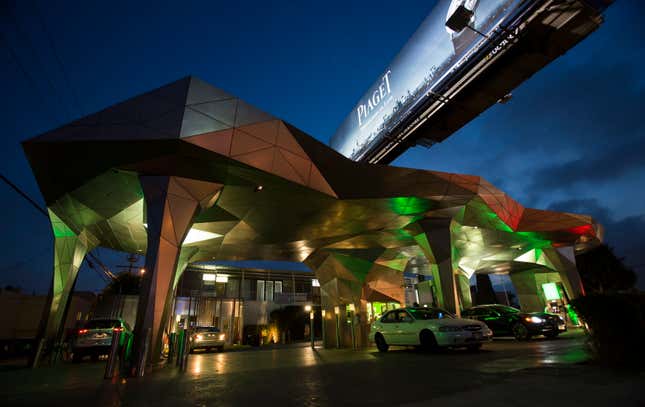 9. Wissol Gas Station, Georgia
Another fueling station in Georgia made it to the list. Along a highway that traverses through Azerbaijan and Turkey is an eye-catching concrete monolith designed by the German architecture firm J. Mayer H.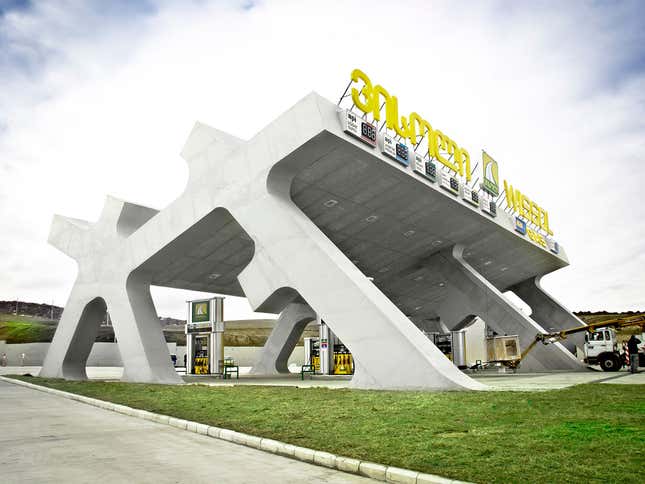 10. Jack Colker Union 76, US
Rounding out the top 10 is another mid-century architecture landmark. Designed by architect Gin Wong in 1965, Union 76 gas station in Beverly Hills, California was originally designed to be part of the Los Angeles airport. With a swooping futuristic canopy that lights up like an alien spaceship, Union 76 is often cited as a quintessential example of Googie architecture.