Lagos
Some Uber drivers in Lagos have been using a fake GPS itinerary app to illicitly bump up fares for local riders.
Initially created for developers to "test geofencing-based apps," Lockito, an Android app that lets your phone follow a fake GPS itinerary, is being used by Uber drivers in Lagos to inflate the cost of their trips.
In some cases, inflated trips can cost riders more than double the rate they should be paying. "It's more like a parasite," says Mohammed, a driver for both Uber and Taxify in Lagos. "It sets the false GPS movement while allowing the phone also to keep track of its actual movement. The Uber app can't tell the difference between both so it just calculates both."
When a driver uses Lockito for an Uber trip he or she can have the fake GPS running (and calculating a fake fare)  from the pickup point to the drop off location, before the passenger has even got into the car.  When the real trip starts, the real GPS starts running and calculating the actual fare. But at the end of the journey the fares from both trips (real and fake) are tallied up as one fare which the unsuspecting rider pays.
Uber Nigeria is aware of the abuse of Lockito by certain drivers. Spokeswoman Francesca Uriri, said it is in violation of Uber's guidelines and the company is "constantly on the lookout for fraud by drivers and riders who are gaming our systems."
The drivers Quartz spoke with said Lockito or "Locki", is simply a reaction to Uber's 40% slash of its base fare implemented in May. Many drivers were unhappy about the price drop and there were a series of protests which had little impact.
Williams*, an Uber driver who asked his real name not to be used, says he heard about Lockito a while ago but initially had no interest in using it. "Uber was sweet, until they slashed the price," he says. "They did not bring back their price up, so the work started getting tough and tougher."
"When the thing was just getting tougher, I had no choice but to go on Lockito."
He claims he uses the app four to five times a week, but has specific targets and does not use it on just anyone.
Williams says the main reason he uses the app is to ensure he can meet his weekly payments to his Uber partner [the owner of the car], a situation he says many other drivers are in.  Most ridesharing drivers in Nigeria do not own their cars, instead they partner with car owners and pay them a weekly fee, which according to Williams has become harder to meet as a result of the base fare slash.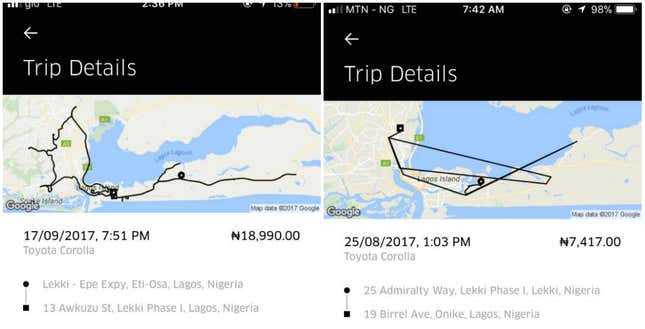 Despite coming out of recession in September, the economic situation is still tough in Nigeria, which is still struggling to bounce back from the global drop in oil prices. A recent report from the World Poverty Clock predicts that by February 2018 Nigeria will overtake India and become the country with the most people living in extreme poverty. Food prices are still high although inflation has dropped and many Nigerians still lack access to basic amenities. Unemployment and underemployment are rife, leading some Nigerians to cut corners to make things work.
In recent weeks, two Uber drivers representing other drivers on the platform have started a class action suit in Nigeria's economic hub arguing that they should receive employee benefits from Uber.
"There are a lot of drivers on Locki, every driver on Uber is on Locki," Williams says. "The only ones that are different is the new drivers…and they're still coming to us to teach them Locki."
Some drivers use Lockito to inflate fares by adding 1000 naira to 2000 naira extra (roughly $3 to $6) but some drivers are believed to inflate fares to exorbitant levels.  
A trip from Lekki, a neighbourhood in Lagos, to Murtala Muhammad International airport is roughly 32 kilometers and  would normally cost just under 3,000 naira ($8).  Williams says he recently heard of a Lockito trip that cost more than 5 times that amount.
Williams' highest Lockito ride so far is 10,000 naira, (the trip normally would have cost the rider N3,000), and although he has expressed guilt over using the app he remains adamant that an increase of the base fare is the only way to stop it being used,  a sentiment shared by other drivers.
"If you block that same Lockito today, another one will come out," says Uchenna*, a partner and driver on Uber who claims not to use Lockito. "If that base fare is normal [and] everybody's receiving their incentive on a normal level, that thing [Lockito] will go off. They want to get the normal, accurate price that Uber were before."
"Lockito or no Lockito," adds another driver who asked not to be named, "if Uber want the Lockito not to exist, that means they have to come back to the base fare."
Perhaps most surprisingly, drivers accuse Uber of not only knowing about app, but purposely not doing anything about it because they still want to maximize their profits.
"If you're using Lockito [with] Uber [it] will tell you "fake location detected"…they will tell you [the driver]," says Williams. "Sometimes when I run it [Lockito], Uber will tell me, "your map of your location…is fake," you'll now click OK…and still yet, I take my money…"
Uber denies these allegations. "Uber has automated rules in place that warns and permanently deactivates any account or accounts associated with fraudulent activity," Uriri says. "Uber encourages both riders and driver-partners to rate their journey at the end of the trip. Honest feedback helps ensure that everyone is accountable for their behavior."
Uber says all riders that report fraudulent activity will be refunded. But Uriri adds that the use of the Lockito will not impact Uber's pricing policy.
Taxify, one of Uber's biggest rivals in Nigeria, has been blocking drivers that try to use Lockito.
"You can't do that anymore on Taxify, they were doing it before on Taxify but then Taxify made drivers update the app, once you update your app, you can't use Lockito anymore," says Williams.
Despite issues with the base fare, Uber's brand stays strong in Nigeria and drivers want the company to remain, but only if the system changes. This is important as competition increases from newcomers including local e-hailing apps like Motionplus and Alpha One, some of which are offering to pay fuel for drivers.
"I pray Uber should learn from now," says Williams. "This is Nigeria, not abroad, the more things are getting worse, the more drivers are planning things."