Not yet two months into his tenure as Angola's new president, João Lourenço has started shaking things up.
In a shock move, the president sacked Isabel dos Santos, daughter of José Eduardo dos Santos, Lourenço's predecessor, as head of Sonangol, Angola's state oil company. Dos Santos had been in charge of her country's most important corporate entity since June 2016 after being controversially appointed by her father. The appointment drew scrutiny from Angola's Supreme Court.
With a net-worth of more than $3 billion, dos Santos is Africa's richest woman. However, much of her wealth is linked to her family's near-total control of the country's resources for the past four decades. Dos Santos' assets range from stakes in the Angola's largest telecoms company to one of its largest banks. Beyond the country's shores, dos Santos also owns lucrative stakes in Portuguese companies.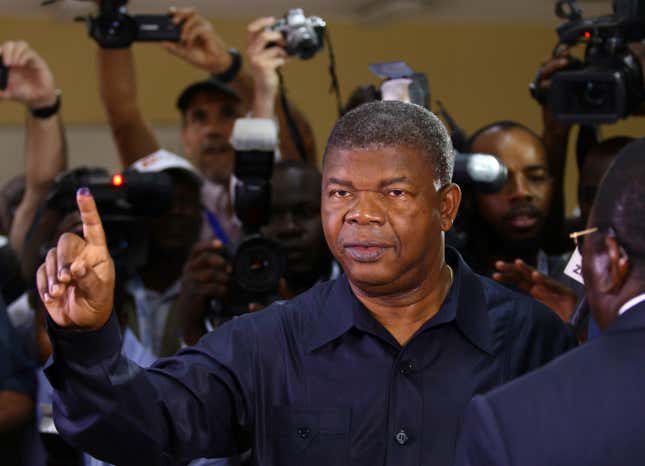 The firing of dos Santos represents a major move by Lourenço as he begins his presidency. Having served as defense minister under president dos Santos, Lourenço wasn't expected to go against the family's interests or to do so anytime soon. But the first indication came earlier this month when Lourenço appointed Carlos Saturnino—who'd been sacked from Sonangol by president dos Santos last year—as his secretary of state for oil. Lourenço has also removed the central bank governor.
The success of Lourenço's presidency is inextricably linked to Sonangol as the company manages Angola's vast oil wealth. Over the past two years, with the company hit hard by the global drop in oil prices, the government has cut public spending. The company's operations have also been shrouded in secrecy and allegations of corruption throughout former president dos Santos' regime. Those allegations are given more credence given how poor ordinary Angolans are despite the country's Africa's second largest oil producer. In 2016, a Legatum Institute report found that Angola has been "under-delivering" prosperity to its citizens.
It's unclear if Isabel dos Santos' sacking will be the first move to wrest control from her family. Jose Filomeno, dos Santos' brother, remains in charge of Angola's $5 billion sovereign wealth fund. Should he decide to, Lourenço might find going after his predecessor tricky as, three months before leaving office, former president dos Santos was granted a seat on the Council of the Republic, a presidential advisory body whose members enjoy immunity from prosecution.