Africa's nascent artificial intelligence sector just got its biggest boost from Google which is opening its first Africa AI research center in Accra, Ghana's capital.
Though Accra has a vibrant tech industry, it would not have been the obvious location for many Africa tech watchers when compared with Nairobi or nearby Lagos where Google has already announced it would open its first Launchpad Space outside the US. Last month, Facebook also opened its first startup hub in Africa there.
Google had been laying the pipeline, both figuratively and physically, for future developments in Accra for a few years now. Back in 2015, the Mountain View, California tech giant started work on a fiber optic network, called Project Link,  across the city to improve internet speeds.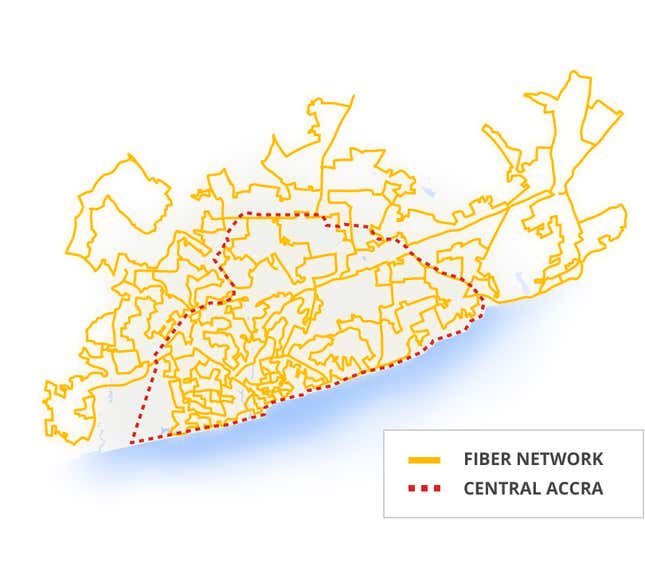 Ghana also has good a font of young talent from its public universities and newer centers like the computer science program at the highly-regarded private institution, Ashesi University. 
Even then, deciding on the location was a difficult decision, said Jeff Dean, team lead for Google Brain, under which its AI projects are housed. "In the end, we chose Accra because of a strong ecosystem of local universities and its proximity to a branch of the African Institute of Mathematical Sciences, and our experience in the country," said Dean on Twitter in response to Quartz's questions. "It is our hope that over time we can consider other research locations as well."
The company says it's trying to bring together top machine learning researchers and engineers at the new center dedicated to AI research and its applications. Google is making a big bet on AI for its future. In 2016 alone it invested $30 billion on AI and machine learning research.
AI is already having a major footprints across Africa. In Ethiopia, where Sophia (the robot that was granted Saudi citizenship in 2017), was partly developed, futurists and enthusiasts are betting on AI's massive potential to drive development in place of the government's own bet on manufacturing. Instead of large industrial parks for Chinese factories, they want increased investment for research and development into new age technologies like AI. "They think that advanced technologies are a luxury. It's not a luxury, it is crucial," says Getnet Assefa, founder of iCog, Ethiopia's first AI lab. 
In Nigeria, machine learning is being used by doctors for the early detection of birth asphyxia—the third highest cause of under-5 mortality in Africa. China, on its way to become the leader in artificial intelligence, is using Zimbabwe as the test ground to help its facial recognition systems identify faces with dark skin.
Despite these and many other projects, artificial intelligence is not necessarily a straightforward topic for governments across the continent. AI is already taking away some factory jobs even before there were enough to go round in what is being termed as 'premature deindustrialisation'.
With high levels of unemployment in many countries, particularly with young Africans there are concerns with some African policy makers that these types of technological advances, which will see machines and robots learn to "think" like humans will only worsen unemployment. Yet such consideration might be seen as short-term thinking. Research from PricewaterhouseCoopers  estimated "artificial intelligence technologies could increase global GDP by $15.7 trillion, a full 14%, by 2030 of which $1.2 trillion would be added for Africa.