At New York Fashion Week this month, clothing made from cotton grown and handwoven in Burkina Faso and cut and sewn in Ghana featured on the ramp in a victory lap for sustainable fashion.
With their Spring/Summer collection, Studio 189 showcased a lesson in ethical fashion that Africa could teach the world. Young designers across the continent are adapting traditional techniques and locally-sourced materials to create garments that are both green and fair—two traits that are becoming more fashionable among global consumers.
Africa's fashion industry, however, remains a very local affair. Most African brands are small operations, with no production capacity to supply large orders. Scaling up is hard, given electricity shortages and other manufacturing glitches that come with producing in a developing country. Niche local brands already have the bespoke quality international buyers are looking for, now a few African entrepreneurs are trying to find out what it takes to produce clothes that are African, sustainable, and can be sold at scale internationally.
With Studio 189, luxury label veteran Abrima Erwiah and actress and activist Rosario Dawson have created an example of sustainable clothing that is both beautiful and profitable. The batiked blues of the "Patois" collection are distinctly African. The up-cycled denim, dumped on African markets by Western donors, was a statement on consumerism.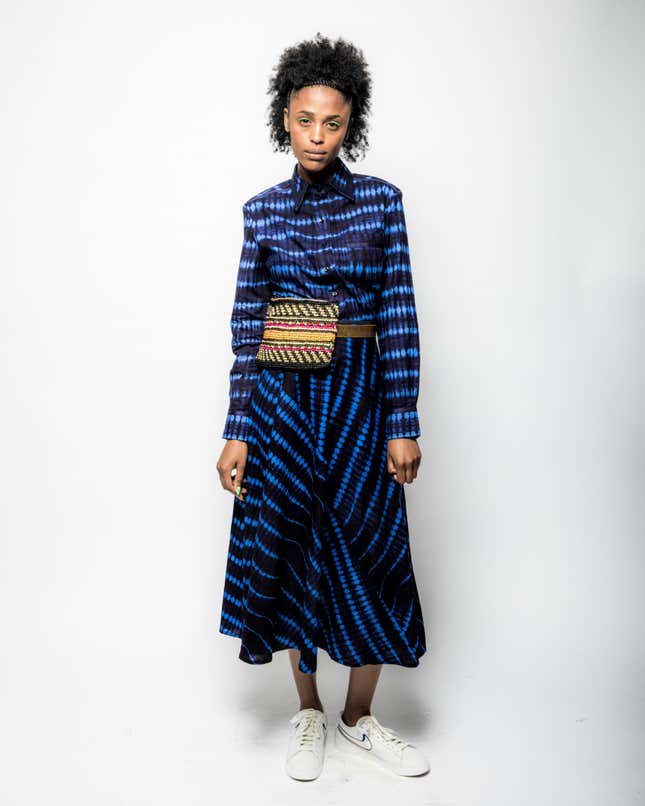 Handmade in Africa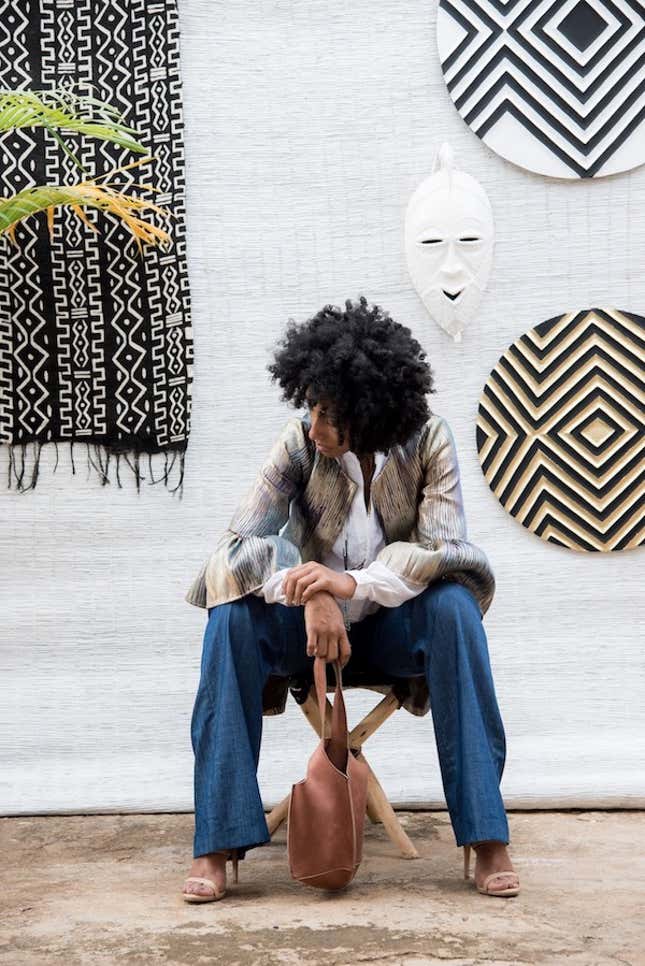 Studio 189 is part of a generation of African designers who have an intergenerational repository of intellectual property to draw from in the continent's millenary crafting techniques, says Nisha Kanabar, co-founder of Industrie Africa, a digital showroom. "That, coupled with the fact that most designers are not yet producing in a large-scale way, just naturally lends itself to a more sustainable fashion ecosystem."
Rwanda's Haute Baso, for example, already employs local artisans and trains young women to elevate crafts such as embroidering and weaving. Ghana's AAKS is reinterpreting traditional crafting techniques, with women in the north of the country hand-weaving their signature bags. In Egypt, Reform Studio has created a woven textile from traditional jute fibers and recycled silver food packaging.
Many of these trailblazing brands are able to be sustainable because they make custom-made goods or sell them at a handful of boutiques. But their desire to preserve craftsmanship and access to locally sourced materials and facilities limits their scale, explains Kanabar.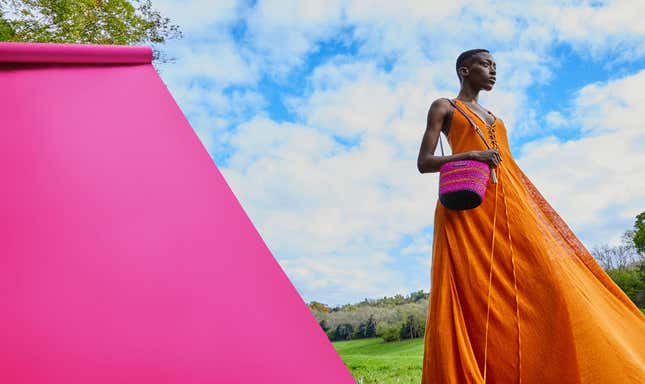 In a way, they're not unlike artisans peddling handicrafts at flea markets.
"I would watch them try to sell something that I know took them forever to make and people were negotiating so much that by the time they finished negotiations, they're losing money," Erwiah recalls watching artisans in Africa haggling with tourists. She says Studio 189 was founded to empower artisans, particularly women. 
Scale and sustainability
One way African fashion companies could boost their earnings is by scaling up production, but doing so in a way that also benefits the workers making the clothes is tricky.
In order to become a profitable export-oriented textile hub, Ethiopia has adopted the same low-cost, low-wage model that Bangladesh, Cambodia, and China are reckoning with. Ethiopian workers earn as little as $20 a month. Local workers are starting to complain, even if the international backlash hasn't yet materialized.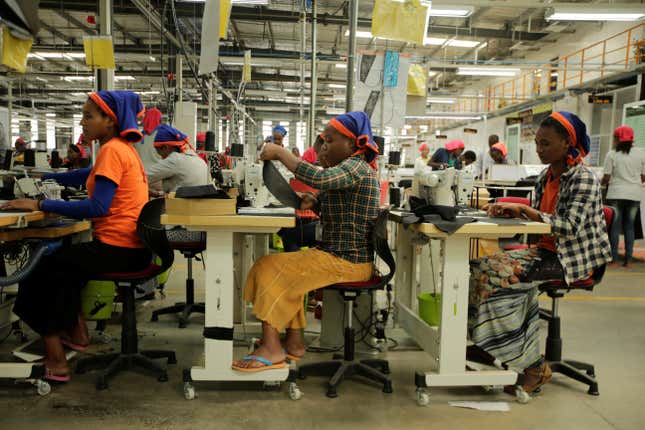 Erwiah is trying to balance scale with better wages (although she would not give further details) and working conditions. With a factory in Accra, Studio 189 is already different from many other manufacturers. For starters, the label came out of Fashion Rising, a project on the back of the One Billion Rising global campaign against gender-based violence.
The factory was partly funded through a partnership from the International Trade Center, the Swiss and Ghanaian governments, which sponsor a program to grow the local fashion industry. Its focus on sustainability earned the firm this year's Council of Fashion Designers of America and Lexus Fashion Initiative award.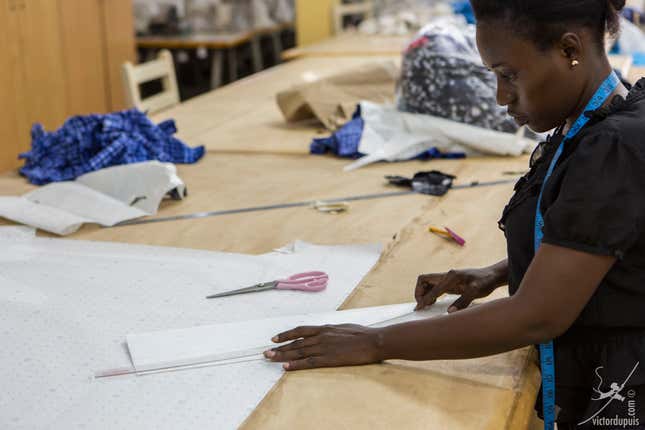 Studio 189 says all its clothing collections are created in West Africa by local producers, down to the fabric. The cotton used in some of the company's designs is woven by a cooperative in Burkina Faso, and batiked at the Accra factory or among village cooperatives, using techniques that have been in its workers' families for generations. Many brands working in an African aesthetic are reliant on cloth made in China. This self-sufficient model allows Studio 189 to create its own fabric, giving the brand greater control over the production process.
Production glitches
Studio 189's main market is in the US, giving them access to consumers with more money to spend. But being a higher-end label doesn't mean it still doesn't have to deal with the daily grind of doing business in Africa from power cuts to logistics troubles. A US or European store that has just put in a big order probably won't understand these dynamics, and a consumer seeking a quick buy, probably even less so. "It's difficult for people to draw the links between the actions they take as a consumer and the development of somebody who is doing the work in a local context," says Erwiah.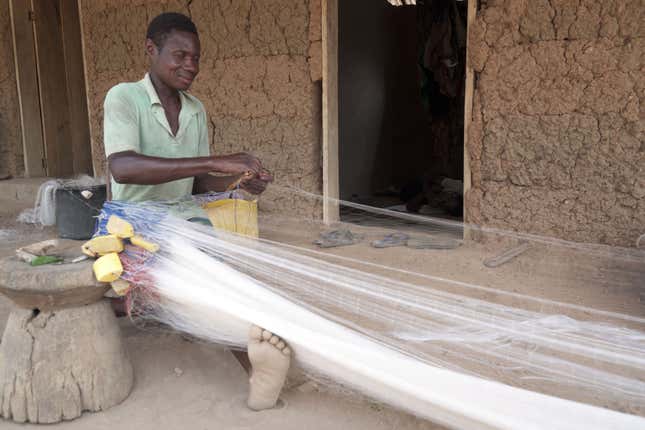 In order for Studio 189's model to work, says Erwiah, the price tag of the products have to take into account those obstacles.
She thinks shoppers would be more willing to pay higher prices if they were aware of the social and environmental impact of their purchases. They'd also be more likely to consume less in general: if they felt more connected to where the shirt came from, they would want two instead of twenty, she says.
It's not unlike the model of the luxury brands she represented when she first started out in the fashion industry. For brands such as Bottega Venetta,  Hermès, and shoe designer Cesare Paciotti—all of which Erwiah worked for— the bespoke work of its niched artisans is a lucrative selling point, she says.
She wants the work of African craftspeople to be considered just as valuable.
Sign up to the Quartz Africa Weekly Brief here for news and analysis on African business, tech and innovation in your inbox