When Nigeria's tech ecosystem started to form nearly a decade ago, e-commerce seemed to be the go-to tech idea for a startup.
Perhaps, more than anything else at the time, it captured the idea of an online business serving customers through technology. But recent trends suggest that reality was not rooted in economics and may now be going out of fashion.
In a high profile case last year, Konga, one of Nigeria's pioneer e-commerce companies was sold—likely at a loss for its investors—after failing to match expectations despite pulling in over $70 million in investment since it was founded in 2012. Signs of Konga's struggles first appeared in late 2017, when it slashed its staff strength by 60%.
But Konga's struggles didn't happen in isolation as more players in the e-commerce and online marketplace space have faltered over the past 18 months. OLX, a popular classifieds platform backed by Naspers—Africa's most valuable company, Efritin, an e-commerce platform for used goods, DealDey, an online discounts platform and Careers24, an online jobs marketplace also backed by Naspers, have either scaled back operations significantly or shut down entirely.
Indeed, this week, Olumide Olusanya, CEO of PayMente, parent company of Gloo.ng, an online supermarket, announced the company has pivoted away from e-commerce. Olusanya says the move is down to a lack of long-term faith in the e-commerce model after running Gloo.ng for six years. Sticking with the e-commerce model, Olusanya tells Quartz, was "going to be a big challenge" down the line given the reality of a small addressable middle class market and continued logistical issues. The point about market size is linked to Nigeria's wider economic struggles over the past three years.
Beyond that, the actual size of the portion of the middle class that has enough disposable income and is sufficiently tech savvy to adopt online shopping does not appear large enough to sustain businesses looking to serve them.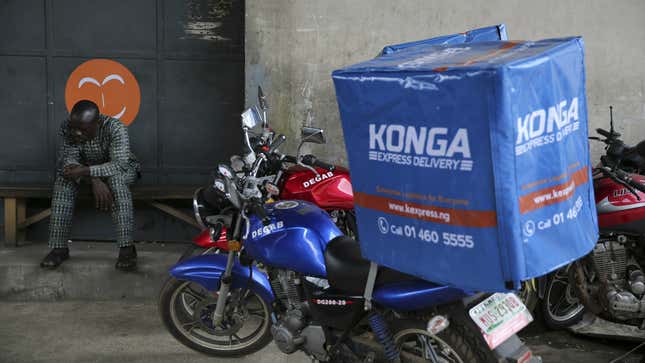 Emeka Okoye, a Lagos-based tech veteran focused on the semantic Web and data, says the problems e-commerce companies currently face were always hiding in plain sight and were likely missed by those caught up in the wave.
"E-commerce did not come up in Nigeria because there was an opportunity, it came up became it was hot globally," he says. "Fundamentally, that was wrong because e-commerce ventures did not build their businesses in Nigeria based on social behavior."
With local buying habits that predominantly favor—and fuel—offline retail and a preference for cash payments—as riding hailing giant, Uber found out, Nigerian e-commerce companies were faced with engineering a major cultural shift in customers' behavior rather than taking advantage of one. "We don't have the [market] numbers and we don't have the social behavior so e-commerce is not sustainable yet," Okoye says. "The issues they [e-commerce companies] have encountered didn't just pop up, they have always been there," he adds.
One way to possibly achieve success despite the lingering challenges according to Tomi Davies, a prominent angel investor in Nigerian tech startups, is to think beyond national borders. "If you're serious about scale, you have to adopt a continent-wide strategy to ensure survival," he says.
Essentially, with major urban cities across Africa home to pockets of the continent's middle class, e-commerce companies might have a better chance to grow a big enough customer base in several markets rather than sticking to a single one. "It's like trying to run a mobile network in just one city. It's not that you won't get customers, it's that the economics won't work," Davies says.
But even a continent-wide strategy is not exactly a guarantee of success.
Jumia, the Rocket Internet-owned brand which houses Africa-focused startups across classifieds, food delivery, real estate, job listings, payments, logistics, hotel and flight bookings, operates a continental model that's yet to pay off. Sustained investment in infrastructure, staff and marketing has seen the company's annual losses steadily widen, reaching €120 million ($140 million) in 2017.
As e-commerce readiness indicators across the continent broadly appear to be improving, Jumia is looking to play the long game. However, it has deep pockets having raised over $700 million in funding and so has much more cash to burn than almost any other e-commerce business in Africa can hope to match.
Trust issues
While the outlook of Nigerian e-commerce companies can be limited by factors like the size of the addressable market and logistics, they have largely failed in earning the one factor they can control: trust.
Poor customer service and questionable return policies have seen trust deficit largely worsen among Nigerian customers. "With respect to the effort put it in by [e-commerce] founders, I don't think the businesses place enough emphasis on trust and ensuring customers get value," says Odunayo Eweniyi, co-founder of Piggybank, the Nigerian savings app. "I order things from abroad constantly and they almost always arrive before the estimated delivery date but in Nigeria, they treat estimated delivery dates like a suggestion."
The trust deficit, some industry insiders suggest, means that among the already small addressable market, potential customers are far more at ease shopping from international e-commerce platforms than local alternatives. There's already some anecdotal evidence that despite the supposed limitations of Nigeria's e-savvy market, consumers who are keen on buying things online often choose to buy from international giants like Amazon or Alibaba especially as they now offer direct delivery to Nigeria. Amazon and Alibaba, alongside Jumia, are also the most visited e-commerce websites in Nigeria, web rankings show.
The uncertainty around receiving orders satisfactorily also means that e-commerce companies are often used as soundboards for prices with customers then choosing to buy offline instead.
One way e-commerce companies have tried to fix trust-based problems like early-day online payment failures and customers' preference to touch and feel items before purchase was to offer a "pay on delivery" option. But even that has been fraught with pitfalls, forcing e-commerce businesses to drop it.
As e-commerce companies continue to struggle, Okoye insists success can only be thought of with a long-term view. "We live in a trust-challenged environment and that's a very big problem which will not change overnight," he says.
Sign up to the Quartz Africa Weekly Brief here for news and analysis on African business, tech and innovation in your inbox