The future of Sudan is hanging in the balance.
After months of protests, the military last week removed and locked up strongman Omar al-Bashir, ending his three-decade rule over the northeast African state. Since December, protestors have linked the worsening economic conditions in the country to poor political governance, on top of worsening armed conflicts in the regions of Darfur, South Kordofan, and Blue Nile.
Bashir's removal didn't, however, assuage the demands of the demonstrators; army lieutenant Awad Ibn Awf, who initially replaced the longtime president, resigned a day after taking charge. Protestors have also called on his successor, general Abdel-Fattah Burhan, to bow out and oversee a transition to civilian power.
As pressure mounts in the streets, reports suggest that Sudanese authorities transferred Bashir from house arrest to solitary confinement in Kobar prison in the capital Khartoum. Two of the former president's brothers were also arrested in what the transitional military council said was part of a campaign targeting "symbols of the previous regime."
By continuing their protests, observers say the Sudanese people are gleaning lessons from the Arab Spring uprisings. In Egypt, for instance, the military's control over the transition of power impeded the ability of the democratically elected president Mohamed Morsi to affect real change—eventually leading to Abdel Fatah al-Sisi's coup in 2013.
Protests have also continued in Algeria even after the resignation of president Abdelaziz Bouteflika in early April, replaced by an interim government many see as allied with the former leader.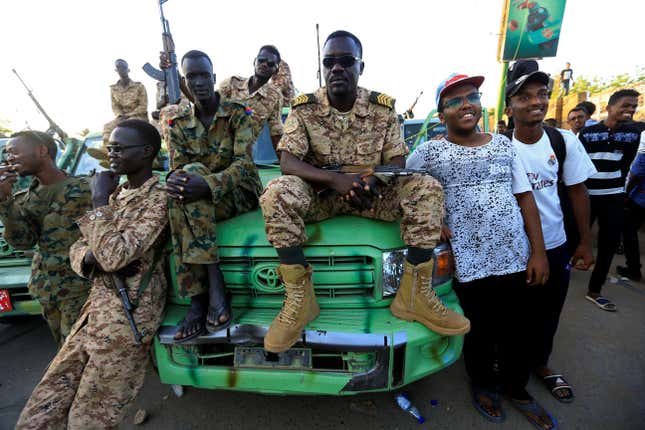 The international response to the Sudanese uprising has been mixed. The United Arab Emirates, Egypt, and Saudi Arabia have so far welcomed the takeover and vowed support for the people of Sudan. Their backing of Burhan could be seen as strategic, given that Sudanese forces are among the Saudi-led coalition fighting Houthis in Yemen. All three nations also have a stake in supporting the junta as a check on the rise of Islamist organizations linked to the Muslim Brotherhood—outfits usually favored by rival nations like Turkey and Qatar.
Meanwhile, the African Union threatened to suspend Sudan from the continental body if civilian rule isn't restored in 15 days.
The Sudanese Professional Association and other civilian groups reject military rule and are encouraging negotiations to shape a new interim government. For his part, Bashir's future looks bleak: Both Amnesty International and Human Rights Watch have called on Sudanese officials to hand him over to the International Criminal Court, where the ex-leader stands accused of war crimes and genocide.