Emmanuel Izochukwu, a 22-year-old forward, had planned in June to take his soccer career to the next level by making a move from Nigeria to Macedonia. Instead, he was met with crushing disappointment.
Even though one of Macedonia's biggest soccer clubs was interested in his talent, they simply did not have the budget to execute a transfer. Izochukwu's story is emblematic of the wider reality facing hundreds of young African soccer players, who are seeing their dreams of landing contracts with European clubs dashed by the after-effects of the coronavirus pandemic.
Global soccer has had to contend with social distancing requirements, matches played in empty stadiums without fans, abandoned league seasons, and income and broadcast rights losses on a major scale, especially in Europe, which is the wealthy epicenter of the global game. But mounting losses have also made it difficult, or even impossible, for some clubs to recruit players from abroad. Teams are potentially losing out on a cohort of soccer talent. Prospective players in Africa, meanwhile, are losing out on the opportunity of a lifetime, and risk being exploited.

Ripple effects
European soccer clubs face estimated losses of around $7.4 billion due to the impact of the Covid-19, according to the European Club Association. In England, Deloitte estimates that lockdowns, which disrupted the 2019/2020 season, cost Premier League clubs up to $1 billion. On a  global scale, the Covid-19 pandemic is likely to cost club soccer $14 billion this year.
The net effect is that smaller European clubs and leagues, which are very often key beneficiaries of spending at the top of the pyramid through player sales, have also been badly hit. And that's cascading down to African players, for whom the road to the heights of European soccer often starts with less-heralded moves to smaller leagues and clubs that are willing to bet on young, unproven soccer talent.
"There's a domino effect," says Omavua Akatugba, a Germany-based player intermediary who facilitates transfers for African players. "Big clubs' spending reaches mid-table teams and mid-level leagues. When the chain breaks, it reaches every corner of the world."
African players currently account for about 8.6% of registered players in the Premier League, and there is abundant evidence to show that they can cut it at the highest levels. Two years ago, three African stars—Pierre-Emerick Aubameyang (Arsenal/Gabon), Sadio Mané (Liverpool/Senegal) and Mohammed Salah (Liverpool/Egypt)—jointly shared the Golden Boot award for the top scorer in the Premier League.
Mané, who also plays for the Senegal national team, got his first big break at Austria's RB Salzburg, which has an established history of signing promising African players.  Salah, from Egypt, cut his teeth at Switzerland's FC Basel. Today, the two are among the best players in world and have driven a golden era of success at Liverpool, one of England's most-storied clubs. Hundreds of young Africans dream of a similar path to the top. But their progress largely depends on detours at smaller European clubs willing to take the perceived risk of signing them.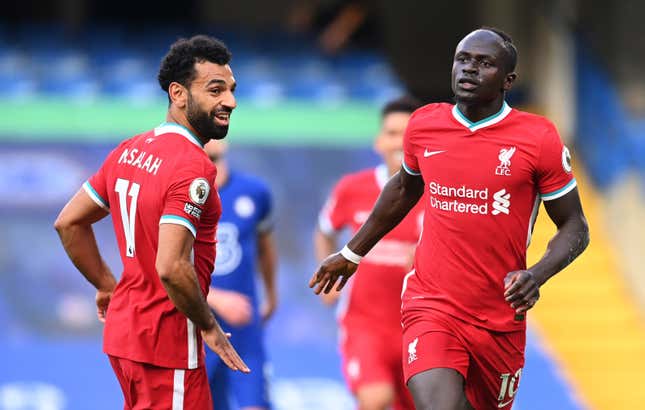 A difficult journey
In addition to finances, global travel restrictions in the wake of the pandemic are also proving to be tough barriers for young African footballers.
Indeed, after Izochukwu's transfer to Macedonia broke down in June, he had another shot at moving to Europe when a third-division French club invited him for a trial in September. But that dream fell apart after he failed to secure a visa amid EU travel restrictions. "I felt disappointed because such opportunities don't come every time," Izochukwu says. "I pray to have more opportunities but right now, I'm disappointed and frustrated."
To be clear, there's no blanket ban on African immigrants moving abroad amid the pandemic. In fact, with public health systems increasingly stretched in the UK, for instance, there is a growing demand for immigrant doctors from African countries. Given their unique expertise, high levels of education, and often middle or high-income backgrounds, these doctors typically fit the bill for the UK's skill-based immigration programs.
But young, unproven footballers based across Africa typically do not fit that bill. While the sport is hugely popular across the continent, it is still not regarded as a first-choice career path for youngsters whose families can afford quality education.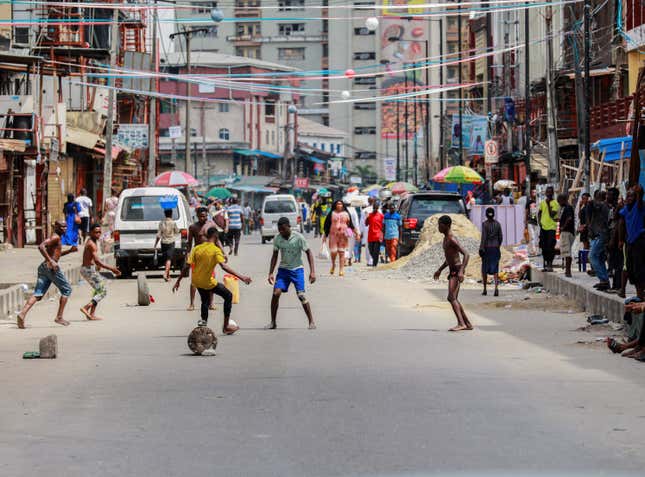 Bad faith actors
Most soccer leagues in Africa are not lucrative. A move to Europe offers the best players the prospect of participating in the world's most watched soccer leagues, earning millions in salaries, and building a global brand reputation that can be leveraged on retirement.
The fact that there are now fewer opportunities for Africa-based soccer players to pursue these dreams legitimately has created an opportunity for illegitimate "agents" to step up their game. Their business is exploiting the desperation of young players by promising phantom deals.
Human trafficking is a major problem across the continent, with scores of young people going to extraordinary lengths and risking everything to seek opportunities for better lives abroad. Over time, soccer has become yet another avenue for traffickers.  Young prospects are often targeted by scammers who pose as agents, only to disappear after getting paid or, even worse, leave the players stranded in difficult conditions abroad.
In one high-profile case last year, Moshood Afolabi, a 24 year-old Nigerian who had been stranded in Mongolia for 16 months, was rescued by a Scottish businessman who read about his plight on the internet. Afolabi had moved to the east Asian country based on a phony club offer presented to him by a local "agent," only to be trapped without a job when his visiting visa expired one month after his arrival.
FIFPro, the global body for professional soccer players, is working on a campaign for young players in Africa in a bid to raise awareness about phony agents. But the unique circumstances of the pandemic means the task of educating increasingly desperate youngsters is more crucial than ever.
"Before Covid-19, there were genuine opportunities. But right now, it has become much more difficult, because legitimate opportunities are reducing," Akatugba says. "The situation leaves young African players even more vulnerable to conmen."