A new discovery by Economic and Financial Crimes Commission (EFCC), Nigeria's anti-graft agency hints at the scale of the country's corruption problem.
On Wednesday (Apr. 12), an EFCC raid on an empty apartment in Ikoyi, a highbrow Lagos neighborhood, turned up bundles of  cash in dollar, pound sterling and naira currencies totaling $43.4 million, at current Central Bank of Nigeria rates. While the agency is yet to identify the owner of the apartment, a Federal High Court in Lagos has ordered a temporary forfeiture of the money. The discovery, thanks to a tip under Nigeria's whistle blowing policy, has shocked many Nigerians who, given the many cases of corruption that come up in the country, are not easily taken aback by discoveries of this type.
Over the past five months, Nigeria has focused on tackling its corruption problem through a new whistle-blower policy and it seems to be paying off. The policy, approved by president Buhari last December, encourages Nigerians to report corruption-related offenses. As an incentive, if ill-gotten funds are successfully recovered, whistle-blowers stand to receive between 2.5%-5% of the recovered amount.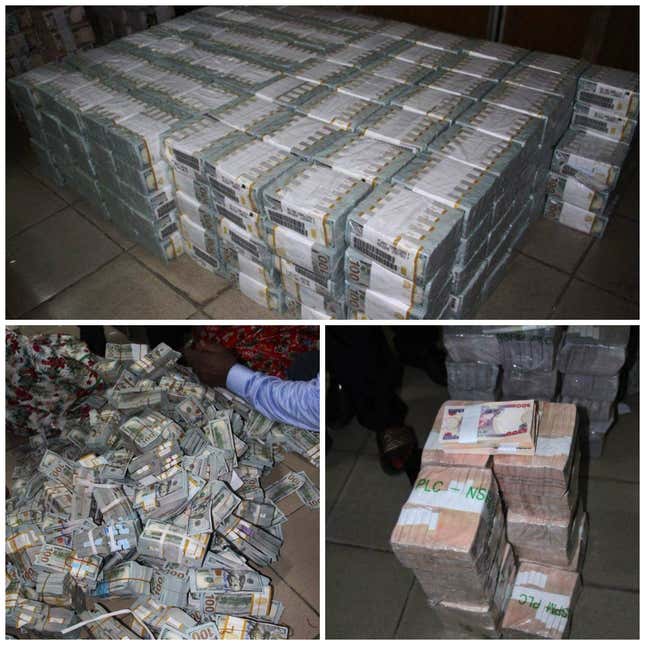 Since the policy was put in place, EFCC has announced several raids, based on whistle-blower tips, that have resulted in cash hauls. In the past week alone, several other tips have seen the EFCC uncover stashes of cash totaling $15.3 million at various locations, according to the agency's website.
With decades of ingrained financial misappropriation in government offices, the whistle-blower policy has become an important tool to help Nigeria reverse the trend of rampant and brazen corruption. A perennial problem, Nigeria ranked 136 out of 176 countries on Transparency International's Corruption Perception Index in 2014 and 2015. Nigeria, Africa's largest economy, is often identified rampant corruption in its highest offices. A key pledge of Buhari, when he came to office in May 2015, was to lead a fight to eradicate corruption. The scale of graft, particularly in the last government's oil sector dealings, is coming to light with daily stories.
Back in February , the agency uncovered a $9.8 million stash from Andrew Yakubu, a former group managing director at Nigeria's state oil company. At the time, including Yakubu's loot, Lai Mohammed, Nigeria's minister of information, said the whistle-blowing policy has led to the recovery of over $180 million. With recent recoveries, that figure is now well over the $200 million mark.