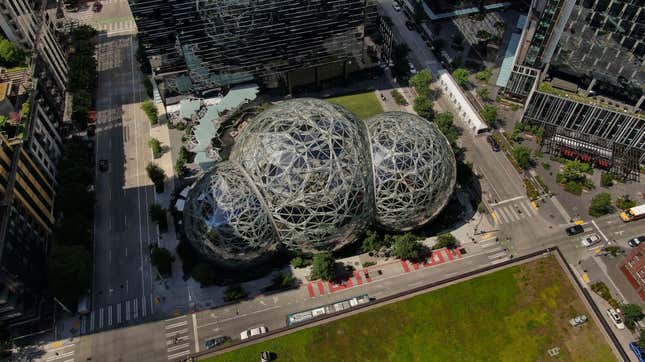 Job cuts at Amazon are a sign of tough times to come for tech workers.

The e-commerce behemoth had first announced plans to pare back its workforce in November, citing rapid over-hiring during the pandemic and growing economic uncertainty. In a note published on Amazon's website today (Jan. 5), CEO Andy Jassy revealed the extent of those cuts: 18,000 roles. That's far more than the nearly 10,000 jobs, or 3% of its office workforce, Amazon had anticipated eliminating.
The November job cuts largely affected Amazon's devices and books businesses. At the time, the company had also announced a voluntary reduction offer for some employees in its people, experience, and technology (PXT) organization, adding that more downsizing was on the cards in early 2023. As anticipated, the majority of the roles eliminated this time around are in Amazon Stores and PXT organizations.
"We are working to support those who are affected and are providing packages that include a separation payment, transitional health insurance benefits, and external job placement support," Jassy wrote.
Typically, employees are informed before public announcements, but Jassy was forced to make today's statement shortly after the Wall Street Journal broke the story. The company says it will start communicating with affected employees starting Jan. 18.
The growing pains of job cuts, in the words of Amazon CEO Andy Jassy
"Companies that last a long time go through different phases. They're not in heavy people expansion mode every year…we sometimes overlook the importance of the critical invention, problem-solving, and simplification that go into figuring out what matters most to customers (and the business), adjusting where we spend our resources and time, and finding a way to do more for customers at a lower cost (passing on savings to customers in the process)." —Amazon CEO Andy Jassy in his Jan. 5 note
Are Amazon's layoffs the largest in tech?
By number, yes. Amazon's job cuts exceed any of the mass headcount reductions at major companies—Meta (11,000), Snap (1,280) and Twitter (3,750)—in recent months. However, as a percentage of the 300,000 corporate staff, it's less than 6%. (Overall, Amazon employs 1.54 million people)
Several other tech majors have had to let go of far more. Most recently, Salesforce said yesterday (Jan. 4) that it would lay off 10% of its workforce in the coming weeks as it restructures to cut costs. Twitter laid off half of its staff when billionaire Elon Musk took the reins.
Are there more layoffs coming?
January is historically the worst month for layoffs, according to Bureau of Labor Statistics data that dates back to 2000. During the first month of the year, most companies "are doing restructures, reorganizations and setting the direction," Sarah Rodehorst, co-founder of Onwards HR, told NPR.
It's not just tech that's hit by the wave. Across industries, be it investing giant Goldman Sachs or automaker Ford or beverage brand PepsiCo, several companies are reducing headcount. More firing and less hiring seems to be the mantra for 2023 as fears of recession loom.
Company of interest: Google
The next big mass layoff may be coming from the world's prime search giant.
Google is reportedly looking to slash 10,000 employees—6% of its workforce, The Information reported in November, citing anonymous sources. And it's not just a matter of austerity and bad luck: the company is targeting staff that isn't meeting their performance targets. To assess who ranks at the bottom of the pile, last May, the company introduced a new performance management system designed to help managers "push out thousands of underperforming employees" starting in early 2023.