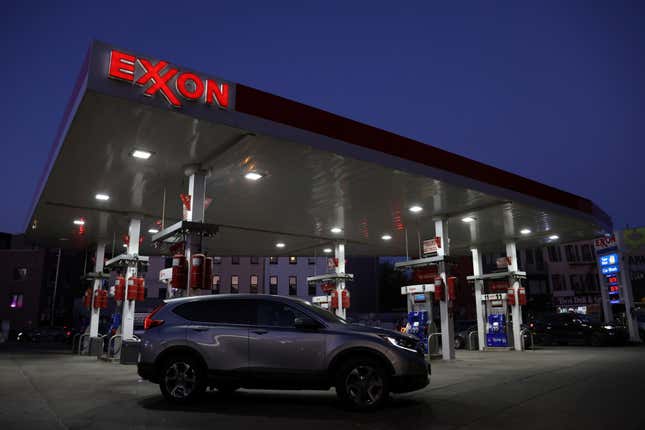 ExxonMobil, a company feeding the very fossil fuel habit that the world is trying to kick, is now getting into the business of extracting another geological resource: lithium.

Should you keep investing in Big Tech?
The oil titan has acquired drilling rights to land believed to be rich in lithium, a crucial metal in electric vehicle batteries, in the southern US state of Arkansas, according to the Wall Street Journal.
Exxon Mobil paid $100 million to buy the rights for a 120,000-acre tract from an exploration company named Galvanic Energy, according to the newspaper. The land is reportedly in the Smackover formation of Arkansas, where there is known to be brine rich in lithium.
From Big Oil to Big Shovel
The world's oil giants have profited wildly from oil and gas revenues over the last two years, and they have no plans to give that income up. But Big Oil also knows it cannot afford to miss the shift to "Big Shovel," a phrase used by Daniel Yergin, an energy and geopolitics expert, to describe the mining boom that will power the shift from a fuel-intensive energy system to a critical minerals-intensive one.
And Exxon Mobil's new bet on lithium gives it exposure, with all the potential upside in revenue and profits, to the red-hot market for electric vehicles and batteries.
Global demand for lithium is expected to surge in the coming years, far outstripping supply as the world shifts towards renewable energy systems. These require batteries to store electricity for later use, given the variable nature of wind and solar. By 2050, according to an estimate from the International Energy Agency, the world will need to mine 26 times more lithium than it did in 2021.

Lithium-ion batteries are currently the most widely used type of battery, the supply chain for which is dominated by China. Chinese battery giants are also investing heavily in developing sodium-ion batteries, which could potentially offer an alternative to lithium-based ones.

Even if Exxon's $100 million investment in Arkansas lithium is a fraction of Exxon's $56 billion in profits last year, these drilling rights aren't the company's only bets on the renewable energy future. Exxon is also investing heavily in building out its EV charging network. Additionally, a dozen oil majors, including Exxon, have backed a $1 billion fund to invest in companies in the battery space, including a nickel-zinc battery manufacturer.
Oil majors to cash in on a future of renewable energy

Other veterans of the Big Oil era are making similar investments in minerals and batteries.
Argentina's state oil company YPF, for example, is prospecting lithium deposits in the country's Catamarca province and plans to set up a lithium-battery manufacturing plant. BP, meanwhile, has invested in StoreDot, whose lithium-ion batteries are designed for ultra-fast charging.
TerraLithium, a subsidiary of the hydrocarbon exploration giant Occidental Energy, is developing technology to extract lithium from underground brine. Pioneer Natural Resources, another oil and gas explorer, is looking at pulling lithium out of oil field wastewater.