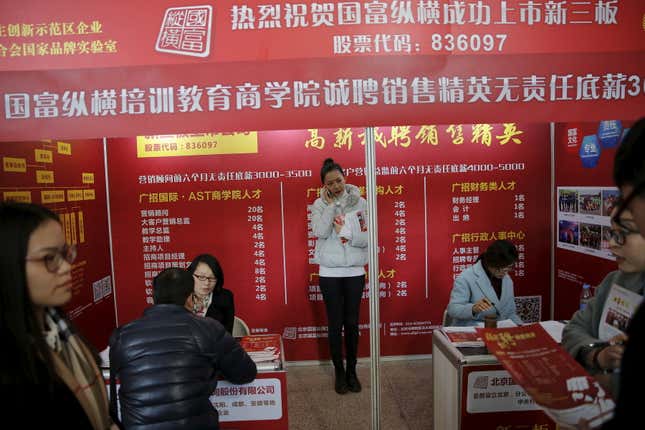 Another troubling sign has emerged in China as the country seeks to regain its economic footing following three years of strict covid curbs.
What's next for X (Twitter)? | Walter Isaacson
The National Bureau of Statistics (NBS) released data today (May 16) that shows the country's youth jobless rate topped 20% in April, marking its highest level since records began five years ago.
The unemployment rate for 16- to 25-year-olds rose to 20.4% last month, climbing from 19.6% in March. China is expecting 11.58 million fresh graduates to enter the job market this year, and if demand for hiring doesn't pick up, even more Chinese youths will be left without work. Rising youth unemployment is a major obstacle facing Chinese authorities' push to increase marriage and childbirth rates among young people.
Other labor figures were less dire. The overall urban jobless rate dropped 0.1% from last month to 5.2%, while the jobless rate for 25- to 59-year-olds was 4.2%.
China's overall labor market has shrunk rapidly in recent years, with over 40 million people exiting the workforce from 2019-2022. The trend could stymy China's prospects for long-term, sustainable economic recovery.
China's uneven, post-pandemic recovery
Growth since the pandemic has largely been driven by consumption. In April, retail sales and services rose by 18.4% and 13.5% year on year, respectively. Industrial production also continued to rebound, rising 5.6% compared to a year prior. But numbers still fell short of analyst expectations.
"Generally speaking, in April, the national economy sustained the momentum of recovery with increasing positive factors," NBS said in a press release. It added: "Domestic demand remains insufficient and the endogenous driving force for economic recovery is not strong yet."
Beijing wants city youths to seek work in the countryside
In December, president Xi Jinping called on young people in China to "revitalize" the countryside and work in rural areas, in a move that echoed Mao Zedong's "down to the countryside" movement.
Guangdong province then announced a plan in February to send 300,000 youths to work in rural areas by the end of 2025. The policy was broadly criticized in online forums as millions of college-educated Chinese youths face a future in which their level of education does not match the available opportunities for work. Chinese state media has told young people not to be "picky" about their jobs, as Radio Free Asia reports, in a move that also received online backlash.
As Semafor reported, a fictional character named Kong Yiji—an academic who, unable to find employment, ends up a beggar (pdf)—has become both a viral internet meme and symbol for China's younger generation. The character comes from a short story published in 1919 by Lu Xun, the father of modern Chinese literature.
Related stories
👪 China is renewing efforts to push young people to marry and have several children
🚧 Falling earth digger sales in China are dashing hopes of a big economic rebound
🔋 Chinese battery investments in Europe nearly tripled in 2022