Skip to navigation
Skip to content
Nigeria's crypto conundrum: News from Africa, February 2021
Crypto's popularity in Africa is driven in part by lack of access to traditional banking.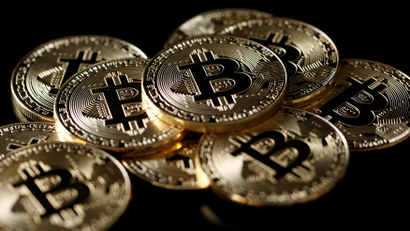 Hi Quartz Africa readers!
It's been quite a week for cryptocurrencies, starting with Tesla's announcement that it had invested $1.5 billion in bitcoin, and would start accepting it as a form of payment. The news sent the crypto asset soaring; bitcoin is now up more than 800% from a low in March 2020.
But two recent stories out of Nigeria and South Africa highlight some of the persistent issues facing the widespread adoption of digital currencies, even in fast-growing markets. Earlier this week, Nigeria's central bank announced a crackdown on cryptocurrency that appeared to make dealing on any exchanges illegal, citing issues with its volatility and opaqueness. South Africa's tax agency SARS has also reportedly set its sights on bitcoin traders, in the form of audits asking taxpayers to disclose any income derived from the crypto asset.
Marco Santori, chief legal officer at bitcoin trading platform Kraken, says crypto is forcing governments like Nigeria to "take public positions on basic policy principles: support technological progress or the legacy status quo? Empower entrepreneurs or protect incumbents?"
These moves toward increased oversight and regulation are part of a shift in African economies that only recently had little or no position on crypto. Adoption has been slow and uneven, and startups have not waited for regulators to catch up—Nigeria is now one of the fastest-growing bitcoin trade markets in the world.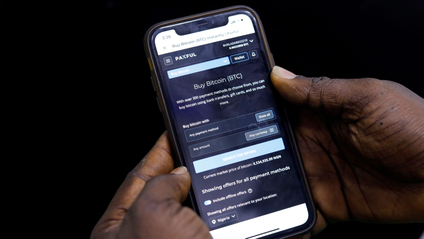 That popularity is due in part to uncertain economic conditions, lack of access to traditional banking, and African consumers' deteriorating trust in decision-making by governments and central banks.
"The demand we see now is a result of the challenges that people experience across Africa," Marius Reitz, Africa general manager for crypto platform Luno, told Quartz Africa last year. "When people find value in using a cryptocurrency and are able to fulfill their needs with that better than they're able to do with fiat currency, then they will naturally choose cryptocurrency—that's what we're seeing."
Figuring out the best way to regulate the demand for crypto is an important challenge for governments across the world, especially since crypto like bitcoin has a history of busts as well as booms. It should start with recognizing what fostered digital currencies' popularity in the first place. —Jackie Bischof
Stories this week
The South African roots of Amazon's most profitable division. AWS chief Andy Jassy is set to become Amazon's next CEO, a nod to the importance of Jassy's profitable cloud computing division. But the AWS story would be incomplete without acknowledging the legendary role of an independent team of engineers and developers in Cape Town, writes Uwagbale Edward-Ekpu.
From "insulting" diplomacy to a humble approach. Gregory Meeks, the new chairman of the US House Foreign Affairs Committee, has promised that the Biden administration will reset the US's relationship with Africa. Tolu Olasoji listened in on the congressman's first public event in his new role, a Q&A with African activists, to find out what's being promised.
Changing the China-Africa conversation. Just as critical as discussing debt restructuring right now is examining how African countries can improve trade with China. In our latest Africa Unconstrained video with partner Development Reimagined, Hannah Ryder speaks with Ethiopia's ambassador to China, Teshome Toga, about shifting negotiations.
Uganda's election is a key moment for the splinternet. Social media companies have amassed a tremendous amount of wealth and power in Africa. Along the way, they have become umpires of the truth. Examining the latest internet shutdown and social media ban in Uganda, Mozilla Foundation fellow Odanga Madung looks at the fragmentation happening when platforms clash with authoritarian politics.
What hip hop can tell us about Pan Africanism. Contemporary hip hop has become a powerful cultural and commercial force. Howard University professor Msia Kibona Clark, author of Hip Hop in Africa: Prophets of the City and Dustyfoot Philosophers, looks at its power as a soundtrack for the transnationalization of African communities and identities.
Sponsor content by IE University
Digitizing Africa for the future.
IE University's virtual speaker series will discuss Africa's digital economy with industry leaders across the continent. Topics include Africa's current state of digital transformation, sectors experiencing rapid change, and tackling the inevitable challenges.
Register for our Fintech and the Future panel on February 18.
Chart of the week
South Africa abruptly shifted its vaccine strategy earlier this week, halting the rollout of the Oxford-AstraZeneca vaccine after preliminary studies showed it had limited efficacy against mild to moderate cases of a local variant of Covid-19. The change comes as a second wave of coronavirus in South Africa starts to subside.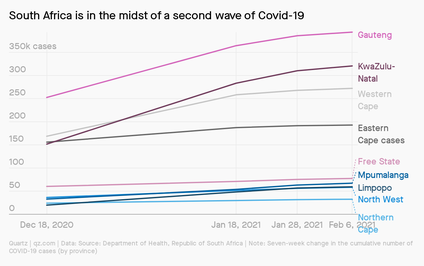 Scientists are now studying whether the vaccine protects against severe cases of Covid-19 triggered by the variant; its design suggests that it may. In the meantime, as Africa marks one year since the first recorded case on the continent, the World Health Organization is recommending that countries use the AstraZeneca vaccine for healthcare workers at high risk of contracting and transmitting Covid-19, even if variants are present in a country.
"While a vaccine that protects against all forms of Covid-19 is our biggest hope, preventing severe cases which overwhelm hospitals is crucial," said Matshidiso Moeti, the WHO's regional director for Africa. "If cases remain mostly mild and moderate and don't require critical care, then we can save many lives."
Dealmaker
Funds are emerging to back female tech founders. Several African venture funds in recent months have turned their focus to female-founded startups, while accelerator programs are bringing more women into the fold. Abubakar Idris reports from Lagos on the latest examples of zeroing in on female-focused startups, as well as the challenges they face.
South Africa's MTN is culling its non-Africa businesses. The global telecom firm has sold its 20% stake in Belgacom International Carrier services—a subsidiary of Belgium's largest telecom company, Proximus. After offloading Jumia in 2020 and announcing that it's putting its Middle Eastern operations up for sale, MTN is now sharpening its focus on the continent.
Investors have their eye on filling the financial services gap. Côte d'Ivoire-based Djamo is the country's first startup to snag backing from Y Combinator, indicating growing interest in the underbanked population of Francophone Africa. The company hopes to use the massively popular digital wallets provided by telecom companies as a jumping-off point for banking services in a region that's traditionally gone without.
Quartz gems: The future of the digital workplace
Do digital collaboration tools actually make us more productive?
Our latest field guide explores how the pandemic has fueled a burgeoning market for digital tools designed to help colleagues collaborate at a distance. Between the danger of distraction and blurring the lines between work and home life, these tools can quickly go off the rails. Find out how a flurry of startups are hoping to build that culture in our exploration of the future of the digital workplace.
Would you like to collaborate on the future of Quartz? To celebrate Valentine's Day, we're offering 50% off membership if you sign up by Feb. 15 with the code QUARTZLOVE. We promise it'll be your most satisfying relationship yet.
Speaking of productivity…
Our new five-day email course will help you build healthy, sustainable productivity habits and develop an understanding of how to deal with your urgency bias and other challenges at the root of common obstacles to productivity. Bonus: It's free!
Other things we liked
The movement to decolonize museums gathers momentum. In a new book, British archaeologist Dan Hicks argues for cultural repatriation and restitution for artifacts on display in the West. In an excerpt published on New Frame, Hicks says that only then can the West engage in "new dialogues with colleagues, communities, and institutions in Africa."
Ambitious young Africans are more interested in tech entrepreneurship than corporate jobs. That's according to Ghanaian investor and business-builder Eric Osiakwan, who argues on a Harvard blog that there's been a shift in aspirations since the emergence of mass-scale digital technologies in the continent.
Global public health and the "African tragedy." For Africa is a Country, T.D. Harper-Shipman and Kim Bako challenges the assumptions that have plagued forecasts on the impact of the coronavirus on the continent. This approach, longstanding and ignorant, is also potentially dangerous for the ways it aggravates a narrative of dependency.
ICYMI
Yale Young African Scholars. This intensive seven-day program helps secondary-school students with university applications, career development, and making connections to a network of young leaders. (Feb. 16)
iNOVO accelerator. Ten early-stage Nigerian startups in the ed-tech, agri-tech, and e-health sectors—all focused on Covid-19 solutions—will receive support over three months from UK-Nigeria Tech Hub, Ventures Platform, and Startupbootcamp. (Feb. 24)
The Builders Academy. A nine-week program by African startup studio CEEDCAP offers founders access to "technical resources, funding, domain experts, and industry-specific business support [that] will help them find product-market-fit for their company." (March 1)
OceanHub African accelerator. Startups focused on a sustainable ocean economy will receive assistance on scaling up, as well as mentorship and business training. (March 5)
Keep an eye on
Feb. 15: France and leaders of regional governments in Sahel meet in Chad to discuss joint efforts to combat terrorism in the area, as French president Emmanuel Macron prepares to pull back military support.
Feb. 19: Harvard University hosts its annual Africa Business Conference. This year's theme: "Charting a Path Through Uncertainty."
Feb. 21: Niger's presidential contenders Mohamed Bazoum and Mahamane Ousmane head for a run-off, in the country's first handoff between two democratically elected presidents.
🎶 This brief was produced while listening to "Lala Belu" by Hailu Mergia (Ethiopia).
Our best wishes for a productive and ideas-filled week ahead. Please send any news, comments, suggestions, ideas, diplomatic insults, and promising female-led startups to africa@qz.com. You can follow us on Twitter at @qzafrica for updates throughout the day.
If you received this email from a friend or colleague, you can sign up here to receive the Quartz Africa Weekly Brief in your inbox every week. You can also follow Quartz Africa on Facebook.