Skip to navigation
Skip to content
South Africa's crypto regulation: News from Africa, June 2021
Unlike other African countries, South Africa is embracing cryptocurrency trade and investment laws.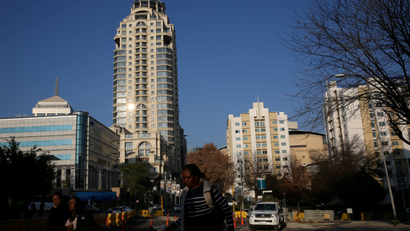 Hi Quartz Africa readers!
This past week, South Africa's president, Cyril Ramaphosa, attended the G7 meeting in the UK, and urged member nations to do more to support lower income countries in the fight against  Covid-19.
As Covid-19 vaccination efforts ramp up in the world, the figures on the continent are appalling. Africa has only vaccinated 3.1% of the continent's population, compared to 67% in North America and 31% in Asia. Meanwhile, the EU is holding enough stock to provide almost seven vaccines per person, the UK eight and the US five. The situation on the continent is not for lack of trying. When African governments tried to procure vaccines on the open market, they found themselves at the back of the line as stronger economies bought more than they needed.
In a press briefing earlier this month, Africa CDC Director, Dr. John Nkengasong spoke about the moral obligation that G7 countries have in supporting other countries dealing with Covid-19, especially given their role in the shortage crisis. The difficulties in getting vaccines, coupled with vaccine patents and limited infrastructure that make it difficult for the continent to manufacture their own vaccines, has left the continent in a precarious state.
The effects of the shortage of vaccines are already being felt around the continent as many countries enter a third wave. Uganda is running out of vaccines and oxygen as they experience a 2,800% hike in new cases in the past month. In Kenya, many frontline workers including medical personnel haven't been able to get their second Astrazeneca vaccine due to shortages.
The pandemic requires global solutions. The G7's commitment to donate 1 billion doses of vaccines to low income countries over the next 12 months is laudable, but is still at least 5 billion doses short of what is needed for herd immunity.
Without urgent follow through to address the situation, this will be, as former UK prime minister Gordon Brown says, an "unforgivable moral failure."—Ciku Kimeria, Quartz Africa editor 
Stories this week
South Africa hits another vaccine roadblock… As the country battles a third wave of the Covid-19 pandemic, 2 million doses of the Johnson & Johnson vaccine manufactured at a plant in Baltimore and awaiting distribution in South Africa had to be destroyed because of possible contamination. Brian Browdie reports on the fallout.
…and charts another path on crypto. Unlike other African countries which have sought to ban cryptocurrencies, or make it difficult for them to operate, South Africa is embracing cryptocurrency trade and investment laws, Tawanda Karombo reports, as its financial and capital markets regulators predict an increase of crypto activity in the country.
Senegal hosts "The Return." Around 75 business leaders, entrepreneurs, and mayors visited Dakar this week for an initiative geared at encouraging members of the African diaspora to return to the continent, both as a form of healing, and to build social and economic ties. Nellie Peyton spoke to attendees about their motivation for attending.
Bridging the e-commerce gap. While African e-commerce is flourishing, there's a gender gap in the industry. A new report calculates that if the number of women selling on online platforms achieves parity with men, the market could benefit by around $14.5 billion, Carlos Mureithi writes.
A champion of African nationalism. Former Zambian president Kenneth Kaunda, who died on Thursday, was the last of the giants of 20th century African nationalism. Perhaps more than any of his contemporaries, writes Gavin Evans, the standing of the man who ruled over Zambia for 27 years is clouded with ambiguity.
Table of the week

The African Development Bank has launched a AUD600 million ($463.9 million) social bond in Australia. Although the bank has issued social bonds in the past, it's been selling them more frequently, as social bonds emerge as a key way to help cash-strapped countries during the coronavirus pandemic.
"These are critical times for Africa as it addresses the challenges resulting from the coronavirus. The African Development Bank is taking bold measures to support African countries," Akinwumi Adesina, president of the AfDB Group, said on a past social bond issuance.
Dealmaker
Fatura, the Egyptian startup connecting wholesalers and manufacturers with retailers across different industries, has closed a $3 million pre-Series A funding round for expansion of its services and market reach. The investment was co-led by Sawari Ventures and Arzan VC, with participation from Egypt Ventures, EFG-EV, Cairo Angels and Khwarizmi Ventures.
Sky.Garden, a Kenyan e-commerce startup, has closed a $4 million Series A funding round to accelerate its growth. Investment was provided by Sanad Fund, Aavishkaar, Uncovered Fund and KSK Angel Fund, founded by Japanese footballer Keisuke Honda.
Eshi Express, an Ethiopian logistics startup, has raised an undisclosed funding from Addis Ababa Angels Network. The on-demand delivery platform only operates in Addis Ababa and two regional Ethiopian cities. The recent investment will aid its expansion across the country.
Quotable
"The population is growing and they're trying to industrialize. You can't capture that with solar. If Egypt leaves its oil and gas in the ground, that could severely impact its economic stability. I do not envy the massive, complicated, and emotional trade-offs they have to deal with."— Paul Sullivan, energy lecturer at Johns Hopkins University, and former faculty member of the American University in Cairo.
Sullivan was remarking on the occasion of John Kerry's visit to Egypt, Saudi Arabia, and the United Arab Emirates this week, in a tour aimed at drumming up support for climate action ahead of COP26, the global summit in Glasgow in November.
In an interview with Quartz's Tim McDonnell on his way out of Cairo, Kerry lauded Egypt's work on building out solar and wind farms. But he also cautioned president Abdel Fattah Al-Sisi's government against investing too heavily in oil and gas production, which today is a cornerstone of the country's economic development strategy.
Other things we liked
Emojis that reinforce stereotypes. Apple introduced an emoji search bar to iMessage last year. Andrew Deck writes in Rest of World that searching for places such as Africa and China produces results that underpin Western stereotypes.
Nigeria's youth unemployment crisis. A growing number of young Nigerians graduates are stuck in low-paying jobs. As Emmanuel Akinwotu reports for The Guardian, the country's unemployment rate has quadrupled since 2015—driving many to think about leaving the country.
An 'insult' to Ovaherero and Nama. Despite Germany's proposed settlement, the descendants of the victims of a 20th century first genocide in Namibia are insisting on direct reparations. In New Frame, Shaun Smillie writes about the significance of any revisions to the deal for former colonial powers and their colonies.
Tackling climate change and biodiversity loss, together. Some climate adaptation and mitigation projects are bound to harm nature and people should they fail to acknowledge biodiversity, a group including South African scientists argue. As Sheree Bega reports in Mail and Guardian, both threats "mutually reinforce each other."
Toptal and Andela's breach of trust saga. Andela's pivot strategy, reported by Quartz Africa recently, has drawn the ire of rival Toptal, who have now sued the latter for allegedly creating a "perfect clone of its business." According to a TechCrunch report, Toptal claims Andela obtained classified information from its former staff to aid a significant change in operational model.
Keep an eye on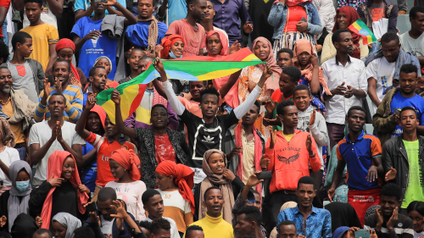 Barely three years ago, little-known Abiy Ahmed burst onto the Ethiopian political scene at the height of another tumultuous period in the country's history. He quickly won national admiration and international attention, becoming Ethiopia's prime minister. He was a fresh breath of air.
Ethiopia is gearing up for a general election in one of the most precarious times in nations history, due to be held on June 21. There is one major question being asked: will the election bring any meaningful change? Read an analysis of the situation by Mohammed Girma here.
🎵 This brief was produced while listening to "Chismiten" by Mdou Moctar (Niger).
Our best wishes for a productive and ideas-filled week ahead. Please send any news, comments, suggestions, ideas, recommendations of female online retailers, and unbiased emojis to africa@qz.com. You can follow us on Twitter at @qzafrica for updates throughout the day.
If you received this email from a friend or colleague, you can sign up here to receive the Quartz Africa Weekly Brief in your inbox every week. You can also follow Quartz Africa on Facebook.