Skip to navigation
Skip to content
South Korea's Covid spike, royal vaccines, cheesecake underfactoring
Good morning, Quartz readers!
Here's what you need to know
South Korea announced new Covid-19 restrictions. With Covid cases spiking, the South Korean government announced new rules aimed at curbing the spread of the virus. As of Tuesday, residents of Seoul will face a 9pm curfew, while religious services will move online, and gyms, karaoke bars, and other businesses (excluding restaurants) will be closed for at least three weeks.
Rudy Giuliani has tested positive for Covid-19, says Trump. The US president tweeted about his personal lawyer's diagnosis without revealing whether the 76-year-old Guiliani, who appeared maskless in public several times in recent weeks, has Covid symptoms. Giuliani has claimed that rampant voter fraud led to Trump's defeat in the US election, without presenting any evidence to support that assertion.
Mastercard is reviewing its business ties to one of the world's most-visited porn sites. A New York Times story about Pornhub's failure to police user-contributed videos featuring child rape and assault prompted Mastercard to launch an investigation into illegal activity on the platform. Its rival, Visa, has not yet responded to calls to take similar action.
An Indonesian minister accepted a huge bribe in a Covid aid distribution scheme. Juliari Batubara, Indonesia's minister of social affairs, turned himself in to authorities on Sunday (Dec. 6) after he was accused of receiving at least 17 billion rupiah (US$1.2 million) from two companies hired to supply goods, including basic food kits, for the country's poor.
Queen Elizabeth and Prince Phillip may become Covid-19 vaccine influencers. ​Unnamed sources told the press that the royal couple may "let it be known" when they've received a Covid-19 vaccine, a move that could combat anti-vaxxing sentiment and disinformation in the UK and beyond.
What to watch for
Monday: Ghana goes to the polls for a presidential election; A bipartisan group of US Senators is expected to propose a new coronavirus stimulus package; UK healthcare workers and older adults start getting the first of two coronavirus jabs.
Tuesday: The US Supreme Court holds oral arguments on unsolicited texts from Facebook; JD Health begins trading on Hong Kong Stock Exchange. Earnings: Chewy, MongoDB, GameStop.
Wednesday: Doordash goes public; The Bank of Canada announces interest rate target. Earnings: Campbell Soup, Asana.
Thursday: Airbnb holds its IPO; Nobel prizes in medicine, physics, chemistry, literature, and economic sciences will be presented virtually; A US Food and Drug Administration panel considers emergency authorization of Pfizer and BioNTech's vaccine. Earnings: Adobe, Oracle, Costco, Lululemon.
Friday: Deadline for US State Department to announce new sanctions on financial institutions serving Hong Kong autonomy violators.
Charting Walmart's remittances opportunity
In 2020, an estimated $40 billion in remittances will be sent to Mexico. Most of that money is sent by Mexicans working abroad through banks and transfer services like Western Union which charge high fees for moving that money.
Now Walmart wants to crack into this market. The retail giant recently announced they would be introducing remittances to Mexico inside their app in the next two years. Walmart, which operates more than 2,500 stores in Mexico, says they will charge lower fees in the hopes that the money will stay in the app and be used to pay for Walmart's goods and services.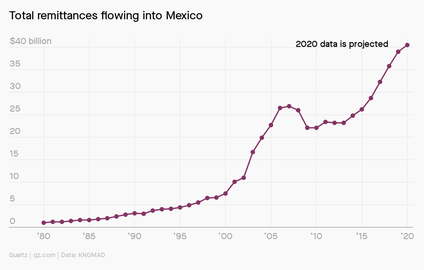 The great sports comeback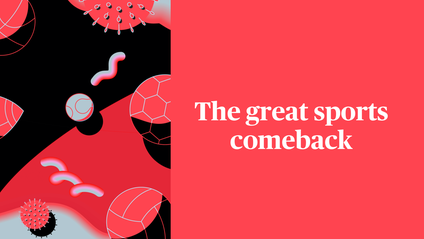 Sports are a tangible barometer of the wellbeing of a nation, and the return of fans to stadiums—gathering, drinking, eating, shouting, singing, and swearing together—will be a sign that all is well once again. The health of people, communities, and economies are all significantly connected to its resurrection. Our latest field guide looks at what corporates can learn from the return of elite sports, and the implications for those athletes sprinting to get back.
✦ Hi, can you hear us? Oh sorry, we were on mute. We were just saying we wanted you to sign up for a seven-day free membership trial.
Surprising discoveries
Australian pilot whales may trick their predators by copying their calls. Scientists found that Australian long-finned pilot whales can mimic killer whale vocalizations, which may both protect them from attacks and allow them to scavenge for food undisturbed.
The Cheesecake Factory made financial history for an unappetizing reason. After telling investors it was "operating sustainably" when it was actually losing millions per week, the restaurant chain became the first company to be fined by the SEC for minimizing the pandemic's effects on its business.
Berlin's famous sex-positive fetish club has pivoted to Covid testing. The owner of the KitKatClub opened rapid testing booths on the club's premises, hoping to prototype a system for reopening nightclubs while providing a public service.
Researchers calculated the size of Japan's "Demon Slayer" economy. The manga series about a teenager's quest to kill the demon who slaughtered his family (and turned his sister into a devil) is expected to generate ¥200 billion (US$1.92 billion) in revenues.
French nursing homes are using "hugging bubbles" to make contact safe for seniors. Loved ones meet inside a tunnel of clear plastic sheeting, where they can cuddle and hold hands, and remain protected.
Our best wishes for a productive day. Please send any news, comments, demon slayers, and cuddles to hi@qz.com. Get the most out of Quartz by downloading our iOS app and becoming a member. Today's Daily Brief was brought to you by Lila MacLellan and Dan Kopf.