Skip to navigation
Skip to content
The case for more vaccine mandates
Mandates are great at one thing: increasing the ranks of the vaccinated.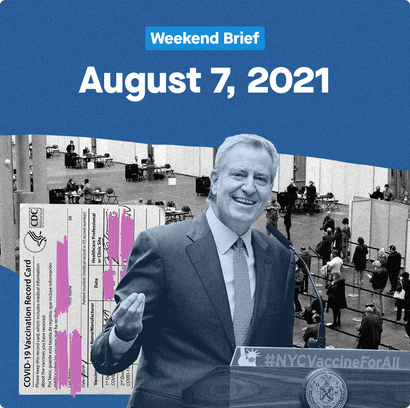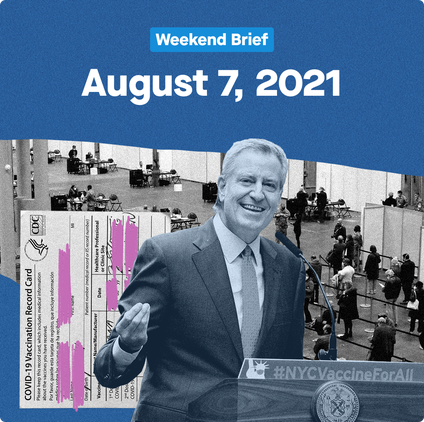 Good morning, Quartz readers!
Welcome to the new and improved Weekend Brief, where every Saturday we break down one of the most consequential stories of the week—and share some of our favorite reads.
Starting in September, the Weekend Brief will be exclusively for Quartz members, while the Daily Brief remains free Monday through Friday. For the next four weeks, you'll continue receiving this Saturday edition; to keep with it, take 50% off your first year of Quartz membership.
Let's get started.
Just the vax—please!
Vaccine mandates are all the rage. This week, New York became the first US city to require vaccines for indoor dining and gym use, following similar measures in France, Germany, and Italy. US hospitals, universities, and the federal government are now asking their workers for proof of vaccination or regular Covid tests, as are companies like Google, Netflix, Facebook, and Walmart. CNN fired three staffers who came to work unvaccinated.
To public health experts, this shift is necessary—even overdue. That's because vaccine mandates are really good at one thing: increasing the number of people who are vaccinated.
The highly transmissible delta variant is hitting unvaccinated populations hardest, sickening vaccine holdouts in wealthy countries with ample supply, and exacerbating Covid-19's spread and death toll in countries still waiting on shots. That makes it untenable to ignore reasonable measures experts know will have an impact.
"We have evidence that a) you mandate vaccines, and then b) people get vaccinated," says ​​Maureen Miller, an adjunct associate professor of epidemiology at Columbia's Mailman School of Public Health. "That simple message isn't coming across."
Yes, there will be pushback, both knee-jerk and nuanced. In New York, mayor Bill de Blasio's requirements take effect in September, but the plan is still light on details. What if a business fails to check its customers? What if people use counterfeit vaccine cards? What if you got a shot outside the US? Those answers will need to be ironed out.
But perfection isn't the objective here. When France started requiring proof of vaccination for most indoor spaces, there were open questions, and 160,000 people protested. But 1 million people signed up to get a jab. "The enforcement is less of the point," says Eva Enns, an associate professor of health policy at the University of Minnesota. "It's about making it easier to be vaccinated than not." —Alexandra Ossola
The backstory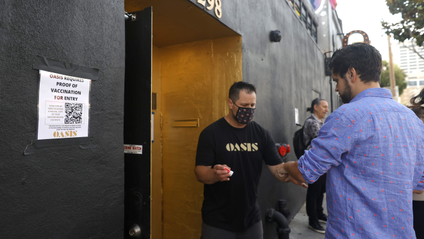 The straggle is real
Changing minds isn't easy: A surprising number of people don't or won't trust science until someone they trust walks them through it. But clear mounting evidence, combined with shifting social norms, can usually do the trick. Just look at climate change.
In 2017, a Reddit poster posed a question to former climate change deniers: What changed your mind? The biggest reason was accepting a growing body of evidence. As the vaccines' safety and efficacy continues to be proven, we can likewise expect some vax-hesitant folks to come around naturally.

What to watch for next
More mandates from locations and companies. Every new vax requirement makes it easier for the next business or locale to follow suit. Just look at Tyson. A year ago, the company was embroiled in scandal over its poor handling of Covid-19, but this week Tyson became the first meatpacker to require vaccinations for workers.
A debate over privacy. Critics warn that electronic vax passes could further normalize digital surveillance, and lead to data misuse. Those fears aren't unfounded: In Singapore, for example, data from Covid-19 tracing apps was used in criminal investigations. But it is possible to design a secure vaccine passport, and a number of groups are focused on it.
Companies being OK with pissing off some customers. Business leaders who envision their companies as a force for positive change are more likely to be down with losing customers (and their dollars) for the sake of the greater good. It doesn't hurt that companies requiring shots for customers could also attract and retain more employees looking for a safe workplace.
More vaccines in more places. Where you can get a vaccine is important: In one recent poll, 46% of the "wait and see" unvaccinated said they would stop waiting if a shot was available from their personal physician. In New York, vaccines at salons and barbershops have helped with outreach and distribution, while San Francisco is launching a program to vaccinate small groups at home or in the workplace.
The impact on the class divide. Employer vaccine mandates tend to cover white-collar workers and exclude low-income workers on the front lines. Walmart, for example, is only requiring vaccinations for its HQ employees. That divide risks exacerbating class-based differences in Covid-19 risk, and it kind of misses the point: Lower-income workers are generally the least likely to be vaccinated.
One other idea
"A no-fly list for unvaccinated adults is an obvious step. It will help limit the risk of transmission at destinations where unvaccinated people travel—and, by setting norms that restrict certain privileges to vaccinated people, will also help raise stagnant vaccination rates."

—Juliette Kayyem, assistant secretary for homeland security under Barack Obama
7 more things to talk about
👟  Nigeria's awful Olympics made Puma cancel a $2.7 million deal
🏠  America's largest home renter is a 2021 top stock
🌎  Behold! The biggest regulation of carbon emissions in US history
💰  LVMH helped make Rihanna a billionaire
🍆  What it takes to be the largest condom brand in sex-shy India
🪑  Ethan Allen changed its stock ticker to avoid crypto confusion
🧘  Levi's is giving in to yoga pants
Thanks for reading! And don't hesitate to reach out with comments, questions, or topics you want to know more about.
Best wishes for a healthy weekend,
Alexandra Ossola, membership editor (Johnson & Johnson)
Kira Bindrim, executive editor (Moderna)