Skip to navigation
Skip to content
Toyota production cuts, costly wildfire prevention, 1995 Apple Watch
The top news stories of the day included Toyota cutting global production by 40% and protests against the Taliban in Kabul.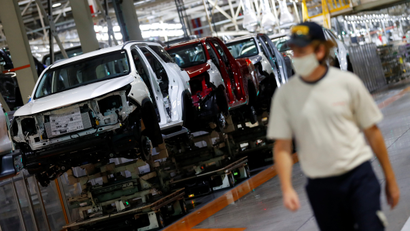 Good morning, Quartz readers!
Was this newsletter forwarded to you? Sign up here. Forward to the friend who keeps investing in meme stocks.
---
Here's what you need to know
Toyota will cut global production by 40%. The worldwide microchip shortage has finally caught up with the automaker, which will slow production to 540,000 vehicles from a planned 900,000 over the next two months, mostly in Japan and the US.
China passed an extremely strict data privacy law. Enforcement of new rules to protect users will be aimed at curbing intrusive behavior by private tech giants, but not so much the government.
Protesters took to the streets in Kabul. Ruling Afghanistan may prove more difficult than taking it by force for the Taliban, which, according to a UN report, is hunting down Afghans who worked with the US, UK, and NATO.
The Paralympics reported its first confirmed Covid case in the Olympic Village. An additional 16 infections have been linked to the Paralympic Games, set to start Aug. 24, as Japan continues to struggle with its fourth wave of Covid.
The US Federal Trade Commission refiled its antitrust complaint against Facebook. A federal judge dismissed the agency's original suit, saying that it didn't prove that the social media company is a monopoly, largely because its core services are free.
Amazon is reportedly opening shops that sound like department stores. The company wants to own as much of retail and its customers' wallets as possible, and it can afford to experiment.
Hong Kong got its second and third convictions under the national security law. Andy Li, one of 12 people who tried to flee to Taiwan by boat last year, and Chan Tsz-wah, pleaded guilty to foreign collusion. They were accused of lobbying for sanctions on Hong Kong and China.
---
What to watch for
Starting today, US retailer Old Navy will offer every item of women's clothing it makes in sizes 0-28 and XS-4X in every store, at the same price for every size. The shift could redefine plus-size retail, which typically tops out around size 16 or XL—brands that make larger size ranges often sell them online only. Here's how Old Navy is changing the industry, by the digits:
1,200: Old Navy stores
100%: Share of those stores that stock every size
~200: Anthropologie stores
10: Number of Anthropologie stores that stock APlus, the brand's extended size range
66%: Share of online shoppers who buy items in multiple sizes or colors with the intention of sending some back
15 million metric tons: Carbon emissions generated by online shopping returns in the US annually
389: Women Old Navy body scanned to generate new, more accurate extended sizing
It's complicated: Average size an American woman wears
---
Charting landscaping costs' link to wildfires
Yard debris like dry leaves, branches, and unkempt trees are a fuel for wildfires to spread quickly and ferociously. As fires come more frequently and more intensely, the necessity of every homeowner to maintain their property becomes more important. But data show US homeowners are having to pay increasingly more for landscaping services.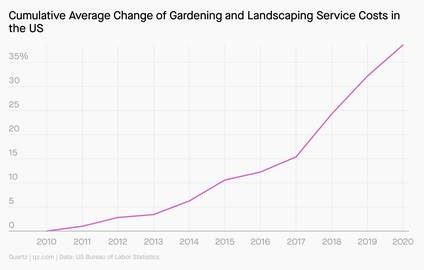 Budgeting for tree maintenance stretches money thin for those with lower incomes. Assistance for poorer homeowners is needed, not only for wildfires but for adapting to other impacts of climate change as weather becomes more extreme.
---
The best employee benefits at the top US financial firms
When you're looking for a job, it's difficult to find out what benefits companies offer until you're far along in the hiring process. Mary Childs and Karishma Vanjani canvassed 101 of the biggest and most influential firms in financial services, one of the highest-paying industries in the US, to find out what they offer to employees; 32 of them replied. Here are a few that stood out:
🏖 Best vacation policy Bridgewater offers unlimited vacation, and employees have to take at least 15 paid days of vacation per year.
👩🏻‍🎓 Best if you've got student loans Fidelity contributes $2,000 per year up to a lifetime maximum of $10,000 toward employees' student loans.
💸 Best retirement benefits Capital Group contributes 15% of total compensation, no matter how much the employee puts in.
✦ Quartz's mission is to make business better, including by highlighting the companies that are putting that credo into practice. Help support our journalism by becoming a Quartz member—get 40% off with the code QZEMAIL40.
---
Handpicked Quartz
💉 The US Supreme Court's Indiana University ruling isn't a free pass for vaccine mandates
🙄 Amazon's shows about Hong Kong expats couldn't come at a worse time
🚀 Why Jeff Bezos and Blue Origin are suing NASA
🇮🇳 The Modi government's policies can make India the next Silicon Valley—or the next China
✊ Don't pity the women of Afghanistan, support them
💼 A $3 million insider trading case tests Netflix's culture of transparency
---
Surprising discoveries
The UK might not have enough Christmas turkeys this year. Producers blame Brexit for difficulties in hiring enough workers.
The original Apple Watch debuted in 1995. It was free as part of a Macintosh System 7.5 promotion (and could not display your text messages).
A brain-like mass grown from stem cells developed light-sensitive optic cups. Researchers say the blob wasn't conscious.
Scientists say sea snakes that attack humans are just "aroused." Hopefully we won't need to run a correction for this one.
A Japanese company is teaching "gaming English" using Fortnite. No word on whether it helps kids pwn the noobs.
---
---
Our best wishes for a productive day. Send any news, comments, Christmas turkeys, and gaming vocabulary lessons to hi@qz.com. Get the most out of Quartz by downloading our iOS app and becoming a member. Today's Daily Brief was brought to you by Tripti Lahiri, Clarisa Diaz, Mary Childs, Karishma Vanjani, Annaliese Griffin, and Liz Webber.