To modern workers everywhere,
Americans are notoriously averse to taking vacations. And the country's remote-worker bees have only gotten worse at taking time off during the pandemic: If you're stuck at home anyway, the thinking goes, why bother? In a sign of just how desperate the situation is, PricewaterhouseCoopers recently announced that it's paying people to take time off ($250 per week of vacation) in an effort to stave off burnout among its employees.
Now, with summer in sight and vaccine rollouts putting travel back on the table, some people may finally be considering a trip to the mountains or renting a beach house. But there's another problem lying in wait: The insidious "workcation."
The workcation is a shudder-inducing portmanteau—a term that, as my colleague Kira Bindrim said, epitomizes "work/life imbalance masquerading as flexibility." The fact that the phrase has wriggled its way into our contemporary vernacular highlights one big downside of remote work: When you can, theoretically, work from anywhere, it gets a lot harder to disconnect. In a recent Harris Poll, 74% of Americans said they'd consider taking a workcation, no doubt with visions in their head of Zoom-ing with co-workers while the rest of the family sleeps in, eats ice cream, or builds sandcastles in the sun. What paradise!
I have in the past fallen prey to the weird allure of bringing my laptop on getaways, despite the fact that my company has a generous vacation policy. It just seemed too complicated to rearrange deadlines or ask someone else to cover for me, and I figured I'd still reap at least some benefits from typing away in a pastoral setting. But in practice, workcations meant that I didn't unwind and felt guilty whenever I stepped away from the computer to enjoy myself. It was the worst of both worlds!
There are things employers can do to alleviate the pressures that make people reluctant to fully unplug—from using tools that automatically delete emails while employees are off-duty to leading by example, with top executives staying off Slack on their own breaks. And the rest of us can do our part by refusing to normalize the workcation, leading the resistance one lazy afternoon in a hammock at a time. —Sarah Todd
---
Five things we learned this week 
🤐 Silence makes negotiations go better. Pausing for at least three seconds gives both parties time to make more meaningful points.
🎬 Hollywood's power structure enables abuse. Allegations against producer Scott Rubin show how bullies flourish in a culture where "paying your dues" gets taken to extremes.
🏠 Jamie Dimon says remote work has "serious weaknesses." The JPMorgan Chase CEO says remote work "virtually eliminates spontaneous learning and creativity."
🚕 Uber is trying to lure back drivers in the US. It's offering a $250 million "driver stimulus" in an attempt to win back gig workers who dropped out during the pandemic.
💰 Coinbase's CEO got paid more than Wall Street CEOs last year. Coinbase chief Brian Armstrong brought home $59.5 million, according to the company's recent IPO filing.
Zoom moment of the week
Author Menachem Kaiser was live on Zoom promoting his new book, Plunder, when his mother appeared in the chat section with a decidedly un-work-related comment: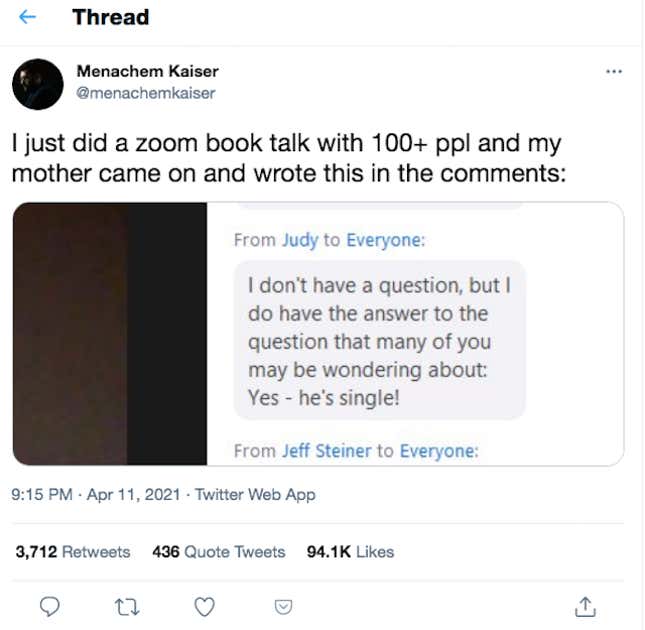 ---
30-second case study
Amazon warehouse workers in Bessemer, Alabama, voted against unionizing last week, with a decisive majority of 1,798 employees opting not to join the Retail, Wholesale and Department Store Union, compared to 738 in favor. The election had been closely watched for its potential to upend power dynamics between the $1.7 trillion company and the workers at its US fulfillment centers.
"Why this matters so much is that Amazon itself is now so huge as the second largest private-sector employer in the country, and growing fast," Alec MacGillis, a reporter at ProPublica and author of the new book Fulfillment: Winning and Losing in One-Click America, told Quartz. "If you want to lift up low-wage workers today to something more stable, sustainable, family-supporting, and career-supporting, like the manufacturing jobs of yore, then you need to organize jobs at Amazon."
But workers at Bessemer rejected the union for a variety of reasons. One factor, according to those who voted against, is Amazon's comparatively generous starting pay of $15.30 plus benefits—more than double the minimum wage in Alabama. Amazon's well-established anti-union tactics, including mandatory meetings, fliers, and even a mailbox installed on its premises just in time for the mail-in vote, may have also played a role.
The takeaway: Whether $15.30 per hour is sufficient as a living wage, and fair for such physically taxing work, is debatable. But Amazon warehouse workers speaking out about their employer have focused on issues that go beyond pay. They have raised concerns about health and safety (particularly during the pandemic); overly strenuous productivity goals that leave them with little time for bathroom breaks; working under strict tracking systems; and being assigned "megacycle" shifts of 10.5 hours.
In sum, what workers fundamentally want is more control over their own bodies and schedules. It will be tough to get Amazon to cede that control—particularly so long as American consumers continue to place so much value on convenience and two-day delivery turnarounds. But the expense and distraction of fending off future organizing efforts, even given Amazon's victory in Bessemer, might provide the $1.7 trillion company with some extra motivation to reconsider the way it structures work.
---
You're invited: How to manage up and across
The manager-managee relationship is not a one-way street. In this workshop, we'll help cultivate two-way streets with your manager or peers. We'll share our best advice on how you can effectively manage up to your boss or leader-to-leader. Then, we'll flip the script and teach bosses how they can empower employees to manage up to them.
Join Quartz executive editor Heather Landy and a panel of experts for a live discussion Thursday, April 15, from 11am-12pm EST. Click here to register.
---
Steal this hack?
"The Internet Engineering Task Force eschews voting, and it often measures consensus by asking opposing factions of engineers to hum during meetings. The hums are then assessed by volume and ferocity. Vigorous humming, even from only a few people, could indicate strong disagreement, a sign that consensus has not yet been reached." — from the New York Times article "'Master,' 'Slave' and the Fight Over Offensive Terms in Computing"
---
Quartz field guide interlude: Indoor air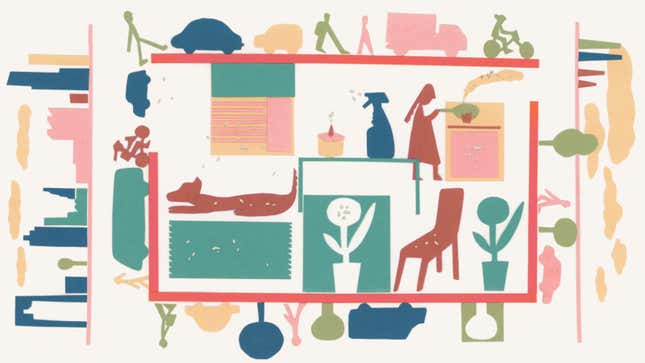 How can you improve the quality of the indoor air you breathe?
Compared to other indoor settings, many homes have few "air changes per hour," a metric that engineers use to assess ventilation. As a result, air pollutants can pile up. Here are some ways to reduce that buildup in the air in your home.
🌀 Don't hate, circulate (the air)
👟 Keep shoes outside to prevent tracking dust or dirt inside
🕯 Air out rooms after burning things like candles, incense, or cigarettes
Not yet a Quartz member? Sign up now for a 7-day free trial.
---
Words of wisdom
"When it comes to taking time off, the more explicitly mandated the break, the better. Instead of 'feel free to take some time if you need it,' try 'I'd really support you taking the day off.'" —Anne Helen Petersen, author of Can't Even: How Millennials Became the Burnout Generation
You got The Memo!
Our best wishes for a productive, purposeful week. Please send workplace news, tunes to hum, and meddling Zoom moms to work@qz.com. Get the most out of Quartz by downloading our app and becoming a member. This week's edition of The Memo was produced by Sarah Todd and Heather Landy.