Skip to navigation
Skip to content
OneWeb is ready to challenge Elon Musk for satellite broadband dominance
What's the difference between OneWeb and SpaceX's Starlink?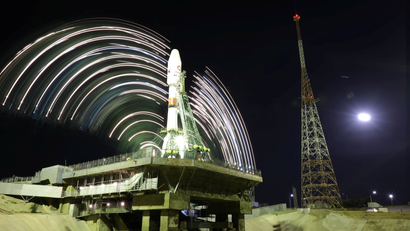 Dear readers,
Welcome to Quartz's newsletter on the economic possibilities of the extraterrestrial sphere. Please forward widely, and let me know what you think. This week: OneWeb aims to take on Starlink, SLS delayed to 2022, and the first orbital space tourists in twelve years.
🚀 🚀 🚀
In the relatively new world of massive satellite networks in low-earth orbit, SpaceX's Starlink has stood alone. But OneWeb, the satellite internet company founded by erstwhile Elon Musk collaborator Greg Wyler, is set to begin service later this year in areas above 50 degrees of latitude, which includes Alaska, Canada, the UK, and northern Europe. Both systems are founded on the bet that cheaper, lower flying satellites can provide better quality connectivity than traditional high-flying, low-bandwidth spacecraft. But what makes them different?
🚴‍♀️ Staggered roll-out. SpaceX's big advantage is that it has its own rockets (duh) which saves it money and time to put its satellites in orbit. OneWeb, by contrast, paid full freight to launch 228 satellites, and suffered through bankruptcy in 2020 after its complex funding and supply chains fell short in the pandemic. There was a silver lining: "Pre-bankruptcy we were going all in [to] go global," OneWeb CTO Massimiliano Ladovaz tells Quartz. "During bankruptcy we had time to rethink a very interesting middle step that would allow us to get into service sooner…when we say we want to be in service, it's not beta service,  [it's] proper service." The rest of the network, covering lower latitudes, will be online in 2022.
🏢 B2B…2C? Starlink has delivered more 100,000 terminals to beta users. OneWeb, on the other hand, is more focused on corporate partnerships. Rather than a business-to-consumer play, the company sees itself as mainly focused on telecoms and other businesses that will buy its services. For example, it has been testing its service with local internet service providers in Alaska, who can then offer broadband connections to their own users.
🛰 Satellite style. SpaceX likes to iterate quickly, testing its satellites on orbit—an effective strategy but one that has led the company to lose about 148 of its launched satellites for various reasons. OneWeb is building a smaller constellation, and tends to adopt a more traditional no-failures-on-orbit approach, with more emphasis on safety, like having grapple fixtures attached to each spacecraft in case they need to be disposed of in the future. Still, both companies have big incentives to collaborate and minimize potential collisions: "Our team and the SpaceX situational team are working on the phone, very constructively," Ladovaz says. "The intention is making sure that we do things safely."
📡 Antenna antagonists. For both companies, giving customers the ability to link up with fast moving satellites is a key cost-driver. Starlink's terminal is a mechanical satellite dish about the size of a pizza box, but OneWeb offers a briefcase-sized flat panel antenna. This provides less bandwidth, about 80 Mbps compared to Starlink's forecast 100 Mbps, but is less complex and could be simpler to install. One interesting note: Starlink has received criticism because tall objects like trees can interfere with its signals. That should improve as more spacecraft are launched, but OneWeb's design, which has satellites flying about two hundred miles higher than Starlink, should make them easier to connect with. "The obstruction thing was a key design requirement of the constellation," Ladovaz says. "I'm not saying we will have zero blockage everywhere, but you go higher in altitude, the minimum elevation is getting better and better."
🌏 Market access. Both companies face an imperative to do business around the world—it's the only way to fully utilize the orbital networks and repay the extraordinary cost of launching them. SpaceX currently operates in 14 countries, but winning that permission isn't easy. When one user asked Musk when his service would be available in India, he replied the company is "just figuring out the regulatory approval process." India is famously challenging for foreign telecoms, but OneWeb may have an advantage there because of a large stake owned by Bharti Global, a major Indian conglomerate. OneWeb is also partially owned by the UK, which Ladovaz believes will smooth access in countries with close links to Britain.
📲 Hosted payloads. Neither company has finalized the design of their spacecraft. SpaceX is planning a new iteration of its Starlink satellites that communicate with each other via in-space laser signals, a move that will allow them to rely less on ground downlink stations. SpaceX has also acquired Swarm, an internet-of-things satellite company with technology that could conceivably be carried by Starlink. For OneWeb, the next priority is to offer a guidance, navigation, and timing signal as a backstop and complement to GPS. "There will be other payloads in the future," Ladovaz says. "Once you launch satellites in space, there are a lot of opportunities. The risk is we should avoid to make it a Christmas tree."
🌘 🌘 🌘
Imagery interlude
I'm a real sucker for the "spacecraft approaching the International Space Station with the earth behind it" genre of space photo. This is SpaceX's cargo Dragon spacecraft dropping off a load of supplies and experiments at the orbital habitat on Aug. 30.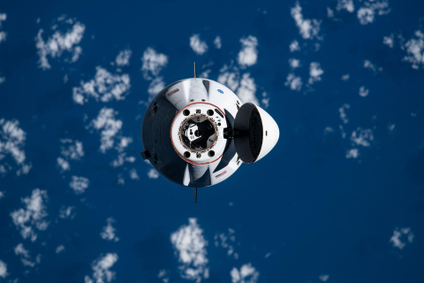 The vehicle happened to arrive on the 50th birthday of astronaut Megan McArthur, who oversaw the docking process. The cargo included birthday ice cream for McArthur as well as earth delicacies like fresh tomatoes, lemons, and avocados for the station's crew, who typically subsist on preserved food. "No one's ever sent me a spaceship for my birthday before," McArthur told flight controllers back on earth.
📩 📩 📩
Big Movers
The rocket business is a lot like other sectors that specialize in transporting goods as efficiently as possible. The reigning king of global transit may in fact be 117 year-old A. P. Møller-Mærsk, whose container ships call at a new port every six minutes on average. The global conglomerate is central to how we get cargo from here to there—at least until the rockets take over.
✦ Learn all about Mærsk in the most recent edition of The Company, one of Quartz's member-exclusive emails. Become a member and get more Quartz.
🛰🛰🛰
Space debris
The FAA is investigating Virgin Galactic's milestone flight. The mission to carry Richard Branson into space ahead of fellow space tourism enthusiast Jeff Bezos has prompted a Federal Aviation Administration investigation after Virgin Galactic's rocket plane went off course. The pilots chose not to abort the mission despite sensors warning that the spacecraft was in danger, according to sources at the company who spoke to reporter Nicholas Schmidle.
Watch for sparks. Firefly, a company developing a small satellite launch vehicle, is aiming for the debut launch of its Alpha Rocket from California's Vandenburg Space Force Base. A successful mission could push the company to the fore of the crowded small rocket market.
You'll never believe it. Boeing's Space Launch System (SLS) rocket isn't likely to launch until spring or summer 2022, reports Ars Technica's Eric Berger, as vibration tests and other pre-flight checkouts are now running two months behind schedule. The rocket is earmarked for the first Artemis mission, which will send an uncrewed Orion spacecraft to orbit the moon. The delay of Artemis 1 is just one more reason why you shouldn't expect NASA to return astronauts to the moon in 2024.
Audio Inspiration. The launch of a SpaceX Dragon spacecraft carrying four space tourists is expected on Sept. 15, and you can learn more about the four passengers on the Inspiration4 mission with a special podcast series from Axios' Miriam Kramer.  The crew will be the first orbital space tourists since Cirque du Soleil founder Guy LaLiberté visited the International Space Station in 2009. This flight won't stop at the orbital habitat, but billionaire Jared Isaacman and his three crew members will spend three days circling the planet before they splash down.
Seventh time is the charm? Astra, a small launch vehicle developer that went public earlier this year, saw its sixth attempt to put a satellite on orbit fail on Aug. 28. Despite an engine failure, the rocket demonstrated an impressive ability to maneuver and flew to an altitude of 50 km.
Broken links. The pandemic is pinching the space supply chain: Landsat 9, the next earth imaging spacecraft being launched by NASA this month, saw delays in obtaining nitrogen needed to pressurize its engines because so many nitrogen tanker trucks have been repurposed to deliver oxygen to hospitals filled with Covid-19 patients.
Heavy weather. The National Oceanic and Atmospheric Administration (NOAA), the US government weather agency, hired Spire to provide weather data collected by its small satellite constellation. The six-month contract will help prove out the company's ability to provide raw data to weather forecasters and could tee the newly public company for a bigger commitment down the line. (Spire itself hired a former NOAA administrator as an adviser in August.)
Your pal,
Tim
This was issue 106 of our newsletter. Hope your week is out of this world! Please send questions about Inspiration4, predictions for the small launch sector, tips, and informed opinions to tim@qz.com.