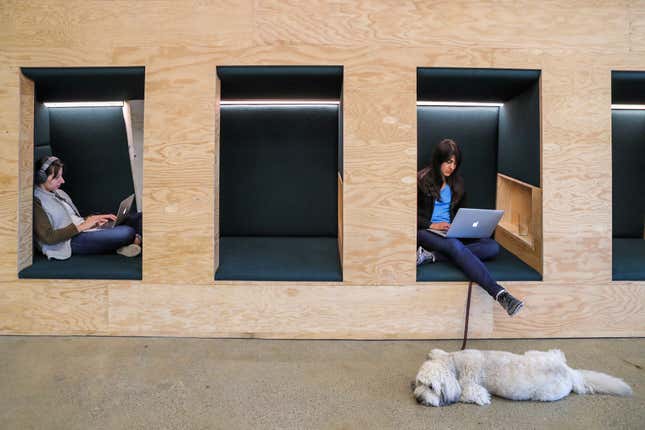 In the age of the purpose-driven company, people increasingly want the places they work for to align with their values. Whether that means creating inclusive environments, adopting sustainable practices, or establishing better boundaries for work-life balance, workers are closely watching employers.

What to do when you encounter unhelpful pay ranges on job postings
LinkedIn has taken notice, too. In response, it's rolling out a new feature allowing job seekers to search for companies that share their values.
"We've seen that when a company's values don't align with their own, it's a dealbreaker," said Rohan Rajiv, LinkedIn's director of product management. "Values really matter, and they have increasingly mattered."
Companies can now commit to their values on LinkedIn
The tool, called Commitments, lets organizations on LinkedIn select and display their values from a set list of five, including work-life balance, diversity, equity and inclusion (DEI), career growth and learning, social impact, and environmental sustainability. When looking for career opportunities, users can filter their job searches by those commitments.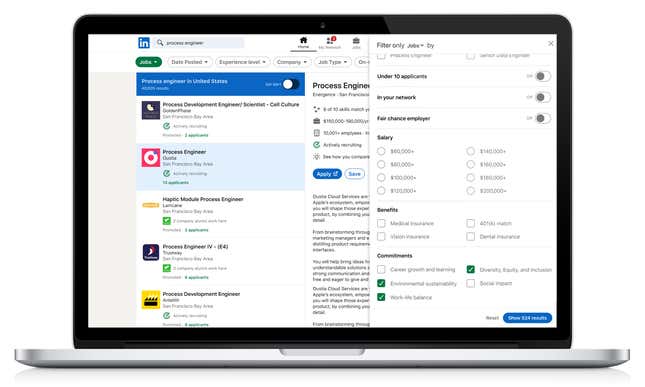 According to the platform, tens of thousands of organizations around the world have already added commitments to their LinkedIn profiles, along with information about the policies and practices behind them. The tool aims to surface what job seekers increasingly want to know about company culture.
In a recent survey of American workers by Qualtrics, more than half reported that they would take a pay cut to work at a company that shares their values; 56% said they wouldn't even consider a job with an organization whose values don't match their own.

Companies have good reason to promote their values on LinkedIn. Global organizations that list commitments to, say, flexibility or skills training get nearly three times more views than those that don't.
From 2020 to 2022, LinkedIn noticed a 150% uptick in entry-level job postings that include language about a company's culture or values. Younger workers are propelling this shift, the company suggests. In a new LinkedIn survey of Gen Z Americans, 84% said it's essential to have a culture fit with their employer.
But can users be sure a company's commitment is real?
When declaring corporate values takes just a few clicks, LinkedIn users might wonder what would keep an oil company that drills in the Arctic from naming sustainability as a top priority, or a fast-fashion brand with dubious labor standards from saying it's committed to social impact. How can any of us be sure that a company is practicing all that it preaches?
As one solution, the Commitments feature allows organizations to back up their stances with documentation. Under each commitment, they can upload and display corroborating files—like annual reports, corporate policies, or news articles. "It's a trusted exchange," Rajiv said.
Are you skeptical that a company stands for all it says it does? Or that it even matters? If so, you're not alone. Just a quarter of US employees strongly agree that their organization always delivers on its promises, according to one Gallup poll. In another survey from McKinsey & Co., less than half of respondents said their company's stated values or purpose were effective.
For its part, LinkedIn is letting users make up their own minds. Next to a company's commitments, job seekers can click on a question mark that leads to more information about the tool, including this disclaimer: "LinkedIn does not review every submission. Displaying commitments is an honor system that relies on organization administrators uploading authentic material."
In other words, it's for job seekers to evaluate exactly how well a company's values hold up. As with other LinkedIn features, Rajiv noted, users can report claims that are obviously fraudulent or spam.
Ultimately, job seekers are looking for commitments
The new feature is part of a line of tools from LinkedIn that reflect new priorities in the workplace—and ostensibly put more power in the hands of job seekers. For example, last year when the platform released a feature to highlight career breaks in user profiles, some suggested that it helped normalize caregiving, particularly for women who step back to raise families before returning to paid work.
Given that more and more professionals say vetting a company's values is a key part of their job search, LinkedIn's Commitments offers a new way to do that, right from the start. Now candidates can see if a potential career move will offer flexible days off for mental health, reimbursement for IVF treatments, or a carbon-conscious office, all before applying—or find a different employer that may be a better fit.
"The goal now is to grow this to make this a mainstream part of the job search," Rajiv said. "[It's] something that our members really want."