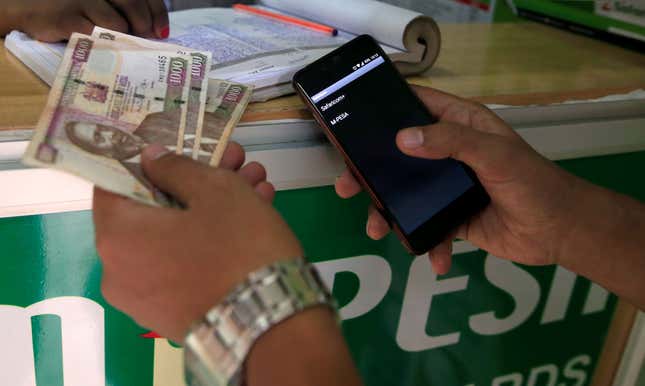 If you sent money from your cell phone last year, you were part of a trillion-dollar enterprise. Mobile money transactions hit a record high of $1.26 trillion in 2022, according to a new report (pdf) from the GSM Association.

The association, an industry body of mobile network operators, found that these transactions, up from $1 trillion in 2021, had grown faster than anticipated. Daily transaction volumes hit $3.45 billion, surpassing the $3 billion predicted in 2021.
The number of registered mobile money accounts increased by 13% year-on-year, from 1.4 billion in 2021 to 1.6 billion last year. While it took the industry 17 years to reach its first 800 million customers, it has taken just five years to reach the next 800 million, thanks to rapid adoption of mobile phones, higher network penetration, and better regulation.
By the numbers: Mobile money in 2022

17.4 million: The number of mobile money agents in 2022, a 41% increase from the 12 million in 2021
$22 billion: The volume of mobile money-enabled international remittances, up 28% from 2021

36%: The growth of bill payments, year-on-year, from 2021 to 2022, faster than any other year till date

1.4 billion people are still unbanked worldwide

"It is clear that mobile money is driving financial inclusion around the world," said Mats Granryd, the director-general of GSMA, in the report. "As it continues to grow, it offers an incredible opportunity to reach the 1.4 billion people who still do not have access to financial services."

Ahmed Yusuf, the CEO of Hormuud Telecom, a company in Somalia, told Quartz that mobile money has transformed the way that money and cash-aid are delivered in the country. "As the world continues to grapple with the challenges of poverty and inequality, mobile money will undoubtedly continue to play a critical role, improving the lives of people in some of the world's most vulnerable communities," Yusuf said.
Mobile money still has a long way to go
The GSMA report says, though, that a wide gender gap is still prevalent in mobile money use. Mobile phone ownership remains the main cause of this gap, although cultural norms also prevent women from adopting mobile money. "Women in low- and middle-income countries are 28% less likely than men to own a mobile money account," the report found.

Without increasing the digital skills and awareness of women, it will be difficult to bridge this gap. As a result, "even with this significant growth, there is still a long way to go," Max Cuvellier, another GSMA executive, said in the report.