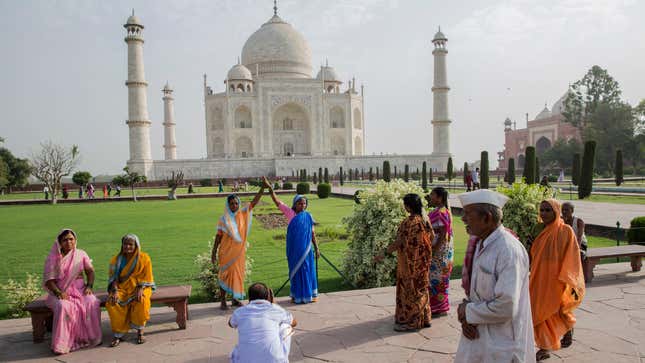 India's school children risk learning very little about the period of history in which the Muslim Mughal dynasty ruled the country.

How HubSpot created a "Connect Four" program
A new set of textbooks, part of the "rationalized syllabus" by the National Council of Educational Research and Training (NCERT)—an autonomous organization under the federal education ministry—omits chapters on Mughal rulers from Indian school textbooks.
Effectively, students can study some of the history of Mughals in Class 7 (around age 12), a little in Class 8, none in Classes 9 to 11, and a shortened version in Class 12, according to Indian Express, which inspected each textbook for chapters on and references of the Mughal era.
Before the school syllabus overhaul, undergraduate courses in Delhi University's BA History honors program had already axed and revamped chapters relating to Mughal history.
Supporters of the revamp argue the Mughals have been overrepresented in Indian history and this is all part of what they call "right-sizing." But having reigned over the country from 1526 to 1761, the Mughal dynasty was one of India's longest-lasting rulers, and hence has an outsize footprint in the nation's history. The wealthy and culturally-rich set of Muslim emperors have also left marks from centuries to come, from Delhi's Red Fort to Agra's Taj Mahal.
That history is being rewritten and obscured. It's hardly surprising that this is happening in a country that won't let kids learn about Darwin's theory of evolution until and unless they opt for Biology in grade 11 and 12, because it doesn't belong to the religious orthodoxy and creation narrative.
Quotable: India's teaching selective history
"This present regime and its ancestors have made it an ideological weapon or tool in their political project and intellectual and cultural project of turning this country into a Hindu dominant country and it is part of that agenda." —Historian Sucheta Mahajan to DW
Other controversial removals from school textbooks
🔫 The assassination of Mahatma Gandhi—specifically, the history of his assassin, Hindu nationalist Nathuram Godse. Also, references to Hindu nationalist movement Rashtriya Swayamsevak Sangh (RSS) were banned after Gandhi's death.
🚆 The 2002 communal riots in Gujarat state where over 1,000 people—mostly Muslims—died, back when current prime minister Modi was the state's chief minister
What's in a name: India's right-wing vs Mughal emperors
The Narendra Modi government's attempt to push its Hindutva agenda—a movement seeking to establish Hinduism and Hindu culture as dominant in India—is coming at the cost of the country's Mughal history. The stories of Muslim rulers are getting distorted and discarded. The tweaks to school and college textbooks are just one part of it. The Hindu-washing of names is another big nationalistic maneuver.
Yogi Adityanath, chief minister of eastern Indian state Uttar Pradesh, ordered the Mughal Museum in Agra, which is currently under construction, to be named after Chhatrapati Shivaji Maharaj—a 17th century Hindu king from the Deccan Plateau who played a key role in defeating the Mughals. It's an ironic choice for a city founded by Muslim ruler Sikandar Lodhi, near the Taj Mahal, which was ordered to be built by Mughal emperor Shah Jahan. Then again, the state tourism booklet stopped featuring the Taj Mahal in 2017 because Mughal-era monuments were apparently not reflective of Indian culture.
The Adityanath government is known for its jingoistic revamping: 156 years after it was built, the central railway junction of Mughalsarai was renamed Pandit Deen Dayal Upadhyaya. Allahabad, the birthplace of India's first prime minister Jawaharlal Nehru that got its name from Mughal emperor Akbar, was renamed Prayagraj.
This is the story of just one state—albeit one of India's largest and most populous ones—but similar redefinitions are happening across the country.

Related stories
🚦 Places often change their names for good, sensible reasons. Is the alphabet one of them?
🙏 Mughal emperor Aurangzeb protected Hindu temples more often than he demolished them
❌ Hindu nationalist history that calls Muslims "invaders" and Aryans "our own" is bogus