You've heard of ayurveda, the traditional Indian medical science. So have you about Unani, the Perso-Arabic healing science. Then there is homeopathy.
Now prepare for Cowpathy.
No, it is not a whole new medical system. It is a Mumbai-based company that makes consumer products said to have high medicinal value and completely based on the cow—it uses ingredients such as dung, urine, clarified butter or ghee, and others.
Cowpathy sells soap, toothpaste, floor cleaners, hair oil, incense, shaving cream and face wash. The soap contains dried and pulverised cow dung, orange peel, lavender powder, and gooseberries, the company says. The toothpaste is made of dung, ghee, and urine. It is now readying a line of cosmetic products and medicines as well.
"In the Indian scriptures, particularly the vedas, there is mention of cow dung and cow urine having very high medicinal properties," Umesh Soni, founder and CEO of Cowpathy, told Quartz. "Ayurveda uses a lot of herbs, but cow dung, with its anti-bacterial properties, is considered very pure and is part of the ayurveda."
From Hare Krishna to cow-dung soaps
Thirty-four-year-old Soni launched Cowpathy's predecessor Biobliss in 2012 with his own savings of Rs10 lakh. At that time, Cowpathy was a Biobliss brand and focussed on selling cow-dung based soaps.
A graduate in microbiology, Soni had earlier dabbled in the export of toiletries and cosmetic products before launching his own venture.
"I had been connected with ISKCON (The International Society for Krishna Consciousness) for a long time and decided to set up Biobliss which would focus on selling cow-based products," Soni said. Back then, the soaps were manufactured in a factory in Vasai, a small town north of Mumbai.
In 2016, Soni renamed Biobliss and revamped the business, registering Cowpathy as a company. "Cowpathy certainly connected more with the customers," Soni said.
He also patented the cow-dung soaps. Today, his company sells over 45,000 units of soap—Rs35 for a 75 gram bar—every month across India and in some 13 countries, including the US. It also sells over 5,000 units of toothpaste every month at Rs75 for 100 grams. Other Cowpathy products include facewash (Rs35 for a 50 gram tube), floor cleaner (Rs125 for 500 ml), and hair oil (Rs110 for 200ml).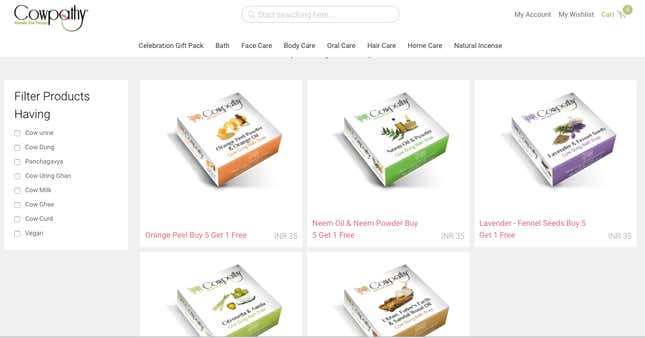 According to the company website, its soap has 23% cow dung content and 7% cow urine. The tooth paste contains 10% of each, along with 2% ghee. Gaunyle, the floor cleaner, has 11% cow urine. "I have had people tell me that eczemas that haven't healed in two years have disappeared due to the use of the cow dung soap," Soni said.
The company has established distributors in six Indian states: Tamil Nadu, Karnataka, Gujarat, Assam, Punjab, and Haryana. It sources its raw materials, primarily dung and urine, from cow shelters across the country. Cowpathy also has its e-commerce division and its products are now manufactured out of two facilities—Haridwar, Uttarakhand, and Sirmaur, Himachal Pradesh.
"Initially, business was tough and it was difficult to break even," Soni said. "But then, as awareness increased, it has been good. We did manage to break even, and over the past year, found two investors to back the company." Soni refused to disclose the investors' names.
Not disgusting
The mention, sight, or touch of cow dung and urine may be revolting to most people. However, Soni says such disgust is ill-founded.
"We dry the dung at high temperature after three days of it being produced. We boil cow urine at high temperatures, and then the vapour is condensed and used in the products. These steps remove the bacteria from the products, and what is left is of high medicinal values," Soni explained.
Cowpathy's basic premise is the panchgavya, a collective term for the five essential products of the cow: milk, curd, ghee, urine, and dung.
The company says it has received clearance from the Indian government's food safety departments as well as from the USFDA. Over the next few months, it plans to launch a line of talcum powder and dark circle removers, before moving on to medicines.
India's cow obsession
The spotlight has never been so firmly on the cow in India. Since Narendra Modi took charge as prime minister in 2014, bovine-worship has assumed a distinctly menacing character. Several people, mostly non-Hindus, have been lynched for transporting cows and consuming beef.
Along with the fear of the bloodthirsty vigilantes, a misplaced policy decision by Modi's government has jeopardised several industries—leather, traditional footwear, restaurants, and meat among them. India's vast farm economy, too, has suffered as a result.
Soni wants to spawn an alternate economy, where cows aren't sent off to slaughter houses towards the end of their productive age. "We want to tell the farmers that they needn't sell their cows to slaughter houses. In turn, they can still make money by selling urine and cow dung," adds Soni.
Cowpathy is likely to face competition from the Rashtriya Swayamsevak Sangh (RSS), the ruling Bharatiya Janata Party's ideological mothership, whose associates plan to sell their own cow dung-based products through e-commerce firms. A few trusts and NGOs, such as the Gujarat-based GoSeva and the New Delhi-based Holy Cow Foundation, too, have ventured into the segment; however, they use cow milk or ghee as constituents. The Indian government, too has set up a 19-member panel  which will carry out scientifically validated research on cow derivatives such as urine and dung and their benefits.
But Soni's unperturbed. "We have a patent on the cow-dung soaps and no Indian company currently produces toothpastes from cow urine," adds Soni. "If you look at it, we are the only company that is building a business without owning any cow shelters. That makes us one of a kind."