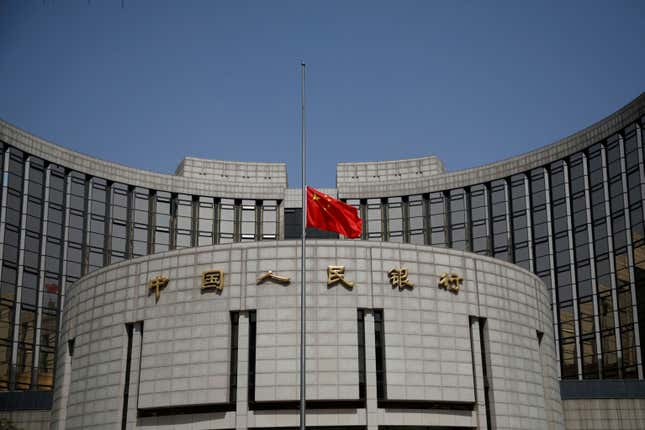 Italy's exports to China reached a monthly record of €3 billion ($3.3 billion) in February, a 62% surge from the same period in 2022. That's almost double their value of €1.7 billion last December, according to data that Banca d'Italia, the nation's central bank, shared with Quartz. The unprecedented gain is entirely due to one product: ursodeoxycholic acid (UDCA), a generic drug used to treat gallstones and liver issues.
How trauma-informed workplaces can support your team's mental health
It's not that Chinese people have suddenly been hit by an epidemic of liver problems and have no medications to treat them. It's that, according to a study published in Nature last December, UDCA might help protect against covid infections.
It's just a limited study, and its authors say the subject needs further investigation. But because China doesn't allow foreign-made mRNA vaccines and citizens worry about falling ill after the nation ended its zero-covid policy, doctors are prescribing UDCA to patients who otherwise have no protection against the coronavirus.


A sudden drug export bonanza for Italy
The dramatic increase in exports surprised analysts, but Robin Brooks, chief economist and managing director at the Institute of International Finance (IIF), shared an analysis showing that the change was entirely due to UDCA.
Data shared with Quartz by Jonathan Pingle, the IIF's global macroeconomic researcher, shows that exports from Italy to China in sectors outside pharmaceuticals have declined slightly.
UDCA's potential for treating covid was serendipitously discovered during unrelated research, when scientists found that the drug slowed conversion of an enzyme believed to facilitate the entrance of the virus into an organism. But no trials have confirmed that it works, and even if it did, researchers stress that it could not be considered a viable alternative to vaccines.

Yet in China, where people feel vulnerable to covid in the absence of foreign vaccines, UDCA—a cheap drug that sells over the counter in Italy for €9 ($10) per 20 capsules—is in high demand.
Local manufacturers Xuantai Pharma and New China Pharma saw their share prices jump by 53% and 69% respectively, the week the Nature study was published, and imports surged. Enter ICE Pharma, based in Reggio Emilia, Italy, the world's largest producer of UDCA.
If sales of the drug have skyrocketed, they're already showing signs of a slowdown. Preliminary data from Banca d'Italia reveals that exports to China fell from €3 billion in February to €1.8 billion in March.