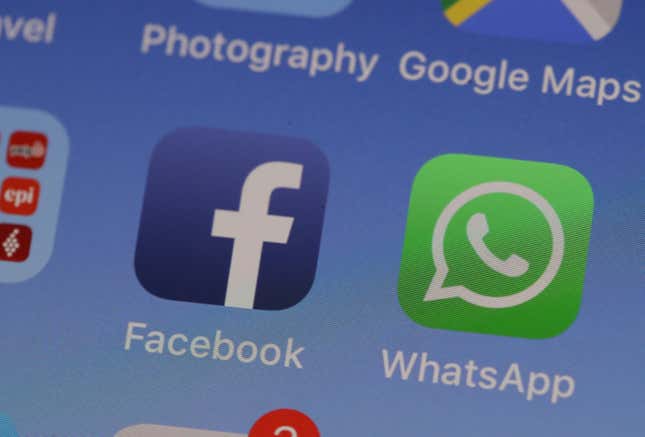 WhatsApp, the world's most popular messaging app, officially announced an edit button on May 22, putting typo-prone texters at ease. Meta, which owns WhatsApp as well as Facebook, unveiled the change in a Facebook post by CEO Mark Zuckerberg, saying that users will now be able to modify their messages for up to 15 minutes after they're sent.
Will Threads help or hurt Meta's stock value?
The company confirmed that any changed messages would come with an "edited" tag next to their time stamp. However, messages won't show a history of the edits. The feature will be available worldwide in the coming weeks.
Global WhatsApp users, by the digits:
2 billion: People who use WhatsApp every day, according to Meta's latest earnings report.
3.71 billion: People who use one of Meta's marquee apps (WhatsApp, Instagram, Facebook) every day. That's almost half of the world's population.
1.1 million: WhatsApp messages sent every second, for a total of 4.2 billion messages an hour.
180: Countries where WhatsApp is available. The app is compatible with 60 languages.
Is WhatsApp data really secure?
One of WhatsApp's most heavily advertised features is end-to-end encryption of its messages. In fact, Meta recently plastered the airwaves with an ad comparing normal SMS texts to the analog technology of carrier pigeons. But just how secure is your personal data on WhatsApp?
Not enough, according to the European Union. In January, the trading bloc's Data Protection Commission found that the messaging app breached EU digital privacy laws, fining the company $5.5 million for targeting advertising with private user data. Meta has said it will appeal the decision.
This is not new. When Meta (then called Facebook) acquired WhatsApp, it broke a major rule of its founder's initial privacy pledge by agreeing to send WhatsApp data to Facebook. WhatsApp users could opt out of that policy until 2021, when the app removed that option in a new terms-of-service agreement.
This has allowed Meta—effectively one of the world's largest advertising firms—to profile WhatsApp users and harvest their data, along with that from the other services it owns, to create targeted and personalized ads.
Also, a 2021 ProPublica report found that WhatsApp has built an extensive monitoring program and regularly shares personal information with law enforcement, despite its claims of absolute privacy.
Related stories:
Meta's new record-setting EU fine is nearly as big as its last six combined
Zuckerberg says Facebook will never be a media company—despite controlling the world's media
Meta's "year of efficiency" means job cuts, less metaverse, and more generative AI