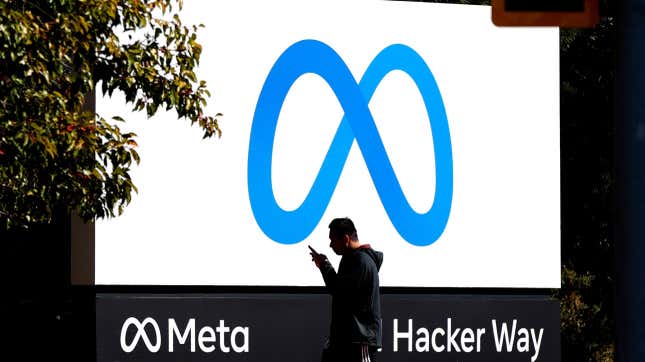 Meta is rolling out paid-for blue ticks.

Facebook and Instagram's parent company will let users submit a government-issued ID to get a verification badge for $11.99 a month on the web and $14.99 on iOS and Android as part of the new Meta Verified service. "This new feature is about increasing authenticity and security across our services," CEO Mark Zuckerberg said in an update Sunday (Feb. 19).
Paulina Porizkova on approach to Instagram
It will offer "proactive account protection, access to account support, and increased visibility and reach," the company said in a blog post. Users will get prioritization in comments, recommendations in the explore page and reels, exclusive stickers, direct access to customer service reps, and more perks.
The service—reminiscent of the controversial Twitter Blue subscription ($8 on the web and $11 on Apple iPhones) that was rolled out, and rolled back, and rolled out once again last year—is being tested in Australia and New Zealand starting this week, with more countries to follow soon, the Meta chief announced.
As of now, only individuals—not businesses—can apply.
Meta Verified versus Twitter Blue
Avoiding impersonation
Twitter: The microblogging platform faced a rampant impersonation problem during its first subscription launch in November. And even since it was re-released in December, it didn't appear to be verifying IDs.
Meta: A Meta spokesperson said the company has put "impersonation protections" in place. Users must be at least 18 years old, meet minimum prior posting history requirements and submit a government ID that matches their profile name and photo to qualify. And subscriptions will be subject to "proactive monitoring."
"Shout out to Twitter for being the trendsetter on this topic of pay for verification badge but even bigger props to Zuck and team for adding more value beyond the vanity of a blue check mark." Justin Johnson, the former creator partnership leads for Meta in North America between 2018 and 2022, wrote on LinkedIn.
What happens to existing blue ticks?
Twitter: Musk has signaled the intent to roll back ticks for users who received the blue tick before the paid one rolled out.
Meta: The verification badges granted to notable users like politicians, executives, members of the press, and organizations, to signal their legitimacy, will remain in place.
Quotable: The pitfall of making customer service a paid feature
"By making better access to customer support a paid feature, Meta excludes users—especially users in lower income countries—who might need recourse the most in the event of security/privacy breaches." -Ezra Mannix, writer and communications consultant
Why is Meta launching paid blue ticks anyway ?
The main motivation behind Meta Verified is likely the same one Elon Musk cited for Twitter Blue: the need for a non-ad-based sourced of revenue. It's why YouTube Premium, Snapchat+, Reddit Premium, and more, exist.
And with billions of people still using Facebook and Instagram, Meta's poised to rake in the big bugs—something it desperately needs after Meta's revenue declined for the first time in its 15-year history last year. The ad business has been thrown in flux ever since Apple's privacy terms changed the rules of tracking.
"If just 2% of [2 billion Instagram users] paid $10/month for the verification badge, Meta would make $4.8 billion annually! (5% of current revenue)," Alejandro Rosas Garcia, co-founder and co-CEO of metaverse gaming company Gamium Corp, pointed out.
Related stories
🤑 Wall Street loved Mark Zuckerberg's plans for 2023 to be a "year of efficiency"
👥 Elon Musk still needs 10 million more Twitter Blue subscribers to pay the interest on his loans
🔵 Elon Musk doesn't understand the purpose of Twitter's blue checkmark