Skip to navigation
Skip to content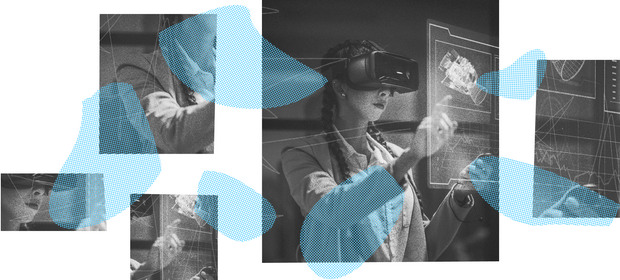 Immersive internet
Virtual and augmented reality are erasing the separation between devices and users, allowing for an immersive experience that makes computing an even more natural extension of everyday life. As real world spaces become layered with malleable virtual frameworks, and as people become avatars without location or identity limitations, new approaches to social ethics, legal protocols, and privacy are on the next frontier of what many are calling the metaverse.
What's the difference between VR and AR?

Virtual reality: Headsets block the wearer's vision, enveloping the user in a completely digital world that can be anything from a medieval fantasy landscape to the surface of Mars.

Augmented reality: It lays virtual images, objects, and information over the real world, giving the user an unobstructed view of their environment and allowing them to walk around their home or office while simultaneously interacting with those virtual constructs.

What's the size of the VR market?

Image copyright:

REUTERS/Kim Kyung-Hoon

A woman wears VR glasses.

$300 billion: Projected size of the virtual reality and augmented reality market, growing from roughly $30 billion in 2021 to $297 billion in 2024. This includes everything from medical device applications to gaming.

The history of VR

1968: The first head-mounted augmented reality system, The Sword of Damocles, is developed.

1984: VPL Research develops a VR headset called the EyePhone, as well as the DataGlove and DataSuit for fully immersive virtual interactions.

1994: Virtual Reality Modeling Language (VRML), a system to display virtual 3D objects via the web with no headset needed, begins development. 

2011: Google begins developing the first commercial wearable AR device, later sold as Google Glass in 2013. 

2012: A VR headset called Oculus Rift is launched via Kickstarter, raises $2.4 million, and is later acquired by Facebook in 2014.

2015: Microsoft unveils AR wearable headset HoloLens.

Which VR platforms are most popular?

Analysts predict that by 2026, 70 million VR headsets will be in use. But which platforms are the most popular? Facebook's Oculus Quest 2 has a clear lead.


Do I need to be in the metaverse?

Image copyright:

Steph Lau

The short answer is probably. The metaverse is the next phase of the internet. Components of the metaverse, such as virtual reality and augmented reality, will allow users to be fully immersed in virtual environments. When that happens, meetings, for example, become more personal, despite geographic barriers.

The scope of the metaverse

12.5 million: VR headsets sold in 2021.

13,000: Attendees at the VR-based Burning Man event in 2020.

13 million: Lifetime installs of Meta's Oculus mobile app.

$3,500: Price of the Microsoft HoloLens 2, the best AR device on the market. 

150 million: Roblox users.

$340 billion: Projected market value of the augmented reality space by 2028.