Spotify recently sent an email to some of its "Premium for Family" account users in the US that asked them to confirm their home address through GPS data. The email stated: "If you don't confirm, you may lose access to the plan."
On its website, Spotify clearly states that the two to five people on each family plan must live at the same address. However, several users have pointed out on Twitter that living in the same home is not a prerequisite for being a family, nor should it be a point of contention when it comes to accessing family accounts. Some family members might live abroad, for instance, or have separated parents.
In addition to Spotify's narrow categorization of family, people are concerned about the music-streaming company asking for people's GPS data to confirm their location, and about the implications this might have for privacy and security. Links in the email take users to a series of pages that state, "Spotify will only use your GPS data to verify your location and nothing else," as well as an explanation on why the company is requesting such information.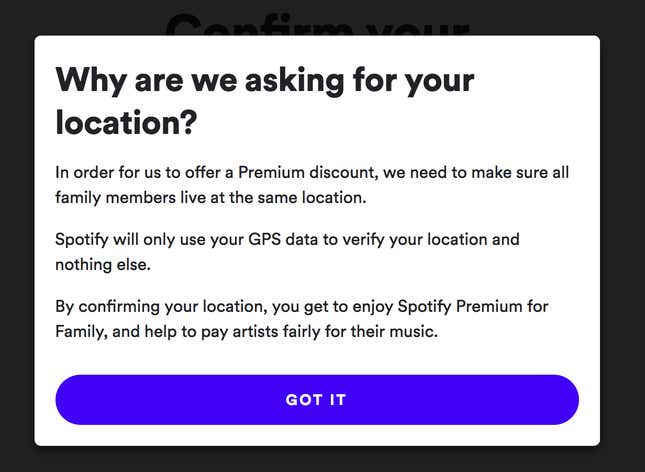 Still, users have said that this new policy creates a "hostile user experience," and family account users in Germany, the only other country where the email appears to have been rolled out so far, have expressed frustration at this data collection (tweet in German). Spotify's move has also been compared unfavorably to other streaming services, like Netflix, which, as one user put it, "lets you use extra profiles like unaccompanied candy bowls for trick-or-treaters."
When asked for comment, Spotify emailed the following statement to Quartz:
"Spotify is currently testing improvements to the user experience of Premium for Family with small user groups in select markets. We are always testing new products and experiences at Spotify, but have no further news to share regarding this particular feature test at this time."
A story published in Billboard last month revealed that streaming family plans had some music industry executives concerned about Spotify's slipping average revenue per user. According to Billboard, nearly half of global streaming subscribers (including platforms such as Apple Music and Pandora) are on family plans. Spotify's ARPU declined 12% in the second quarter of 2018 compared to the same time last year, and Billboard's Hannah Karp writes: "Family-plan price bumps could help compensate for the potential revenue being lost when family-plan subscribers share their passwords with friends outside their families."
Uninhibited password-sharing is a reality for many streaming companies. In 2017, a Reuters survey of over 4,400 US adults who used services like Amazon Prime, Hulu, and Netflix found that 21% of users aged 18-24 have borrowed someone else's password. If Netflix cracked down on password sharing, the company could make almost $400 million more per year, Quartz found. However, Daniel McCarthy, a marketing professor at Emory University, told CNBC that streaming companies are at risk of losing subscribers if they start policing password activity.
Even if password-sharing is an incentive for Spotify to start tighter regulation of its premium family plans, the question of why a family needs to live at the same address remains. Especially in light of the company's recent collaboration with Ancestry, which actually expands the idea of family and the notion that the "soundtrack to your heritage" can come from around the world, this recent email to users seem out of key.