Among streaming platforms, Netflix is known as a kind of Midas, using its vast trove of data to identify promising genres and turn them into mainstream gold. This holiday season, it is tapping into a particularly rich vein: Christmas romantic comedy.
Today (Nov. 30), Netflix will follow the success of last year's addictively awful A Christmas Prince with its sequel, A Christmas Prince: The Royal Wedding. And already this month, the streaming giant has released two other such twinkly, festive, wine-friendly holiday romps: The Princess Switch and The Holiday Calendar.
These movies share the cinematic DNA of the made-for-TV films that have been the Hallmark channel's cash cow for years. Last year, the Hallmark channel released 34 original Christmas movies, a strategy that helped it to jump to the highest-ranked cable channel in its target demographics (women 25 to 54 and women 18 to 49) in November of 2017. This year, Hallmark has upped its game with 37 original holiday movies.
Hallmark's tried-and-tested formula makes for great mindless watching, and the indulgence of settling in for a Hallmark movie binge with a bottle of wine has even become a kitschy pleasure that people proudly cop to on social media.
These films are also objectively bad. They hinge on undefined traditional values, and imply that there's a literal magic that spurs improbable behavior around Christian holidays. The characters—particularly the women—are completely one-dimensional. The plots are improbable at best and completely far-fetched at worst. And yet, they've never been more popular.
While there's surely some aspect of escapism in these films, there's also something darker at play: These movies don't just depict a world that's brighter and cheerier than our own; they depict one drastically different, where being a woman who Has It All is as simple as embracing the holiday spirit.
At the end of another year where the news cycle highlighted the inequalities, hurdles, and abuse that women around the world still face, one reason these movies are still so appealing is that they can be watched with both envy and outrage. We can laugh at them because they're so far from the truth of modern women's experience.
The growing demand for realistic romance
Romantic comedies have made a comeback in the last few years, many with a modern and realistic twist. The Big Sick was a surprise hit last year, picking up an Oscar nomination for its screenplay (with some complaining it should have gotten more awards recognition).
And 2018 has been a great year for the romantic comedy, too—thanks, in part, to Netflix. The office rom-com Set It Up may not have reinvented the genre, but it certainly reminded us what we'd been missing since the rom-com's multiplex reign came to an end in the early '00s. Then came To All The Boys I've Loved Before, the inspiration for months of memes and the crowning of the internet's newest boyfriend, Noah Centineo. With its Asian-American heroine, To All The Boys I've Loved Before was already something new, but it was "quietly revolutionary" in other ways as well. Lara Jean (Lana Condor) is a refreshingly average teen. She's not the most popular kid in school, nor does she want to be. And she doesn't need a makeover to get her happy ending.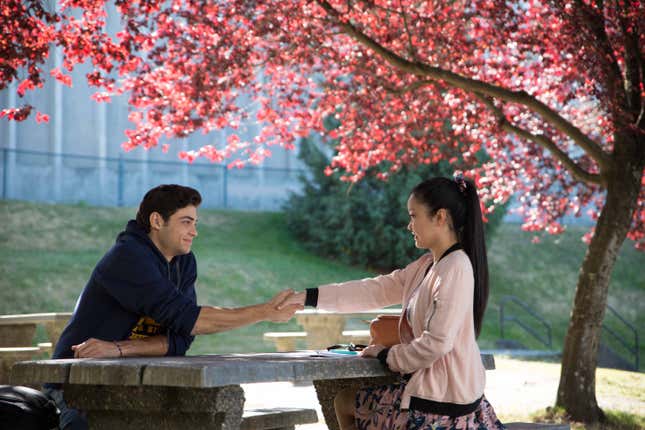 2018 also delivered the highest-grossing romantic comedy in a decade in Crazy Rich Asians. With its all-Asian cast and its unpicking of class and cultural divides, it proved that a rom-com can be so much more—if it wants to be. The women of Crazy Rich Asians were refreshingly complex and flawed, and not afraid to call BS on the toxic masculinity of the men in their lives. And there's a growing appetite for light-hearted, romantic fun, as shown by some of the most successful movies of the last 12 months, from The Greatest Showman to Mamma Mia: Here We Go Again!.
In some ways Christmas rom-coms are a different beast. By their very nature they are cheesier and more sentimental, but that doesn't mean they need to be bad. In the early 2000s, we had Love Actually and The Holiday, movies that are not everyone's cup of mulled wine, sure—but films that have an enduring charm, partly because they managed to tread that fine line between chintzy romance and downright silliness.
While Netflix is reviving the Christmas rom-com, it's been a while since one received a major theatrical release. But next year, Bridesmaids director Paul Feig is bringing holiday romance back to the big screen with Last Christmas, starring Crazy Rich Asians' Henry Golding and Game of Thrones' Emilia Clarke. And there's even some reason to hope that Clarke's character won't fall into the trap that many of Netflix's Christmas heroines do. Feig recently told the Independent that he was "tired of seeing how women were being portrayed in movies," especially in comedies where they are nothing more than "props."
Cheese, please
What Christmas rom-coms lack in quality, talent, and production values, however, they make up for with comforting, formulaic predictability—from the red and green sweaters on the movie posters to the extreme racial homogeneity of the romantic leads. The protagonist is a single woman, almost always white, who has just been too busy to find true love. Somehow, around the holiday season, she'll wind up in close proximity with either an old (male) flame or a handsome new (male) suitor. Then, "because it's Christmas" the two characters will act in ways that would normally be considered irrational and inappropriate, and somehow they'll fall in love by Christmas Day. (Despite using the peg of the Christian holiday, these films generally avoid any whiff of actual religion.) All of this will be set in an idyllic small town, where even though fluffy snowflakes are constantly dropping from the sky, no one will actually look chilly.
These women are always slender and conventionally attractive. They dress modestly, and are focused on their careers—something easy to explain and a little whimsical, like a baker, photographer, journalist, chef, or wedding planner. They have exactly one quirky best friend (who may well be the only queer person or person of color in the movie) and a perfect family, who kindly suggest that maybe—if the heroine weren't quite so stubborn, career-focused, or anti-social—that she would find love. (Notably, Netflix's The Holiday Calendar has a touch more diversity than most of these movies, with two protagonists who are not white.)
Despite the heroine's dedication to her career, as soon as Christmas season hits, she's willing to totally upend her priorities and allow herself be swept off her feet, sometimes by a literal prince. And just like that, she will realize that True Love is effortless, and that it will solves every other problem in her life.
Of course, the life of most women today is considerably less idyllic. Women around the world still face a wage gap and  yet they're expected to be diligent mothers and work the "second shift" as homemakers while taking minimal time off work. Women's health is not taken seriously, and there's still prejudice against women who are not thin. A bogus wellness industry has done little to alleviate their stress. All of these pressures are worse for women of color, who still face discrimination in the workplace and beyond, and are also expected to conform with racist beauty standards.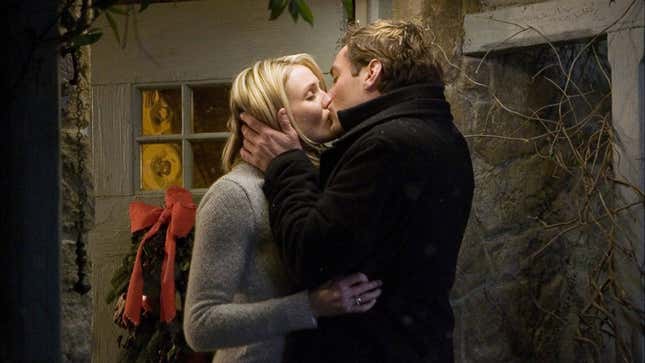 Modern love is hardly a source of comfort for women in the #MeToo era, either. Women have to constantly contend with the risk of sexual violence while dating or indulging in a casual hookup. Instead of princes, online dating sites are rife with men who ghost or send dick pics. It makes being vulnerable with a near-stranger, a requirement for the "meet-cute" of the classic rom-com, literally dangerous in some cases.
So perhaps it's no surprise that over the holidays audiences—particularly women—want to lose themselves in a romantic fairytale. Of course, these films could be so much better. Escapism can still have an element of realism, and there's no reason they can't feature recognizable, fully-formed female characters, who endure the same struggles and have the same desires as viewers at home. Still, Netflix and Hallmark's cheesy Christmas rom-coms are harmless enough.
But the truth is Christmas isn't all about good cheer. It's often a somewhat isolating time, and can even be a bit scary. So if watching these Christmas films, whose world is totally at odds with modern women's realities, makes us a bit melancholy, perhaps that's in keeping with the season's spirit.