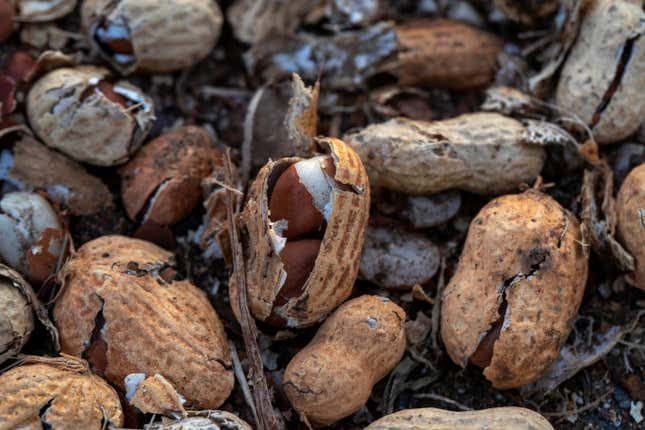 Peanut allergy is a serious public health concern. Nearly 2% of people suffer from it in the western world, and it is the most common cause of anaphylaxis in children in the US. The allergy usually emerges in the early years of life; only about 20% of the children who have it outgrow it.
The one thing companies should do before a disaster to support their team
In 2020, the US Food and Drugs Administration (FDA) approved Palforzia, a drug that can reduce sensitivity to peanuts and the severity of an allergic reaction. The drug was only approved for people aged four or older, which meant there was no treatment available for children one to three.
This may change soon, however. On Wednesday (May 10), French biotechnology company DBV Technologies published stage-three trial results for Viaskin Peanut, a peanut allergy patch. According to the results, published in the New England Journal of Medicine, the patch was statistically superior to a placebo in reducing sensitivity to peanut.
The hope for toddlers with peanut allergy
DBV Technologies, which focuses on pediatric cutaneous treatment for food allergies, conducted the trial with 413 subjects across eight countries. Before the trial, children aged one to three were tested to assess their sensitivity to peanut protein. Those who had shown reaction to 300 mg or less of peanut protein were enrolled and put in one of two groups. In one, 244 kids were asked to wear a skin patch with 250 microgram of peanut protein, or 0.01% of a peanut, for a year. The other 118 children wore a placebo patch.
After one year, 67% of the children who had worn Viaskin patches for about 23 hours a day (changing the patch once a day) were able to tolerate the amount of peanut protein contained in a few nuts. Only 34% of the children in the placebo group was able to do the same.

All of the children in the trial, whether using the placebo or not, showed adverse reactions, although those enrolled in the trial had significantly more itching and swelling. The patch also caused more incidence of severe reaction and anaphylaxis. However, when children in both groups were accidentally exposed to peanut, the ones in the intervention group had fewer occurrences of allergic reactions and anaphylaxis.
Further, the reactions became less severe over time, further strengthening the confidence that desensitization made through skin can be effective for toddlers.
The treatment has important advantages from a compliance standpoint. The patches had to be changed once a day, but required no further maintenance, nor were children restricted in any way in the kind of activities they could perform while wearing them. This fits many caregiver and patient needs for something that adapts to their lifestyle and does not require complicated adherence protocols.
Like an airbag for accidental exposure
As the father of children with food allergy, Pharis Mohideen, the chief medical officer at DBV, is all too attuned to the stresses brought on by them. This is why he is excited about the patches, and the potential for them to be available to parents afraid for their toddlers' safety.
"The way that we think about it is like an airbag," he told Quartz. Though parents will still have to be careful about what their toddlers eat, and try to avoid accidental exposure to peanuts, it will prevent severe consequences from accidents. "We know that the average accidental exposure is about a third of a peanut. If we can raise the tolerance level to one peanuts, or three, the level of protection gives peace of mind."
The idea, Mohideen says, is not for children to be able to feast on peanut snacks, but to be able to go about their lives without the terror of anaphylaxis or other severe allergic reactions in simple situations like being on a plane where peanut snacks may be served. "For people who haven't lived it, it's hard [to understand]; it's a tremendous difference, even just getting on an airplane," says Mohideen.