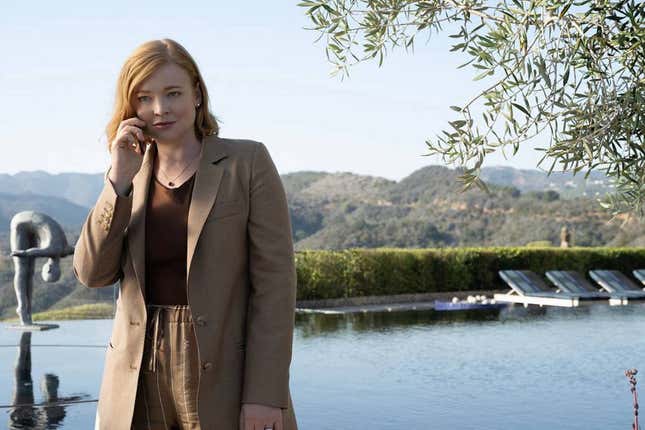 The fourth and final season of the hit dark-comedy series Succession kicked off with the perfect backdrop to Roy family scheming: a sprawling clifftop property in the Pacific Palisades, Los Angeles.

Why a tightening of credit conditions could lead to a weak economy
In the real world, the six-bed, eighteen-bathroom mansion belongs to 28-year-old Austin Russell. Once anointed by Forbes as the world's youngest self-made billionaire, Russell is the founder and CEO of autonomous car tech company Luminar Technologies.
Russell purchased the home in July 2021 after selling off 10 million Luminar shares, a sale that an SEC filing cites as "personal in nature." Russell closed the purchase of the $83 million palatial residence the day after the $220 million stock sale went through, according to a report from Dirt.
Developed by Los Angeles "Starchitect" Ardie Tavangarian, the mansion features a plush home theater, spa complex, two panic rooms, and even a retractable roof for stargazing. But the real "personal" touch, perhaps, is the retinal scanner used to enter the master bedroom. The land for the property, purchased in 2013 for $7.3 million, sits right next door to the residence of Tom Hanks and has an unobstructed view of the Los Angeles Westside.
Bright as the prospects may be from Russell's glass-enveloped home, the outlook for Luminar remains somewhat clouded.
What is going on at Luminar Technologies?
You may have never heard of Luminar before, and for good reason. The startup was founded in 2012 and operated in "deep stealth mode" until 2017, when it emerged from obscurity to announce its invention of new lidar technology.
Lidar, which stands for "light detection and ranging," is a type of remote sensing method that uses lasers to generate information about three-dimensional space. The sensors, when applied to self-driving vehicles, can enable them to "see" while navigating. A number of companies, including Volvo, who has partnered with Luminar, have already incorporated the technology into their vehicles. Not everyone is sold on the idea—Elon Musk has called it "freaking stupid."
Luminar went public via a $3.4 billion SPAC deal with Gores Metropoulos in 2020, and has since ramped up efforts to outmuscle a number of competitors in the automotive sensor field. One of its rivals includes Velodyne, an industry leader that gained its edge as the first company to commercialize lidar for autonomous cars in 2007.
That battle has not been easy for the Orlando-based company. Last quarter, Luminar reported $11.1 million in quarterly revenue, coming in $4.28 million lower than analyst expectations. The company said the weak results, falling on the lower end of its guidance range, were "due to timing of program and service revenue recognition." Its quarterly net loss was $94.9 million or $0.26 per share, higher than the Zacks Consensus Estimate of a $0.22 loss per share.
Luminar stock's value peaked in February 2021 at $37.73 per share, but has since been trending downwards, hitting a low of $3.95 in January this year. Last week, Goldman Sachs downgraded Luminar, moving it from neutral to sell with a $5 price target, due to margin concerns. Luminar stock subsequently tumbled.
Who is Austin Russell?
The founder Luminar Technologies, born in 1995 in Newport Beach, California, has been hailed as something of a wunderkind. Russell founded Luminar when he was a 17-year-old high school student. In 2012, he attended Stanford University and took courses in physics. Three months into his studies, Russell dropped out after securing a Thiel Fellowship, which awards $100,000 to young entrepreneurs.
For five years, Russell worked under the radar, creating Luminar's lidar hardware and software. In 2017, he brought Luminar's innovations into the limelight, and three years later Russell's net worth catapulted into the realm of billions after Luminar debuted on the Nasdaq—at the time, he was 25 years old. Russell is estimated to be worth about $1.6 billion according to Forbes, as of April 2022.
Russell owns a second property, worth $10.6 million, in Winter Park, Florida.
Related stories
🏛️ A Regent's Park mansion is expected to be the most expensive property ever sold in London
🔐 The last major obstacle to cracking the code on self-driving cars
🚢 Japan is home to the world's first autonomous container ships
Correction: A previous version of the article compared Luminar's fourth quarter GAAP net loss ($0.40) with the Zacks Consensus Estimate non-GAAP net loss ($0.22). The former figure has been updated to Luminar's fourth quarter non-GAAP net loss ($0.26) to compare the same metrics. The quarterly loss has also been changed to the non-GAAP figure.