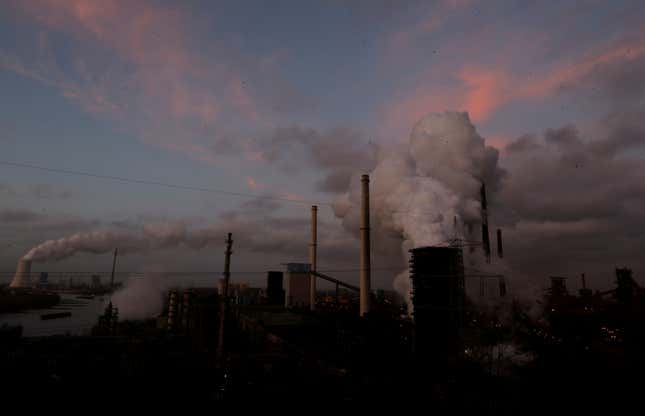 After two years of negotiations, the EU's 27 member states voted on Tuesday (April 25) to finalize a new law creating the world's first carbon border tax. The tax, levied on imports, is a landmark piece of legislation, with the potential to transform the most polluting industries within the EU and beyond.
Why a tightening of credit conditions could lead to a weak economy
The carbon tax is part of a wider overhaul of the bloc's carbon market that will require European industries to comply with strict emissions standards, making their products more expensive to produce. The tax is intended to ensure that the costlier, lower-carbon EU goods will not be undercut in price by those from countries with more lax rules on emissions.
Any companies importing such products into the EU will be required to buy certificates to cover their carbon emissions, based on the volume of goods they bring in and the emissions footprint of those goods. The tax will also prevent manufacturers, hoping to evade the EU emissions standards, from moving operations to another country, and then sending their goods into the EU, a process known as "carbon leakage" (pdf).
Which products will the EU's carbon border tax affect?

The carbon tax, to be phased in from 2026, will cover some of the most polluting industries: steel, aluminum, cement, fertilizer and electricity, as well as hydrogen. In the future, it could be expanded to include organic chemicals and polymers, including plastics.
The tax is expected to raise as much as €14 billion ($15.4 billion) a year for the EU. The ensuing reforms of the overall carbon market are projected to cut EU emissions by 62% by 2030, from 2005 levels.
"It is one of the only mechanisms we have to incentivize our trading partners to decarbonize their manufacturing industry," Mohammed Chahim, the European Parliament's lead negotiator on the law, said in a statement in December, during the contentious negotiations over the tax.
The EU carbon border tax has one big problem: China

Products from China, which has long opposed the carbon border tax, make up about 10% of the goods affected, according to an analysis by Adelphi, a German think tank. Indian, UK, Korean, US and Turkish industries will also impacted.
China has argued that the tax violates international trade principles. In March, China filed a proposal with the World Trade Organization asking the EU to defend its legality and impacts on developing countries.
In an interview with the Financial Times, Faten Aggad, a senior adviser at the African Climate Foundation, warned that developing countries are likely to suffer the most from the carbon border tax, leading to a "deindustrialization" of African economies dependent on trade with the EU. The law does not set out clear commitments to provide funds for poorer countries to decarbonize in order to continue to access European markets.