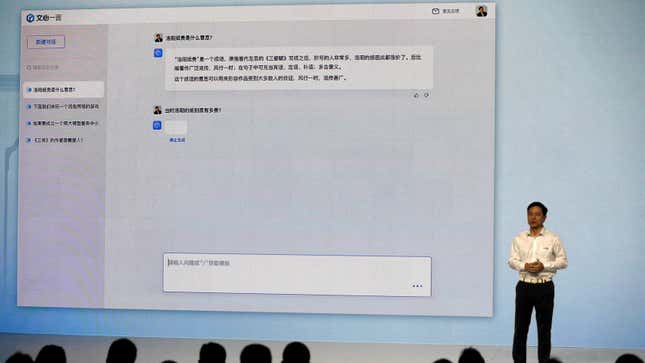 On Monday, Baidu scrapped a livestream press event of Ernie, the AI chatbot rival to ChatGPT, for a closed-door meeting with potential corporate clients.
The Beijing-based search engine company said it changed the format to prioritize the 120,000 companies that had applied to test Ernie, adding this would be the first of many closed-door meetings. Baidu's shares sank on both the Nasdaq and Hong Kong market.
Earlier this month, in the public debut of Ernie, Baidu's CEO Robin Li talked over a scripted version of the interactions with the AI chatbot, raising questions of its ability to match ChatGPT's.
Just four months ago, Open AI, a San Francisco-based startup, launched ChatGPT, which has fueled the global frenzy over generative AI. Baidu is the latest tech company to launch its own AI chatbot to rival ChatGPT.
The Chinese search engine said Ernie will be integrated into all of Baidu's operations including its search and cloud service, and the company also has plans to integrate Ernie into its smart car operating system.
China's progress on AI
The world's second biggest economy has ambitions to lead AI. The Chinese government outlined plans to implement AI in a variety of areas including military and city planning. China will benefit from its focus on rapidly creating prototypes, assembling a trove of consumer data, and relying on government support, according to an excerpt from AI Superpowers: China, Silicon Valley, and the New World Order by Kai-Fu Lee, a computer scientist. That has helped fuel tech giants like Baidu, Alibaba, and Tencent, which are focused on developing and implementing AI.
The launch of Ernie comes as China lags the US in AI funding. In 2022, funding for US-based AI startups was more than five times that of China's funding, according to data from CB Insights, a data analytics company.

A key obstacle for Chinese AI companies is making sure ChatGPT-like bots follow the country's strict censorship. In the future, Baidu and its peers will also have to contend with growing US restrictions on technology exports. Last year, for instance, the US government ordered Nvidia to stop selling certain high-performing chips, used in AI development, to China.