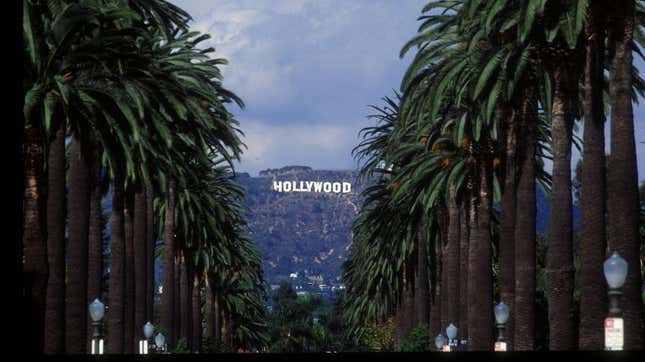 The iconic Hollywood sign adorns the hillside overlooking Los Angeles, a 50-ft. high, 400-ft. wide monument to the city's film and television industry. But when it was erected a century ago, the sign's purpose was to serve another enormous Los Angeles industry: real estate.
The sign, originally spelling out"Hollywoodland," was officially completed on Dec. 8, 1923—the exact date on which 4,000 light bulbs first illuminated the letters. They did so in dramatic fashion, first with "Holly" lighting up and then "Wood" followed by "Land" before the entire word "Hollywoodland." The goal was to lure people living in downtown LA to a new namesake housing development in the city's Upper Beachwood Canyon neighborhood.
The Hollywood sign's debut year was also the birth year of several other LA landmark buildings: the Disney Brothers Cartoon Studio in East Hollywood, the Los Angeles Memorial Coliseum, the Biltmore Hotel, and the 5,300-seater Angelus Temple.