Updated on June 11: After voting closed in France, pollsters said Macron's party is projected to win 390-430 seats in parliament after getting 32% of the vote in the first round of the legislative elections (link in French). The abstention rate is forecast to be about 51% of voters. If the results are confirmed in the second round of voting on June 18, Macron will preside over one of the largest majorities in post-war France. 
Having won the French presidency, Emmanuel Macron's next task is getting his brand-new party—La République en Marche—from having zero members in parliament to being its largest party so he can implement his legislative agenda.
France goes back to the polls this Sunday (June 11) and there are nearly 8,000 candidates standing for election for the 577 seats in parliament. Like the presidential election, there are two rounds. If no candidate gets more than 50% of the votes in his or her constituency, then the top two face off in the second round on June 18.
While 39-year-old Macron decisively beat the National Front's Marine Le Pen in the presidential election, historically low voter turnout dampened the celebrations. A record number of people disliked both Macron and Le Pen so much that they went to the polls just to cast blank votes. This highlighted Macron's first major challenge—broadening his support so thoroughly across the country that he can push out other established parties.
A month later, voter opinion polls astonishingly suggest he can do it, comfortably. For a parliamentary majority, La République en Marche needs 289 seats. Most of the recent polls suggest he will win more than 300 seats. Some predict Macron could win in the range of 400 seats, handing him one of the largest majorities in post-war France.
An Ipsos/Sopra Steria poll published on June 9 predicted Macron's party will get between 397 and 427 seats (link in French). The bruising the Republican and Socialist parties experienced in the presidential election is also set to continue. The center-right Republican party is expected to lose half of its seats to about 100, while the group of left-wing parties is predicted to go from 284 seats to as few as 20 or 30. The National Front is predicted to win between five and 15 seats.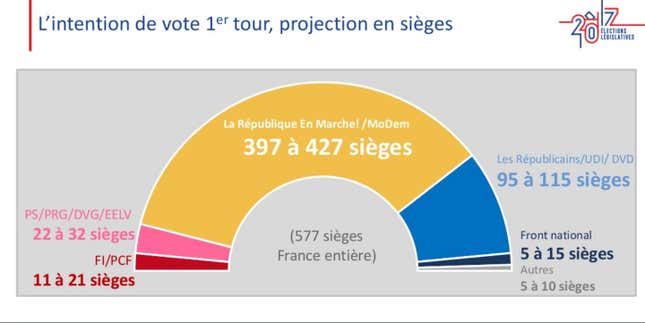 Macron's strengthened position is in part thanks to appearing comfortable as an international leader. He's taken on both US president Donald Trump and Russian president Vladimir Putin, while befriending German chancellor Angela Merkel and Canadian prime minister Justin Trudeau. Already early voting by the French abroad suggest Macron's party is well ahead of its competitors.
Macron hasn't taken the easiest route to parliamentary victory either. He promised to completely shake up France's political system and so far is sticking to this plan. He said that half the party's candidates would come from civil society and not have held political office before, and half would be women. The party's 428 candidates fit these criteria and include students, retirees, the unemployed, business leaders, and civil servants. Not to mention a bullfighter, famous mathematician and a celebrity environmentalist.
In fact, the party adhered to these rules so strictly that former French prime minister Manuel Valls was rejected from running for the National Assembly as a member of Macron's party. Valls was from the Socialist party, which is the party of the last president and the same party Macron was in when he served as economy minister. Valls said the Socialist party was "dead and gone" but Macron's party said Valls didn't fit its criteria, particularly as he's already served three terms in parliament.
Another round of victories for Macron would show that it's really possible to reinvigorate a nation's political system and sideline the establishment parties, and do so in short order. It shows that a movement of young people and centrist policies that include social safety nets and business acumen can achieve change.
This is a lesson British prime minister Theresa May learned the hard way this week. She expected to breeze through a snap election and increase her majority. Instead her establishment politics were rejected by a surge in youth voting and support for a former backbench socialist MP.
Macron was supposed to be fighting to avoid a coalition government that could thwart his reformist agenda. Instead France's traditional parties are nowhere to be seen.