With no bellhop or check-in desk in sight, stepping through the entrance of Ian Schrager's newest hotel can be a bit disconcerting.
Instead of the usual hum of activity and the army of doormen, bellhops, and clerks, guests at PUBLIC New York are faced with just a dramatic set of high-polish copper escalators. These lead to the second floor lobby, where two smiling representatives sporting PUBLIC T-shirts and clutching iPads greet visitors. These PUBLIC advisors won't offer to carry your luggage. Instead, they'll help you navigate digital check-in or explain the property. Without any front desk, the bar, deep sectional seating and communal tables are the most robust pieces of furniture in the lobby.
Forty years after redefining nightlife with the legendary New York City nightclub Studio 54, the hotelier and real estate developer Ian Schrager's newest vision is for a new kind of affordable luxury—a hotel and arts center in downtown Manhattan that offers a blueprint for disrupting the mid-market hotel sector.
"PUBLIC is a new take on what matters for people—people don't care about the gold buttons or if coffee is served in bone china." Schrager explains. "We offer luxury without it being obsequious."
With rooms starting at $200 a night, PUBLIC New York is geared to the tech-savvy Airbnb set—who are taking a growing bite out of hotel bookings. At that price, the new brand is playing the same field as some of the highest valued hotel brands, and particularly their fewer-frills "select service" hotels, which have thus far weathered the exodus to Airbnb relatively well.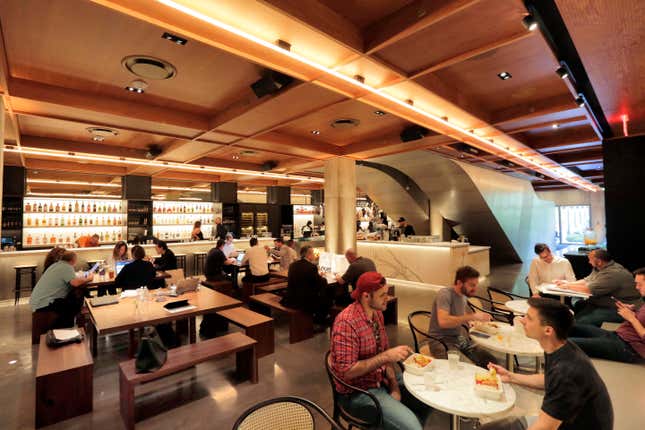 Guided by a brand mantra of "luxury for all," PUBLIC fills a gap in the select service hotel market—chains such as Hilton Garden Inn, Courtyard by Marriott, and Hyatt Place, that, unlike "full service" hotels, may not offer restaurants or other amenities. This has lately been the most profitable space in the hotel industry: In 2015, select service hotels in the United States reported a gross operating profit margin of 44% of their total operating revenue, compared to the industry average of 37.5% according to the hotel market data firm STR.
Schrager isn't the only one to bet big in the space—89% of total hotel projects under construction in the United States as of December 2016, including a new brand under Trump Hotels, will be part of the select service market. But Schrager thinks he can improve upon what's offered at that price range, he said.
"I find the same inefficiencies there that I found in the boutique hotel space 25 years ago, where they stripped down services. It was less expensive, but it had close to a 50-percent profit margin," Schrager told the travel industry intelligence company Skift. "So, I thought very simply put, if you can add some exciting food and beverage, which we can do, if you can add some great style and be visually provocative and you can add great service—which is critical to the whole idea—and you could all make that available at a very accessible price that anybody could afford, it was just a great idea."
PUBLIC has done away with doormen, bellhops and porters (and the constant barrage of tipping they require). In lieu of traditional room service with its service charge, 45-minute waits and $30 pots of coffee, Schrager took notes from tech-savvy startups like the healthy fast-food chain Sweetgreen and installed a dining shelf on each floor. Guests can order food from their rooms and pick it up on the shelf within five minutes, without the hassle of long wait times and additional fees.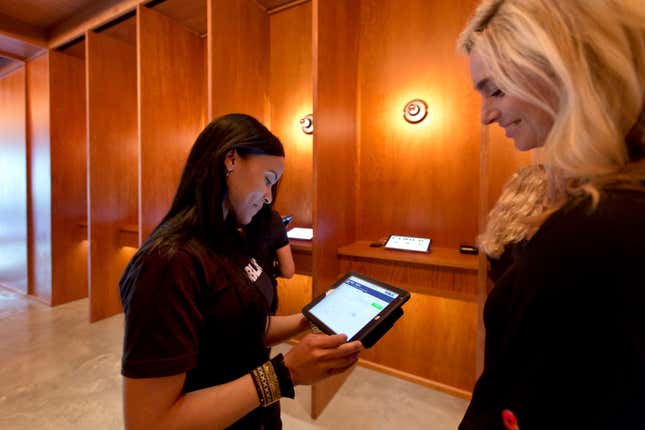 With a stripped down staff of 50 servicing the hotel's 370 rooms, new roles have emerged. These include the PUBLIC advisor, responsible for general guest relations—a sort of concierge and guide for a generation of travelers that's used to boutique hotels and Airbnb hosts, and have come to expect a more personal brand of local knowledge. The advisor greets guests, helps with check-in, directs traffic and becomes a face for what could otherwise be an automated experience. (On a recent night at the hotel, an advisor said hello to a guest she had helped earlier in the day. Their interaction could have been mistaken for banter between two confidantes.)
The PUBLIC was designed by Herzog & de Meuron, the Swiss architecture firm that Schrager also collaborated with for the luxury residential condo 160 Leroy. Schrager describes the aesthetic of the space as "tough luxe." Wood panels infuse the lobby with a sense of warmth, but rather than oak or maple, the wood of choice is cheap plywood, a visual marker of how the hotel elevates foundational elements to create a new vision of luxury.
As well as plywood, Herzog & de Meuron used concrete and stainless steel to create the envelope of the building as a "beehive." The interior elements include sophisticated finishes such as wire-brushed concrete columns and plywood ceiling panels. Inspired by yacht cabins, the rooms are efficiently designed with a compact suite of living, bath and bedroom jammed into 190 square feet of space.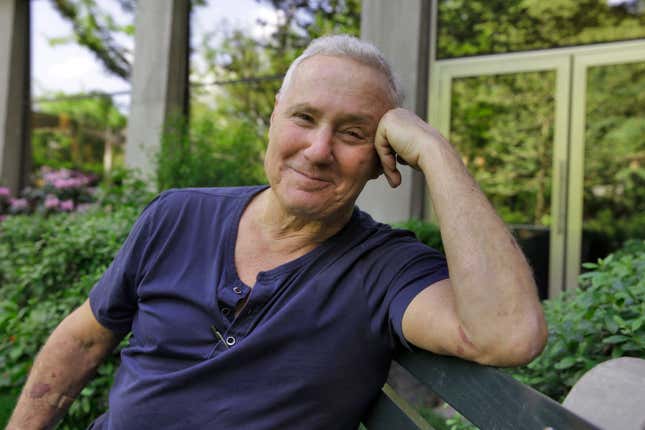 Schrager has been upending expectations around hospitality for over 40 years. In 1977, he launched Studio 54 with business partner Steve Rubell, and the club's notoriously strict door policy, celebrity patronage, and drug-fueled parties defined the disco generation. Set in an old theatre space, the two introduced themed nights that bordered on performance art.
At Palladium, their follow-up nightlife venture, the two enlisted the help of downtown art darlings such as Jean-Michel Basquiat, Francesco Clemente, and Keith Haring to create a scene that connected art and nightlife in way that had not been seen before.
In 1984, the partners launched Morgans, widely considered the first boutique hotel, and with it a new template for how hotels can be destinations for travelers and even locals. With an annual growth rate at 4.8% over the past five years and revenue across the industry reaching $7 billion, according to a new report by IBISWorld, Schrager's model continues to be successful—as evidenced by the international roll out of his EDITION Hotels, a brand partnership with Marriott International. Compared to the New York PUBLIC, rooms at the New York EDITION start around $400 and the property includes a 24-hour fitness center, spa and 270 rooms stacked with the amenities and social touchstones that have come to define Schrager's properties.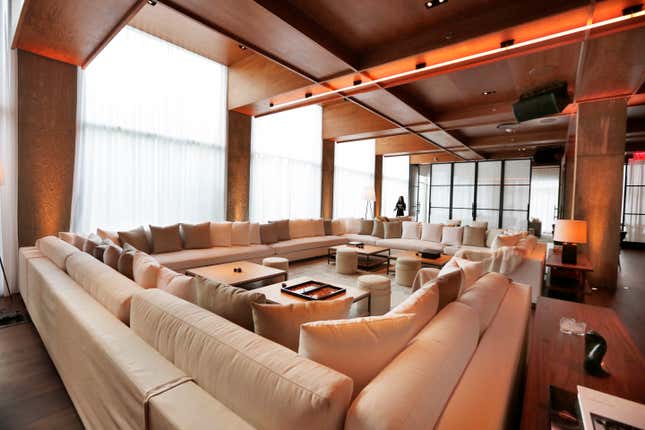 At the heart of all of Schrager's brand propositions—from Studio 54 to the PUBLIC—is community, a growing trend in hotel design. PUBLIC is designed for a generation of savvy entrepreneurs; the hotel blurs lines between social, professional and cultural spaces with serene, light-filled, public venues with amenities to support optimal productivity and social interaction. A natural extension of Schrager's experience in nightlife and boutique hotels, PUBLIC includes two dining hubs, three bars, and an underground arts space complete with screening room and theater.
To draw in the local character that will define the life of the hotel, the lower three floors are designed as public venues to service a certain kind of creativity. The basement at the PUBLIC will be a flexible, multi-disciplinary arts space for music, dance, theater, and film, and will feature an inaugural private performance from the poet, performer, and downtown icon Patti Smith.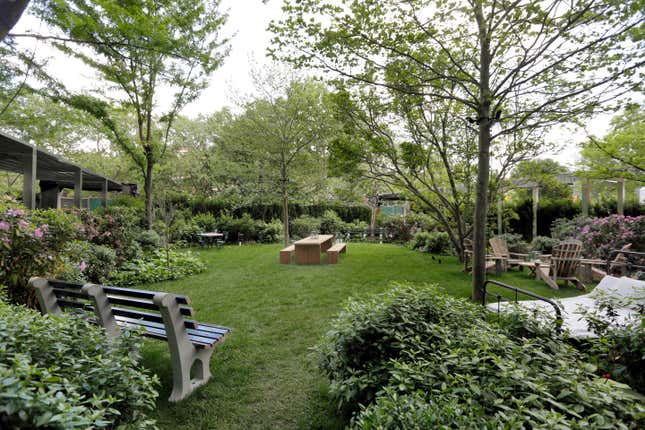 On the ground floor, Jean Georges Vongerichten's restaurant group runs two restaurants: PUBLIC Kitchen's menu includes wood fired pizza, dim sum, hot pastrami sandwiches, and hotdogs with locally sourced ingredients, while LOUIS's grocery offers prepared foods, coffee, and a cafe menu with counter service.
A departure from the "lobby socializing" of Schrager's boutique hotels, the second floor lobby of PUBLIC is a playhouse for freelancers boasting wifi, two bars, USB ports and seating groups ideal for communal working. Now, instead of late nights dancing in the lobby of the hotel, guests can connect throughout the day, meeting over a cup of coffee or a shared laptop port.
Fast wifi and sleek design may lack the debauchery of his Studio 54 heyday, but Schrager's new model for hospitality seeks to still offer today's guests the opportunity to be a part of a scene.