Update (12:01 pm ET): The gunman, identified as James T. Hodgkinson, has died. Wounded congressman Steve Scalise is out of surgery, and the FBI has taken over the investigation.
A US congressional leader and several others were injured after a gunman opened fire on a baseball practice outside Washington DC on this morning (June 14).
Steve Scalise, House majority whip and a Republican from Louisiana, was shot in the hip, Fox News reported, while one of his aides was shot in the chest. The Republican Congressional Baseball Team was practicing near the local YMCA, the local CBS station reported.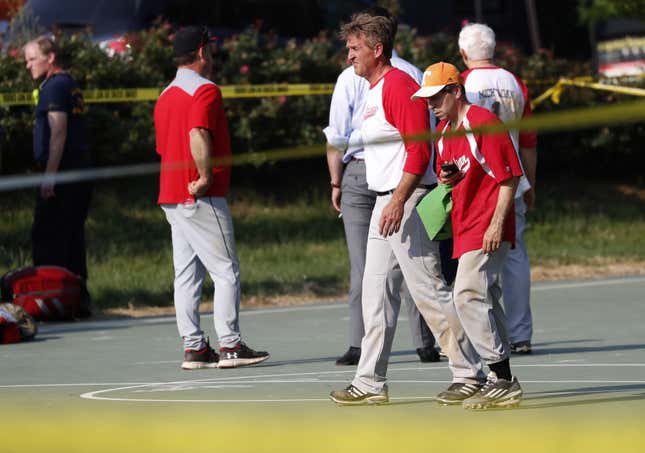 Another member of Congress who was there said that over 50 shots were fired:
Brooks told CNN later that the shooter was a heavyset white male, who was hiding behind the dugout. Brooks said he was "absolutely certain" the shooter had a rifle, not a shotgun. He said he used a belt as a tourniquet to stop Scalise's bleeding.
The gunman was identified by law-enforcement officials as James T. Hodgkinson, a home inspector from Belleville, Ill, the Washington Post reported. Hodgkinson has died, President Donald Trump said late Wednesday morning.
Social media accounts that matched Hodgkinson's name, hometown, and business showed support for senator Bernie Sanders, a 2016 Democratic presidential candidate. Sanders called for "an end to the violence" on Twitter:
Police in Alexandria, Virginia report that the suspect is in police custody.
Five people were taken into hospitals after the shooting, the Alexandria police chief told reporters. 
House majority leader Kevin McCarthy said Scalise is out of surgery. Two of the injured are reportedly members of the Capitol Police, which protects members of Congress. They prevented a "massacre," senator Rand Paul, who was at the practice, told NBC.
Five or ten congressmen were hunkered down inside one dugout, and the gunman was in the opposite dugout, Paul said. "I do believe without the Capitol Police it would have been a massacre," he said. "We had no defense at all. We were like sitting ducks, we had no place to run."
Scalise is in stable condition, his office said.
The FBI is taking over the investigation, Brown, the Alexandria police chief, said.
President Donald Trump said in a statement he was "deeply saddened by this tragedy." The congressional baseball game is a charity event dating back to 1909 that pits Republicans against Democrats to raise money for local Washington, DC charities. This year's game is scheduled for tomorrow (June 15).
"Its one of the best bi-partisan things we do in Congress," Paul said. "If this turns out to be politically motivated…it ruins it for everything."
Scalise is the third-ranking Republican in the US House of Representatives behind speaker Paul Ryan and McCarthy.