A discount chain specializing in personal and home goods that include Minion-emblazoned cooling eye masks, cosmetics, mini-electronics and plush pandas is making inroads simultaneously in two very different markets.
Discount retail company Miniso, which describes itself as a competitor to Japanese retailers Uniqlo and Muji, opened in Pasadena, Calif., in April, where it threw an opening weekend party, with gift bags and giveaways of USB dehumidifiers. Its goods there retail for between $2 and $20. The same month, the company opened in Pyongyang, North Korea. The store opening in North Korea was first reported by the NK News website.
Miniso had said in January it was going to Pyongyang because it wanted to "enrich people's choices in North Korea" and assist "the development of retail industry in North Korea." Miniso appears to be confused about some aspects of North Korea, though, noting that "only the brands with great impact can be allowed to enter the market, such as Coca Cola, McDonald's." Neither company operates in North Korea, with which the US has no diplomatic relations and views as one of the world's most pressing threats.
On Wednesday (June 28), NK News reported that the Japan branch was distancing itself from the North Korea expansion, which a Japanese UN sanctions expert says could be in breach of international sanctions imposed on North Korea last year over its weapons program. Miniso didn't immediately respond to Quartz's queries on its North Korea store but did provide details on its US plans, which include opening three more stores in California this year. It hopes to open 100 stores in the US next year.
Established in 2013, the chain says it now has 1,800 stores although its website lists less than 100 locations by address. Since its founding, it has often stirred controversy. It calls itself a Chinese-Japanese concern, lists its headquarters as both in Guangzhou, China, and in Tokyo, and prominently notes that it has both a Japanese founder, designer Miyake Junya as well as a Chinese one, businessman Ye Guofu. But its claims of Japanese-ness often come under question since it first opened in China and most of its stores are there, while it only lists four locations in Japan. People have also spotted mistakes (link in Chinese) in its Japanese-language labels.
Critics also say that that Miniso, which has a red logo reminiscent of Uniqlo's is merely a copy-cat of that and other popular Japanese chains like Muji and Daiso—which Miniso denies. "We have our own design. Some products look similar or same to products from other brands, but it's just coincidence," said co-founder Ye Guofu in 2015 (link in Chinese).
Here's a look at what one branch of the chain, in Hong Kong, offers shoppers. Miniso has recently expanded to Mongolia, and also says it's eyeing more opportunities in countries connected with China's massive One Belt, One Road global infrastructure development plan.
1. Stuffed animals, $5-$7.6*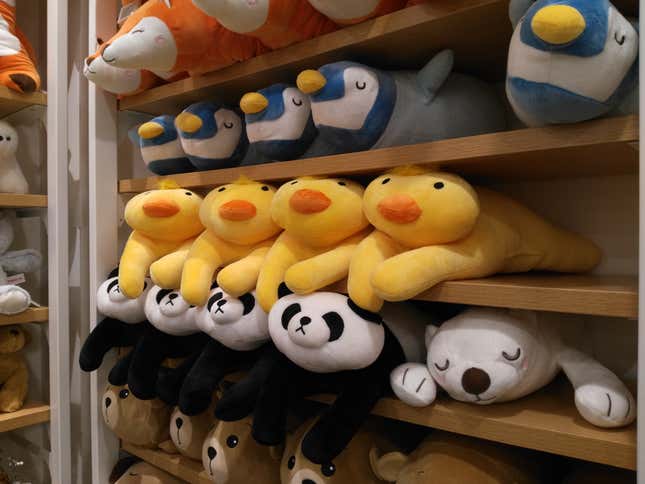 2. A bear figure handheld fan, $5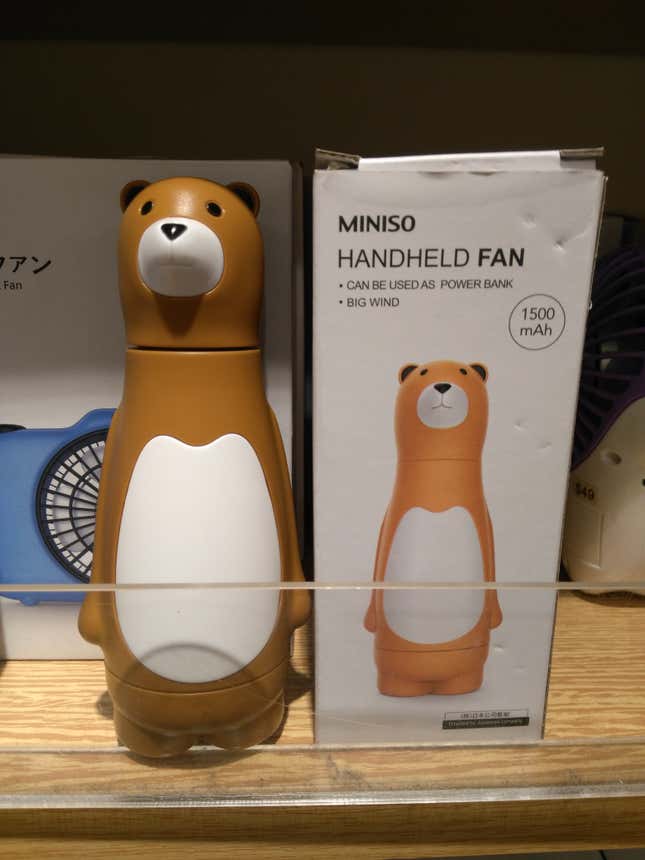 3. Set of five clothes hangers, about $2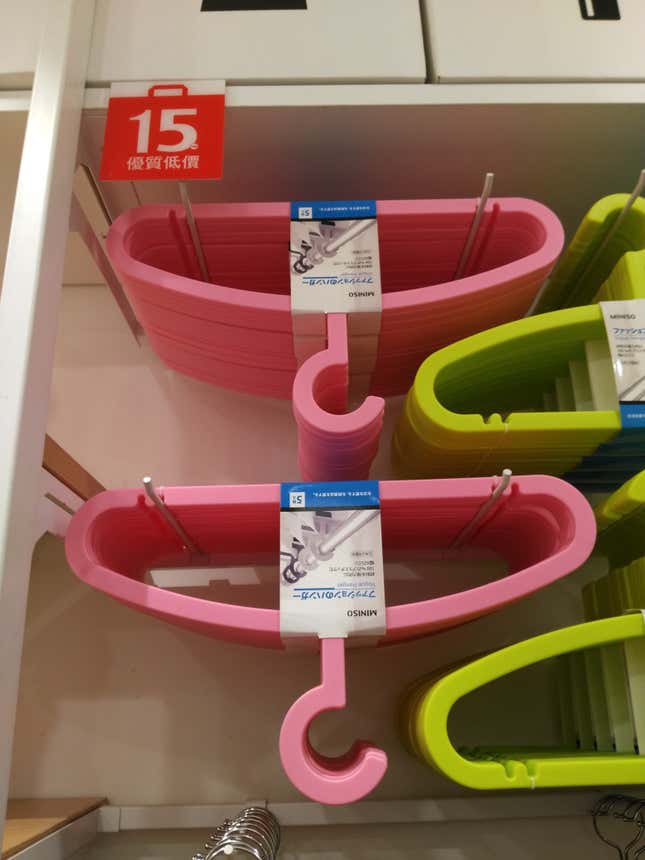 4. Pink ceramic cup, $2.6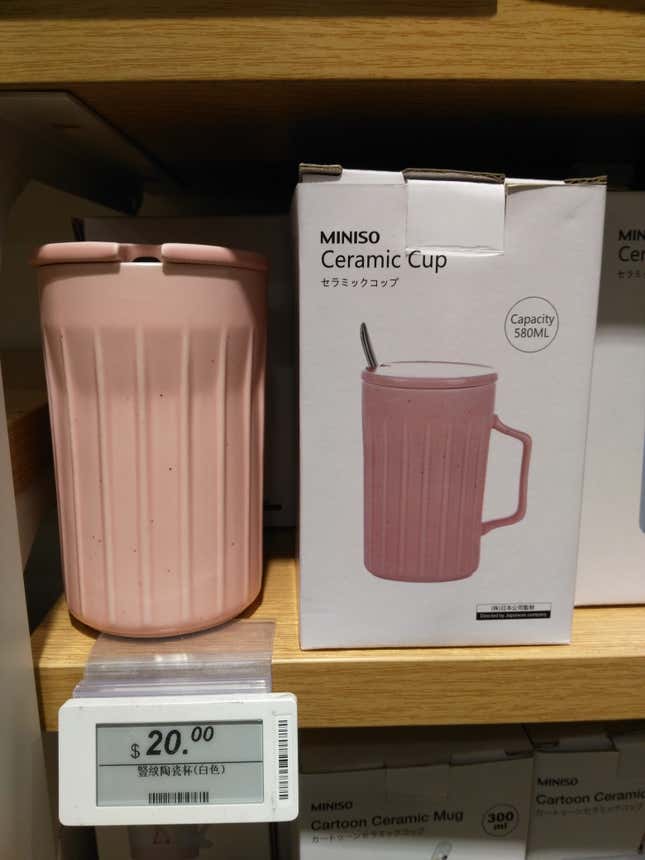 5. Women's handbag, $5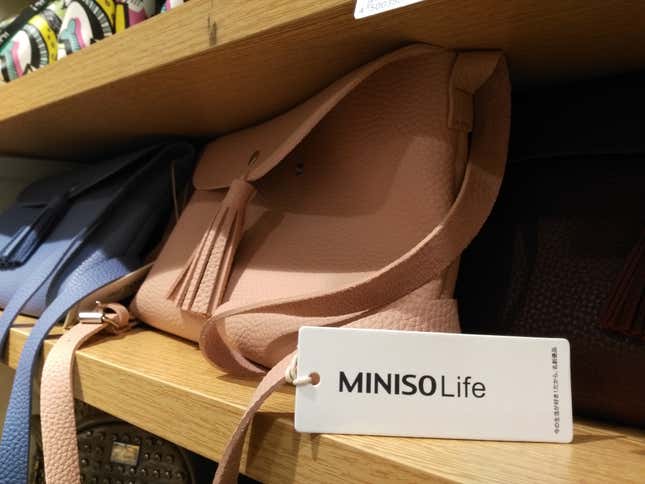 *Prices have been converted from Hong Kong dollars.