Watching TV used to be a passive experience. We'd turn on the set, flip through channels for something to watch, then sit back and consume whatever was offered up by the networks. Video-on-demand, and then subscription-video-on-demand services like Netflix, changed that by letting audiences pick what and when they wanted to watch.
Now, Netflix is handing audiences the reins to its stories. The web-video giant is rolling out choose-your-own-adventure-style programming that allows viewers to dictate the action that unfolds onscreen, it announced in a blog post today.
"We think a lot about what can we do that others can't do," Carla Fisher, Netflix director of product innovation, told Quartz. "It's innovating on storytelling…And it's another way for us to put control into the members' hands."
Don't expect all of your favorite Netflix shows like The Crown and Orange Is the New Black to suddenly start asking you what you want to happen next. Netflix is beginning with kids programming. The first show to feature the new "branching narratives," as Netflix calls them, is DreamWorks Animation's The Adventures of Puss in Boots series. Right now, the functionality is available through most TVs that are connected to the internet or to devices like the Amazon FireStick and Roku, as well as through iOS devices like the iPad. It is not yet available on desktop.
In the special released globally today, Puss in Book: Trapped in an Epic Tale, viewers must decide what adventures to send the popular Shrek character, Puss in Boots, on. Should he fight a brut of a god, or duke it out with a much less threatening tree? And when he meets a genie, what should his three wishes be? 
There are 13 different decision points in Puss in Book, each with two choices. They result in thousands of permutations for the story. The shortest version of events runs 18 minutes, and the longest is 39 minutes long. For comparison, a typical episode of The Adventures of Puss in Boots is 23 minutes long.
Kids don't have preconceived notions of what TV should be, which makes them a perfect testing ground for interactive stories. Last year, Netflix tested hidden content that could be unlocked as you watched, with the original animated series Kong: King of the Apes.
Children are also already used to interactive stories from video games and choose-your-own-adventure novels.
"Kids are already engaging in content this way," said Fisher. "They talk to their characters, they touch things, they swipe on things… The kids get super excited when they get to make choices. And parents get excited that their kids are making choices."
More than half of Netflix subscribers around the world watch kids and family programming on a monthly basis, Fisher said.
Hollywood meets Silicon Valley
Netflix says creators are drawn to non-linear stories, as evidenced by movies like Groundhog Day and Momento that play with the usual order of events. And its engineers want to find new ways for them to tell those stories.
That's why Netflix spent the past two years developing the choose-your-own-adventure format.
"I didn't really know it was a possibility before," said Doug Langdale, an executive producer and writer at DreamWorks Animation, who was approached by Netflix with the concept. "As soon as it came up as something we could do, I desperately wanted to do it."
From a production standpoint, it was almost like making two episodes, Langdale said. There were two sets of writers and directors, one for each ending that's mapped out in the chart below. The script ended up at around 40 to 50 pages, nearly double the length of the show's average 28-page drafts.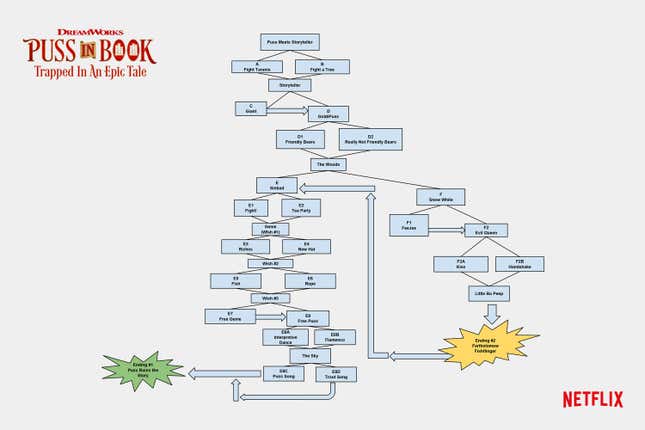 And the events had to be ordered so that the story would make sense, logically and tonally, no matter how each decision point played out. At one point, the writers planned to have Toby, a pig Puss meets in one branch of the story, return later in the episode. But they would have had to reintroduce the character for those who hadn't met him yet, and Puss couldn't react as though they were meeting for the first time given that other viewers would have already seen him. So they went with a different character altogether, for the second appearance.
"At any given point, you don't really know what's gone before," said Langdale. "There were events that have both happened and not happened, so you can't refer back to stuff… It was almost more like writing a sketch show than regular narrative."
That was one of the challenges Arrested Development showrunner Mitchell Hurwitz faced in an earlier attempt at interactivity on the platform. He reportedly wanted audiences to be able to watch each episode of the 2013 Netflix revival in whatever order they chose. But there were certain jokes that referenced earlier events, which didn't land when taken out of context.
"Our brains like to make stories out of things and that requires order," Hurwitz told Vulture, at the time. "I pretty quickly realized everything here is about the order of telling the stories, that there will be shows where you find out a little bit of information and then later shows where you revisit the scene and you find out more information—and that's not fun in reverse."
Hurwitz scrapped the concept in the end.
The wet-willy contest
Then there were technical problems. Normally, a viewer selects a title, then sets down their remote control or tablet and sits back to enjoy the show. But with Puss in Book, they'd need that remote to make choices. To prepare viewers, the program starts with a tutorial. There's also a "lock" icon on the title card on the home page that indicates Puss in Book is a different kind of Netflix show, in addition to the language in the show's description.
Netflix redesigned the playback functions, too. You can't fast-forward or rewind when every viewer sees a different version of the story. So, instead, Netflix made it so that you could navigate by decision point. It also meant kids—especially siblings who may not agree on what route to take—could easily double back to see how another scenario would have played out.
And there's localization, which can be a challenge when Netflix shows roll out simultaneously overnight. In another program, Buddy Thunderstruck, which has a choose-your-own adventure special premiering on July 14, the animators had to illustrate a "wet-willy contest." But how do you do that for someone who's never heard of the childhood prank before? Does the image need an ear to make sense?

"Whether there should be an ear in that image is a hot topic of debate right now," said Fisher. "There's fair probability that when you see it on July 14 there's an ear there." (For those who need the tutorial, a wet willy is a prank involving wetting your finger and sticking it in someone's ear.)
The special has an ending that loops back to the beginning of the story, so that it can literally go on forever. Though the average length is about 12-minutes long.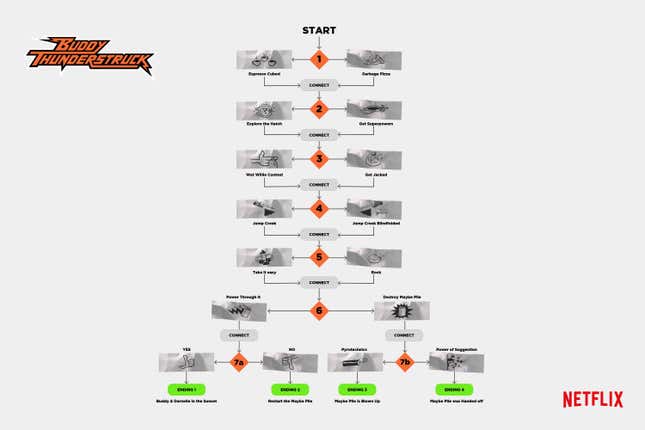 Choose-your-own-adventure storytelling isn't for everyone. Netflix has said previously that some of its subscribers use the service partly for background noise while cooking, exercising, or doing other things. Those subscribers likely wouldn't appreciate having to decide the direction of every scene. (The choose-your-own-adventure stories do have a default story arc, for those who don't want to pick.)
But for storytellers and viewers who want it, the option is there. "We're all about giving our members choices and options and ways to engage in their stories," said Fisher.
Langdale at DreamWorks said he'd love to push the format further and attempt an entire season that puts the viewer in control. "I don't know if it would survive it," he said, "but I would love to try it."
First, he and Netflix need to figure out whether people really enjoy these stories and how they engage with them.
Correction (3:30pm ET): The choose-your-own-adventure experience is not yet available on Apple TV, as this post previously stated.