As China prepares to celebrate its 20th year of recovered sovereignty over Hong Kong—which until the 1997 handover had been a British colony for a century and a half—another historic anniversary that falls this year is largely out of sight.

In 1967, Hong Kong saw its deadliest public disturbance ever, with riots and a spate of bombings that left 51 people dead and hundreds injured. The riots are skimmed over in school history books, and tucked away at the local Museum of History. Even more alarmingly, they appear to have all but disappeared from the government's archives, a discovery that film-maker Connie Lo said she made as she was researching her documentary on the riots, aptly called Vanished Archives.
"All I could find were bits of yellowed old newspapers, that crumbled as you touched them," she says. But there was hardly any footage. At the end of her search, all she could lay her hands on were 9 sections of 21 seconds each, kept on different DVDs. Questions to the archivists went unanswered, she said, and nobody seemed to know the exact details of what footage had existed and what had been lost.
Growing increasingly intrigued by the scarcity, Lo decided to look in London. There she was luckier than in Hong Kong, but the difficulty in finding local historical government records of these watershed events 50 years ago made her "strongly determined to find out more."
Hunting for Hong Kong's past
Lo set out to collect evidence of what had happened through interviews of eyewitnesses and participants—most of whom were not willing to speak in front of the camera, she says—and started a four-year long chase to shed light on a very murky chapter of Hong Kong's past. It was an episode that brought blood to the streets of Hong Kong, as communists in China saw a chance in anger over labor and housing grievances to subvert the colonial government through local sympathizers. These included the media, such as the still existing Communist Party-financed newspaper Ta Kung Pao, pro-China trade unions, and leftist school and college students.
The local branch of the Chinese state-controlled news agency Xinhua functioned as the headquarters for many of those subversive activities, as they promoted Cultural Revolution-style "struggle sessions" and hung "large character posters" or dazibao, on their walls. Meanwhile, in Beijing, Red Guards burned down the British Embassy, in an attack against British colonialism in Asia and elsewhere.
"When I asked why there was no archival record and no footage of the riots and all that had happened in 1967 here in Hong Kong, I was told that in 1997 some intern was transferring the data, and that while doing so the copy was botched," says Lo, with a puzzled look that doesn't entirely reveal how much of this explanation she believes. "At the same time, the footage for the riots in 1956, which were inspired by right-wing elements, are all there. You have all the archives accessible," she says.
To add to the sense that there's a willful denial of the past taking place, her documentary, completed earlier this year, hasn't obtained a commercial release in Hong Kong. As with the popular and lucrative dystopian feature film Ten Years, which left theaters even as interest in it was growing, and the documentary Raise the Umbrellas, theaters haven't been keen on showing a political movie critical of the local and mainland authorities.
Even the Hong Kong Film Festival, while denying censorship, refused to screen the movie (link in Chinese). But as has happened for other films deemed too sensitive, Vanished Archives, too, is being successfully screened at packed privately rented venues, and show dates can be found on the movie's Facebook page, which has 20,000 followers, or on its website.
What happened in 1967, and how did it become such a sensitive topic?
As the Cultural Revolution was raging all over China, a labor strike against crushing conditions and the dismissals of some workers took place in front of a plastic flower factory owned by Li Ka-shing, now Hong Kong's richest man, in the Kowloon area. Days into the strike, it was hijacked by pro-Communist sympathizers. The next few weeks saw an all-out series of anti-British protests and bomb attacks that killed randomly. In one bombing, siblings aged 8 and 2 were among the dead, papers overseas reported.
The attacks only ended in late 1967, when Chinese premier Zhou Enlai finally condemned the violence, leaving the local leftists feeling stranded. "From one day to the next, we were discarded, and made useless," says one of the riot participants interviewed by Lo.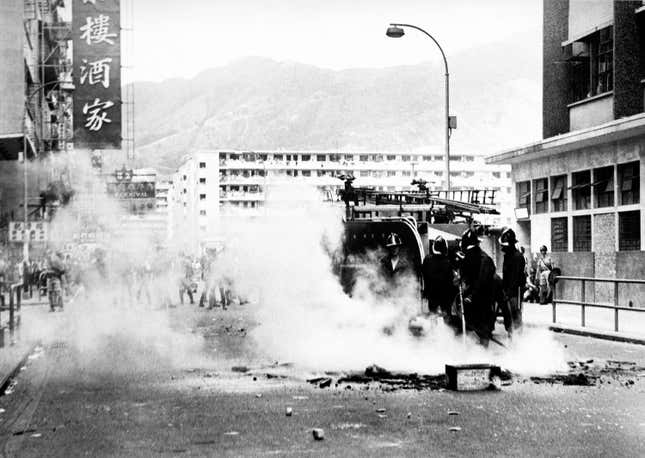 After the riots, the British authorities decided to establish a series of measures to diminish social frictions, by implementing major reforms, like public housing and free education. In 1978, after the Cultural Revolution, as Deng Xiaoping took power in China and introduced his reformist policies, the role played by China in fomenting the riots was denounced as wrong.
Over the years, scholars have occasionally revisited that contested moment of history. In 2015, though, while Lo was working on her film, the issue of how to remember the riots provoked public outrage when people in Hong Kong found the police website was edited to make way for a new description of clashes, with "communist militiamen" changed to the more generic "gunmen," for example. The revamped police story also omitted that it all had started from a labor dispute.
"There is a clear attempt at whitewashing history in Hong Kong," says Ching Cheong, a veteran Hong Kong journalist who witnessed the events first hand. Ching adds that "history is being rewritten" because of China's sovereignty over Hong Kong and ever-increasing influence in the territory. After the handover, Hong Kong has been governed by administrations often filled with people considered close to Beijing. And this episode of local history isn't very flattering to the Party.
"At the time, Hong Kong leftists' were carrying out acts of urban terrorism with the support of the Chinese authorities," says Ching. Now, he said, "They want to be seen as heroes."
Some of the more radical organizers of 1967 already have found redemption from Hong Kong's political elite. In 2001, Yeung Kwong, a trade unionist who was a leader of the riots, was awarded the Golden Bauhinia–Hong Kong's greatest official honor–by then Hong Kong leader Tung Chee-hwa. On the eve of the ceremony, Yeung side-stepped a question about responsibility for the bombings, blaming the British government's oppression instead. In 2015 current chief executive Leung Chung-yin attended his funeral, together with a number of high officials from Hong Kong and the mainland.
"Many leftists today are hoping to be exonerated for the violence they unleashed," says Lo, the film-maker. "They know the direction the wind is blowing."
Only 20 years after the handover to China, history is proving once again one of the most contentious issues that shape Hong Kong's post-British identity. It provoked acute protests when the post office announced a plan—since put on hold—to delete the remaining British insignia from old post-boxes "to avoid confusion." It's also spurred civic activism, with the formation of a number of concern groups, among them the Conservancy Association (which also launched the campaign to protect the post-boxes) and the Archives Action Group, which is concerned with the lack of an archives law in Hong Kong. Some of that activism has drawn criticism from the mainland Chinese officials, one of the organizers says.
"We have been told we are not decolonized enough," says Peter Li, of the Conservancy Association.
---
Read Quartz's complete series on the 20th anniversary of the Hong Kong handover.