In North Korea, June 25 is the start of "Struggle Against US Imperialism Month." To celebrate, the pariah state released two striking postage stamps depicting its promised annihilation of America. The annual event commemorates the beginning of the North Korean military campaign to force American troops out of the South in 1950.
The comic-book-like images aren't the first attempt to stamp out American imperialism with postage stamps. The fists, guns, and nuclear warheads pointed at the US Capitol in the new 30- and 50-won stamps are just the latest threats in a long tradition of philatelic propaganda. North Korea has issued hundreds of politically-themed stamps since 1946, and graphic anti-American motifs began appearing in the 1960's.
Among the most notable is the 1969 stamp called International Conference of Journalists Against US Imperialism depicting a green-faced Richard Nixon speared by a flurry of fountain pens.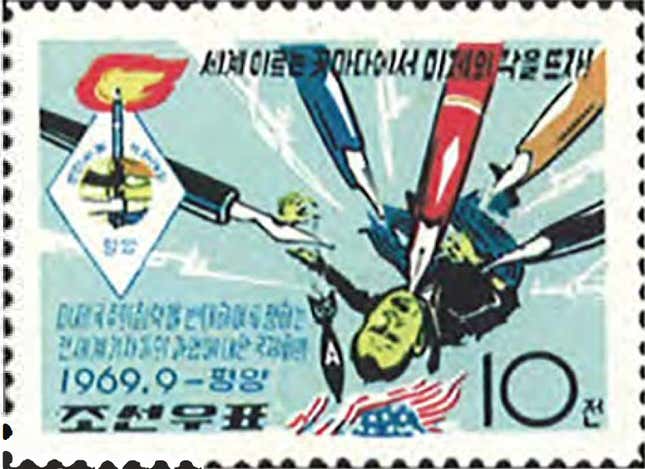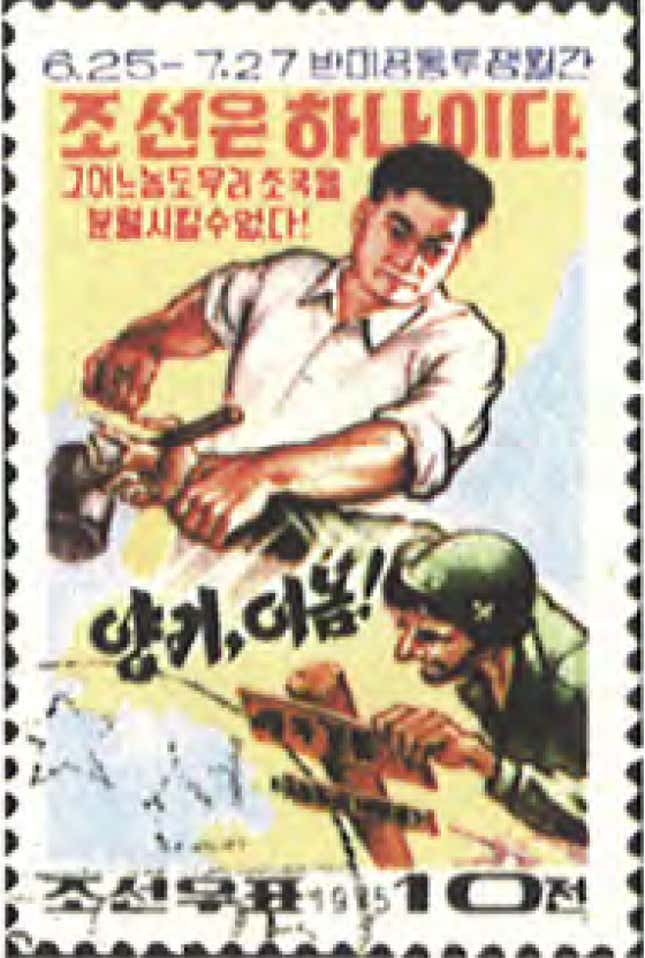 Most designs immortalize military victories such as the capture of the American warship USS Pueblo in 1968, explains University of British Columbia professor Ross King in Exploring North Korean Arts.  The "most spectacular," he notes, is a 1975 issue depicting a muscular North Korean civilian pummeling a wimpy US soldier with "Yankee bastard" in Korean splayed across the field. "So far as I can tell, it is the only example of yok (cursing) on a postage stamp," writes Ross.
With a museum dedicated to philately in Pyongyang, stamp-making is a serious art form in North Korea. Treating the small surface as their canvas, artists use styles including etching, painting, illustration, and photography.
For their rarity and grim graphic appeal, North Korean stamps are coveted by collectors worldwide. And the North Korean government sees philately as a way to bring in foreign currency into the country.
A member of the Fédération Internationale de Philatélie since 1965, the state philately agency Korean Stamp Corporation produces different stamps for domestic use and international collectors. Many, of course, are tributes to the country's former leader, Kim Jong Il. But some commemorative editions feature Western protagonists such as Disney characters and, curiously, multiple tributes to the UK's Princess Diana.