When he started Left Behind Games in 2002, Troy Lyndon—a one-time boy genius who with his former company became Inc.'s entrepreneur of the year at the age of 28—was sure his apocalypse-themed video games would make him millions even as they brought the gospel of Christ to gamers the world over. Eleven years later, Lyndon is 48, personally bankrupt, lives in a 450-square-foot apartment in Honolulu and makes ends meet by coaching entrepreneurs and selling insurance. On nights and weekends Lyndon is still the chairman and CEO of Left Behind Games, a publicly traded business with 10 billion shares outstanding, each worth one one-hundredth of a cent.
It's also a company with regular filings with the US Securities and Exchange Commission—called 8-Ks, intended to update investors about events that could affect the company's fortunes—that read like dispatches from a beleaguered general who still believes he's fighting the good fight. "Yes, LFBG is still operating," says the company's latest 8-K, filed at the end of last week and written by Lyndon himself. In it, he blames the company's misfortune on the proliferation of new gaming platforms, the rise of downloadable games, the latest recession, Christian retailers, the "death" of online marketing, the political views of the authors of the books upon which Left Behind Games' games were based, and the SEC itself. The regulatory filings document an extended corporate unraveling, and a very human hope that it all will work out in the end.
Lyndon says his goal is that within two years he'll be able to announce that Left Behind Games is "profitable and a real going concern." Lyndon insists that he can get there without developing any new titles. Instead, Left Behind Games will return to profitability through better marketing of Left Behind Games' existing games, which are PC-only and include Praise Challenge 2 (like Guitar Hero, but with Christian rock), King Solomon's Trivia Challenge (Bible trivia), and a controversial strategy game series based on the best-selling Left Behind series of books, which are about what happens when a bunch of unbelievers have to fight the armies of the antichrist after all the true Christians are teleported to heaven.
It wasn't supposed to be like this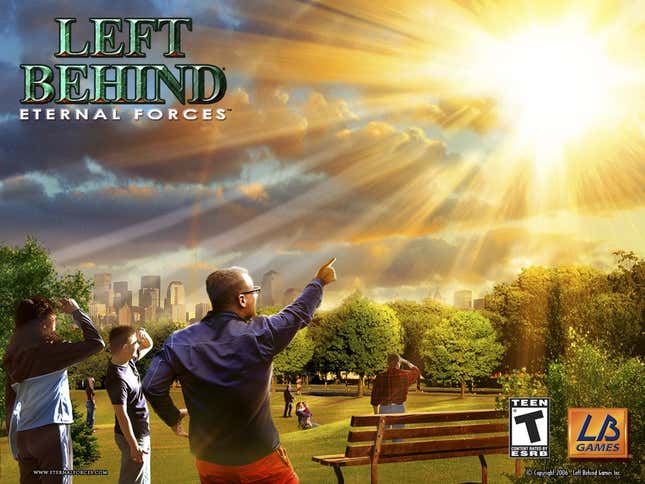 When Left Behind Games released Left Behind: Eternal Forces near the end of 2006, the company had 75 employees in four countries, and had spent at least $31 million launching the company and developing the game. "We were sure we were going to be successful because the Left Behind products had already generated over half a billion dollars in revenue," Lyndon tells Quartz. At the time, the Left Behind products consisted primarily of a series of books espousing one view of the "end times," i.e. a Christian theological take on the end of the world.
Then, perhaps not surprisingly, the controversy started. Almost immediately, game reviewers, the media and various religiously-affiliated non profits declared that the game rewarded players for killing characters who did not convert to Christianity. While widely reported, this turned out to not be true.
Lyndon was immediately swept up in the national media, including an interview on the Fox News cable channel that left him feeling battered. "I learned from that that Fox is not necessarily right leaning," says Lyndon, who describes himself as a political moderate who was naive about the amount of controversy the subject matter of his games would generate. Disappointing sales followed, with the company generating only $2 million in the first quarter after the launch of the game.
Within a year, Lyndon "rebooted" Left Behind Games, shrinking it to 15 employees. At that point the company was "just surviving" and managed to release a sequel to the original Left Behind game, while continuing to raise capital in the over-the-counter stock market. At the same time, Lyndon branched out into other titles, like Bible Quest: Journey Through Genesis and Charlie Church Mouse 3D Bible Adventures 2.
Left behind by consumer and investors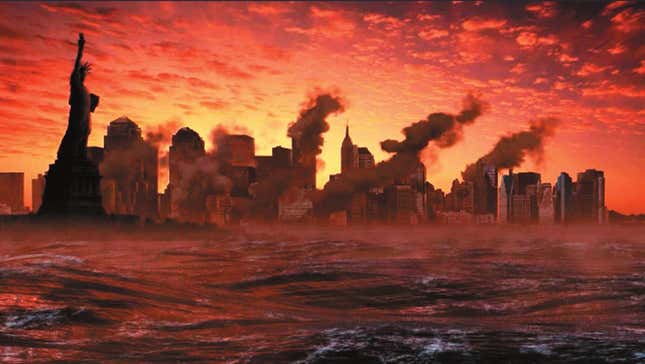 In a last-ditch effort at getting the attention he was sure was the key to unlocking sales, Left Behind Games paid movie theaters to include a one-minute advertisement for Left Behind 3: Rise of the Antichrist in the previews that ran before the film The Chronicles of Narnia: The Voyage of the Dawn Treader.
By 2011, Left Behind Games had released nearly a dozen games, but it was paying its developers in stock rather than cash. Lyndon says the company's ongoing difficulty in actually selling any games was due to a failure of Christian retailers to understand or feature videogames in their stores, which had traditionally dealt mostly in books.
Since 2011, the company has apparently been on life support. Lyndon claims that short-sellers in the penny stock market profited by driving the price of Left Behind Games essentially to zero, leaving his developers unable to cash in on their stock, and forcing him to further dilute existing shares by issuing more stock. He noted in a recent filing that he hasn't been paid for nearly two years, and in May 2012 notified investors that he couldn't continue full-time and the board would consider candidates to replace him as CEO. (Lyndon says they haven't found anyone better to do the job.) While acknowledging the problems, Lyndon repeatedly describes Left Behind Games in filings as "the world's leading publisher of inspirational video games."
A SEC filing that attacks the SEC, name checks Big Data
In the company's most recent SEC filing on July 5, Lyndon issues a broadside against the SEC itself:
"In the past 10 years, government regulations and lawsuits against companies and their management have resulted in the loss of nearly half of those publicly traded, from 5,672 in the year 2002 to 3,687 in 2012. Despite nearly half as many public companies, the SEC's budget in the past 12 years is 350% higher, and in 2014 will be 444% higher, resulting in a substantial increase in SEC investigations and enforcement."
The solution, according to Lyndon's SEC filing? Big Data.
"The coming future and revolution of online marketing will benefit LFBG beyond measure. Soon, with a few clicks, we can ask our online advertising provider to place ads only in front of Christian consumers that range within a determined age group with a tracked-data history of purchasing inspired products–a consumer that converts, not just clicks. That's the promise of work by pioneers in Internet advertising who are collecting and processing Big Data for the benefit of advertisers and consumers alike."
Lyndon's SEC filing also declares that videogames have yet to become a mass-market medium because of the diversity of systems on which they can be played.
Despite the company's dire straits, Lyndon is determined to revive it. He notes in the filing that the company is looking to hire a chief marketing officer or marketing firm to work with it, instructing any interested candidates to first sign a nondisclosure agreement with Left Behind Games and then submit their resume.
"Honestly, from my business coaching and insurance efforts, between those two avenues for building up my own personal wealth again, eventually if I'm the only guy who puts money into this thing to bring it back, I'm willing to do that," Lyndon tells Quartz. "I'm committed to doing it. The question is, will I have that opportunity? From the very beginning of this venture until now I've just learned every day is a new day, and you have to thank the Lord for every day."